Dapur Mainan untuk Anak Jadi Lebih Interaktif Berkat Keterlibatan Alexa
Anak-anak tetap bermain seperti biasa, tapi selagi bermain mereka juga bakal berinteraksi dengan sang voice assistant
Amazon Echo dan Alexa, kombinasi smart speaker dan voice assistant ini tentu punya banyak sekali kegunaan. Namun siapa yang menyangka Alexa juga berguna di bidang permainan, semisal untuk membuat sebuah board game jadi lebih interaktif?
Bukan cuma sebagai teman main orang dewasa, Alexa rupanya juga bisa mendampingi anak-anak, seperti dibuktikan oleh produk terbaru dari produsen mainan anak KidKraft berikut ini. Dinamai Alexa 2-in-1 Kitchen and Market, sepintas ia tak kelihatan berbeda dari dapur mainan pada umumnya.
Juga tampak biasa adalah 100 bahan makanan mainan yang termasuk dalam paket penjualannya. Namun ternyata masing-masing mainan kecil ini telah dilengkapi chip RFID (radio-frequency identification) supaya bisa terdeteksi oleh sensor yang tertanam di balik meja kasir atau kompor mainannya.
Lalu apa peran Alexa? Well, informasi yang terdeteksi itu tadi akan diteruskan ke smart speaker via Bluetooth, dan dari situ Alexa bisa merespon. Jadi semisal anak-anak mengambil sepotong selada dan menempatkannya di meja kasir, Alexa bakal merespon: "Selada! Apakah kita akan membuat salad?"
Lalu jika anak-anak mengiyakan, Alexa bakal lanjut merespon: "Yay! Aku suka salad. Tambahkan alpukat juga ya." Skenario lainnya, semisal anak-anak menempatkan wajan di atas kompor, Alexa akan bilang, "Sambil menunggu airnya mendidih, bisakah kamu mengambil sayur-sayuran dari kulkas?"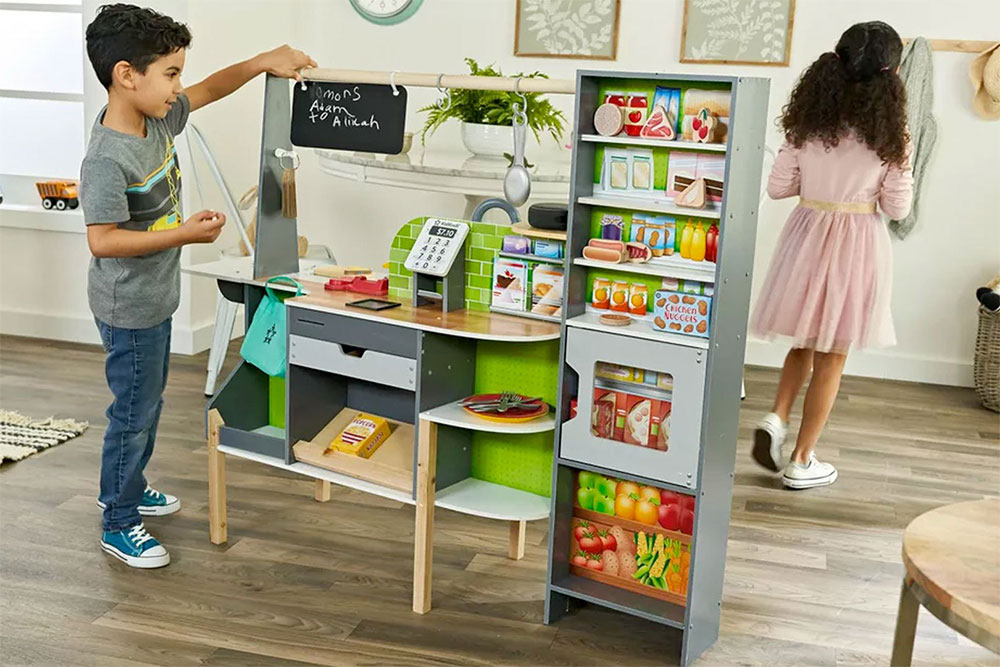 Menurut KidKraft, total ada lebih dari 700 respon yang berbeda yang bisa dilontarkan Alexa. Selama berinteraksi, anak-anak tidak harus terus mengucapkan "Alexa" berkali-kali, sebab KidKraft telah merancang programnya (Alexa skill-nya) supaya Alexa hanya akan berbicara ketika anak-anak berinteraksi dengan mainannya sekaligus menyesuaikan konteksnya.
Singkat cerita, anak-anak masih akan berpura-pura berbelanja dan memasak seperti biasanya menggunakan produk ini, hanya saja sesi bermain mereka jadi lebih interaktif berkat keterlibatan Alexa. Tanpa speaker Echo dan Alexa, produk ini tentu tetap bisa dimainkan seperti mainan tradisional.
Di Amerika Serikat, KidKraft Alexa 2-in-1 Kitchen and Market kabarnya bakal dipasarkan seharga $300, tidak termasuk smart speaker Echo-nya. Salah satu skenario penggunaan Alexa yang paling populer selama ini adalah ketika memasak, dan ternyata sekarang juga ketika anak-anak yang 'memasak'.
Sumber: CNET.
Are you sure to continue this transaction?
processing your transaction....