Semenjak diperkenalkan lebih dari 15 tahun silam, robot Asimo atau Advanced Step in Innovative Mobility telah sering digunakan di berbagai belahan dunia dari mulai untuk sekedar demonstrasi hingga fungsi praktis. Nama seperti Boston Dynamics juga berusaha menyaingi Honda lewat Atlas mereka, dan kompetisi jadi kian menarik dengan kehadiran robot asal Iran.
Sebetulnya ini bukanlah pertama kalinya Iran 'bermain-main' di bidang robotik karena tim Center for Advanced Systems and Technologies asal University of Tehran sudah mulai melakukan riset sejak 2007. Meneruskan upaya tersebut, para ilmuwan Iran memperkenalkan jelmaan generasi ketiga dari robot Surena di pertengahan minggu lalu. Secara garis besar, kemampuan dasarnya mirip Asimo, namun tampaknya arah pengembangan Surena III sedikit berbeda.
Surena III memiliki bobot 98-kilogram dan berdiri setinggi 190 sentimeter - lebih tinggi dari rata-rata manusia. Casing plastik putih menutupi mayoritas permukaan tubuh, dipadu dengan kedua mata LED yang ditempatkan di area visor. Layaknya robot humanoid, ia mempunyai sepasang kaki dan tangan. Penampilannya lebih apik dibandingkan versi kedua yang menyerupai Asimo.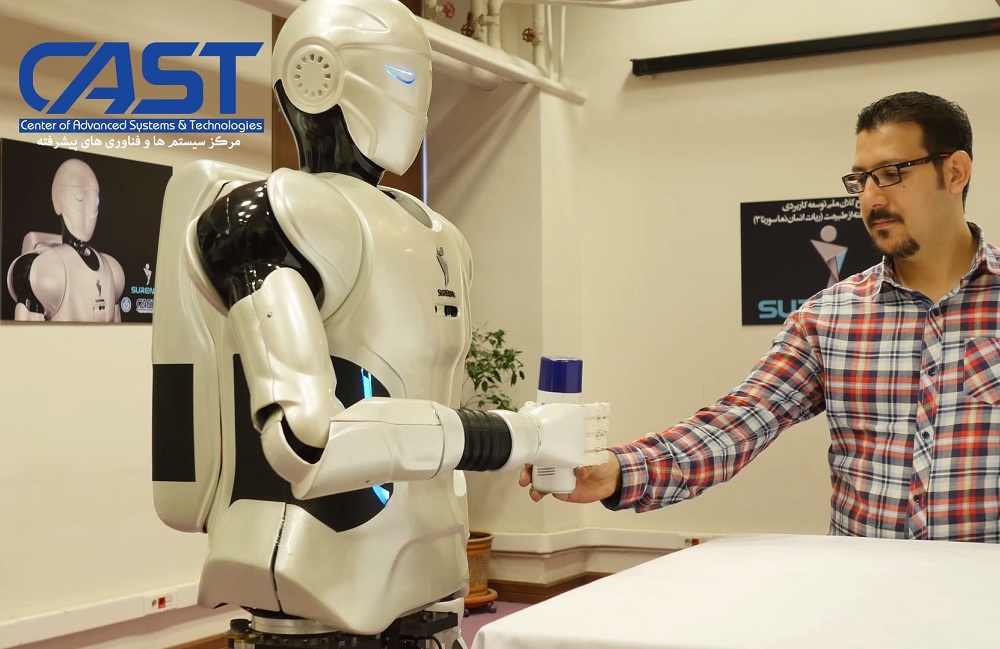 Dr. Aghil Yousefi-Koma, profesior teknik mesin yang bertanggung jawab memimpin proyek tersebut menjelaskan pada IEEE Spectrum bahwa Surena didesain sebagai platform riset demi mengeksplorasi sistem pergerakan bipedal, interaksi robot dan manusia, serta tantangan-tantangan lain di ranah robotik. Menurutnya, robot ialah sebuah simbol 'kedamaian dan kemanusiaan' dalam kemajuan teknologi.
Sang robot dilengkapi sejumlah sensor, di antaranya modul pengelihatan 3D Microsoft Kinect. Persendiannya ditenagai 31 servomotor, dengan enam level pergerakan di masing-masing kaki, dua di leher, tujuh di tiap lengan, satu di tangan, dan satu di tubuh. Software berbasis Robot Operating System (ROS) bertanggung jawab dalam pengendalian robot, diawasi oleh seorang operator.
Kombinasi semuanya memungkinkan Surena III berjalan di permukaan tanah yang tidak rata, menendang bola, dan menggenggam objek. Terdapat kenaikan 19 level gerakan dari tipe kedua, dan ia memiliki kecepatan laju tujuh-inci per detik. Selain itu, Surena III juga sanggup berinteraksi dengan manusia berbekal fitur pengenal suara dan modul percakapan, meskipun saat ini robot baru bisa berbicara bahasa Farsi.
Dr. Yousefi-Koma bilang bahwa Surena tidak diciptakan untuk berpartisipasi dalam 'rivalitas pengembangan robot', lebih ditujukan pada implementasi di skenario bencana. Proses pembuatan generasi ketiga Surena kabarnya memakan waktu hampir empat tahun, dikerjakan oleh 70 orang dari institut berbeda.
Are you sure to continue this transaction?
processing your transaction....