Demi Mendorong Kreasi Konten Lokal, YouTube Luncurkan Broadcast Box
Yoga Wisesa - 26 October 2015
Belakangan ini, YouTube tampak sedang gencar mengompori khalayak Indonesia menciptakan dan mengunggah video. Minggu lalu, mereka mengadakan talkshow Content & Creativity: How Brands Can Win on YouTube, diikuti FanFest di hari Jumat, lalu sehari setelahnya mengumum-kan satu lagi program perdana demi mendorong pertumbuhan konten agar lebih pesat.
Berkolaborasi bersama Telkomsel, YouTube meluncurkan Broadcast Box, studio mini yang dilengkapi dengan kamera profesional, pernak-pernik properti, serta peralatan editing buat komunitas. Ia disiapkan sebagai platform latihan komprehensif, tentang bagaimana meraih sukses (dan ketenaran) lewat YouTube. Broadcast Box adalah sebuah inisiatif, bagian dari roadshow Telkomsel Loop 2015.
Veronica Utami selaku Head of Marketing Google Indonesia menerangkan, meskipun terdapat pertumbuhan tinggi dalam jumlah upload video di tahun ini, potensi masih bisa dibuka lebih luas. Perancangan Broadcast Box berpedoman pada karakteristik kreator di nusantara, berdasarkan pengamatan YouTube. Tujuannya ialah memaksimalkan fungsi dari platform video sharing tersebut.
Melalui Broadcast Box, Anda diajak memelajari kemudahan menggarap serta mengunggah video ke YouTube. Panduannya disiapkan langsung oleh para ahli. Kita juga dapat mengikuti workshop, berisi tips dan trik dalam mengembangkan channel via YouTube Partnership Program, ditambah lagi cara-cara untuk melindungi hak cipta konten di dunia maya. Di sana diundang pula para veteran, mereka yang berpengalaman membuat video jadi viral.
Info menarik: YouTube Singkap Kebiasaan Masyarakat Indonesia Menonton Video
Seperti yang sempat disingkap YouTube di ajang Content & Creativity, total upload masyarakat Indonesia melonjak 600 persen terhitung sejak tahun lalu - merupakan angka tertinggi di kawasan Asia Pasifik. Tim di belakang penyedia jasa tersebut berharap, Broadcast Box mampu membuka jalan lebih lebar bagi komunitas di luar ibukota untuk berinteraksi langsung dengan tim YouTube.
"Secara konsisten, Loop telah memfasilitasi kreativitas publik melalui berbagai channel, seperti Loop Channel dan gelaran Loop KePo, supaya di era digital ini mereka bisa menjadi digital creator dan bukan hanya sebagai konsumen," tutur VP Marketing Communications Telkomsel Nirwan Lesmana . "Broadcast Box membuka peluang bagi orang-orang untuk belajar dan mengembangkan kreativitas dalam membuat konten audio visual."
Broadcast Box rencananya akan hadir di Jakarta, Bandung, dan Surabaya, serta menyediakan workshop digital di Medan dan Makassar. Jadwal lengkapnya bisa Anda lihat di bawah: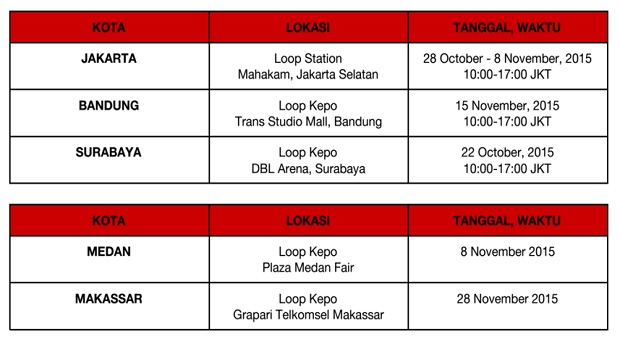 Header: YouTube.
Are you sure to continue this transaction?
processing your transaction....