English
Desty Announces Additional 71.3 Billion Rupiah Funding in Pre Series A Round
The investment was led by East Ventures with the participation of Jungle Ventures and previous investors, Fosun RZ and January Capital.
The e-commerce enabler platform Desty announced additional $5 million or around 71.3 billion Rupiah in pre-series A funding. This round was led by East Ventures with the participation of Jungle Ventures and previous investors, Fosun RZ and January Capital.
He further explained, this is an additional fuding from investors after Desty's latest fundraising worth of $3.2 million (about 46 billion rupiah) in a pre-series A round led by 5Y Capital in July 2021.
The company will then use these funds to accelerate product development and merchant acquisitions as well as launch innovative products in the next few months.
"Desty is one of the fastest growing startups in this field. What's even more impressive is that most of that growth has come from organic, word-of-mouth acquisitions. With attractive products and business growth, we believe Desty will create more value for online sellers and Indonesian creators," said Willson Cuaca, Co-Founder & Managing Partner of East Ventures.
Desty's main feature
Was launched in October 2020, Desty started as a digital platform for sellers, influencers, and creators to build an online destination to market and sell their products. Currently, there are two main products, including Desty Page (landing page ) and Desty Store (online store), for users to develop their existence and business in the digital ecosystem.
"Desty was founded when Covid-19 arrived in Indonesia, when a massive digitalization was happening. Sellers, influencers, and creators have used digital platforms to affirm its existence in the digital world that is becoming very crucial for growth. Soon, we will have 1 million creators and sellers using our platform. Some of our main sellers set Desty as their main channel rather than other marketplaces," Desty's Co-Founder & CEO, Mulyono Xu said.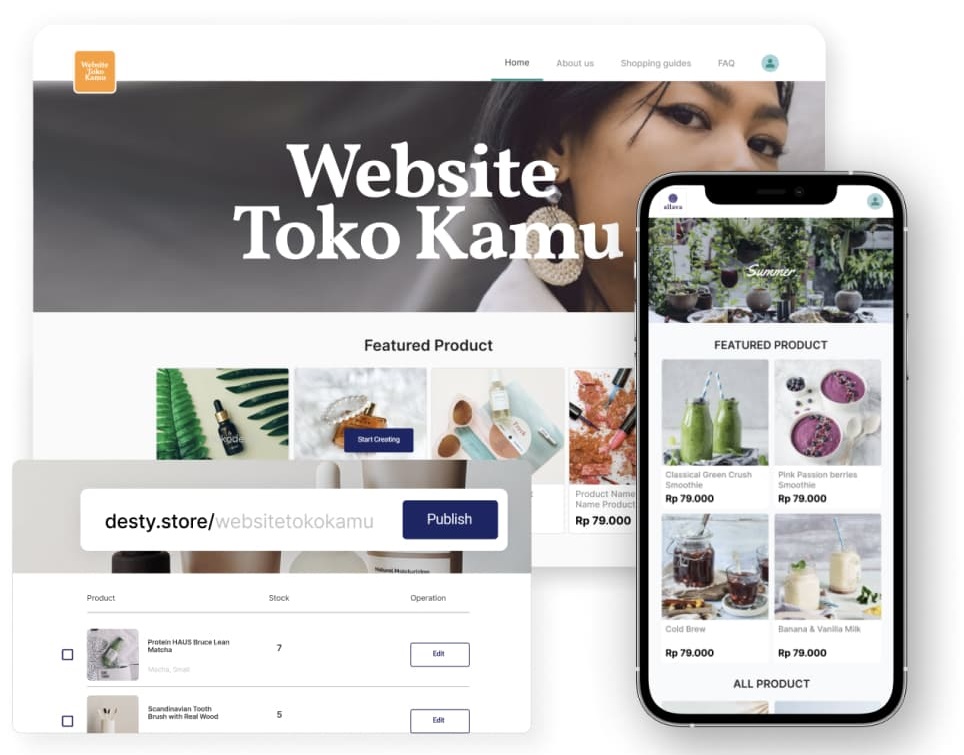 Today, around 50% of Desty users are online sellers, while 30% of users are creators or influencers. Some well-known sellers are using its services, including DAMN I Love Indonesia, Luna Habit & Nama Beauty by Luna Maya, Kurumi, Janji Jiwa, and Haus!. The creators within Desty's ecosystem are Dagelan, Greysia Polii (Indonesian Olympic Gold Winner), Choky Sitohang, Tahi Lalats (Mindblowon Studio), Daisuke Botak, Marcella Eteng, Filda Salim, FootNoteStories, and many more.
Market size
In Indonesia, more online sellers are getting tech-savvy because of the demands of today's customers, both for interactions and transactions. Various groups, from big brands to MSME players, continue to maximize the use of services such as marketplaces and social commerce. It is expected when the Indonesian e-commerce sector has experienced double-digit GMV (Gross Merchandise Value) growth over the past year reaching $52 billion.
Using this great opportunity, Desty aims to maximize the momentum. The company has experienced 60% and 50% growth (month to month) in traffic and GMV, respectively for the last 6 months.
"This funding marks our third fundraising in a year since the seed funding round in November 2020. With more than 60 people on the Desty team, we are constantly looking for new talent to make a more impactful solutiion for millions of Indonesians to strengthen their digital presence," Mulyono added.
According to the survey summarized in the MSME Empowerment Report 2021 by DSInnovate, one of the main issues of MSME players is to market their products (32%). They expect digital solutions to help them manage online channels in the correct and proper manner. This pain point was captured by the innovators, resulting in the presence of e-commerce enabler services.
Currently, most of the enablers are still focused on medium and large businesses, helping well-known brands to manage their transactions on online platforms. However, with the MSMEs business potential – especially in terms of quantity  – these enabler service providers have started to provide services in line with the MSME pain points.
Apart from Desty, several other players offer similar solutions, including Sirclo, Lakuuu, Jubelio, iSeller and others. Some players in other sectors are even starting to target similar segment, for example Xendit (unicorn) which recently released an Online Store platform for MSMEs that is integrated with its payment system.
–Original article is in Indonesian, translated by Kristin Siagian
Are you sure to continue this transaction?
processing your transaction....