Device Communicator Ini Disiapkan Buat Fans Star Trek Sejati
Yoga Wisesa - 13 July 2015
Tak cuma menjadi wadah seminar, kumpul-kumpul bersama komikus profesional, dan ajang preview film, San Diego Comic-Con juga merupakan tempatnya para fans berkespresi. Beberapa menunjukkan kecintaan mereka lewat costume play, namun tidak sedikit yang merealisasikan angan-angan mereka secara lebih serius, ambil saja contohnya The Wand Company.
Didirikan oleh duo inventor asal Inggris, Chris Barnardo dan Richard Blakesley, The Wand Company ialah perusahaan spesialis pembuat replika aksesori serta pernak-pernik film. Sebelumnya mereka pernah menciptakan tongkat sihir franchise Harry Potter sampai obeng 'suara' Doctor Who. Di SDCC 2015, The Wand memamerkan device Communicator dari seri Star Trek.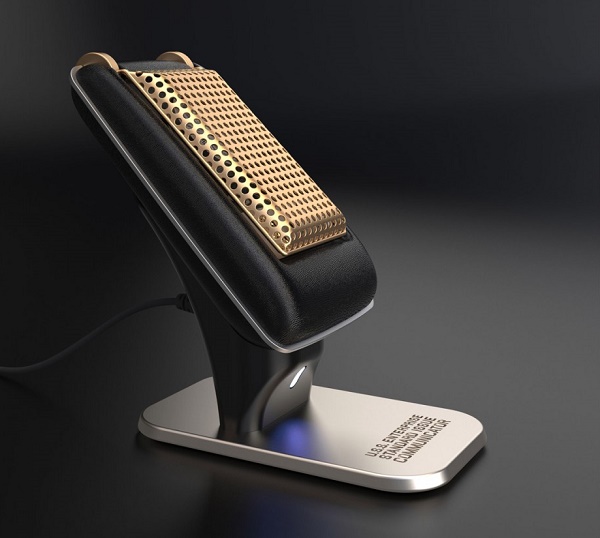 Desain perangkat Communicator tersebut berkiblat pada aksesori di film orisinil. Penampilannya klasik ala retrofuturism. Bentuknya kotak dengan serangkaian tombol-tombol fisik, dan terdapat tutupan flip berongga sebagai pelindungnya. Communicator Star Trek ini dikonstruksi dari kombinasi logam aluminium dan plastik bertekstur. Tiap lekukan dan komponen sengaja diracik supaya menyerupai wujud device sesungguhnya.
Info menarik: Kacamata Berteknologi LCD CTRL One Bisa Berubah Warna Seketika
Tapi apakah sebenarnya replika Communicator itu? Dapatkah ia menggantikan smartphone saat Anda dan rekan-rekan sedang sibuk berpura-pura jadi kru USS Enterprise? Faktanya, ia hanyalah sebuah speaker Bluetooth untuk dipasangkan secara wireless ke handset. Buat navigasi, The Wand Company telah membubuhkan fitur voice control - tinggal menyentuh tombol paling bawah saja.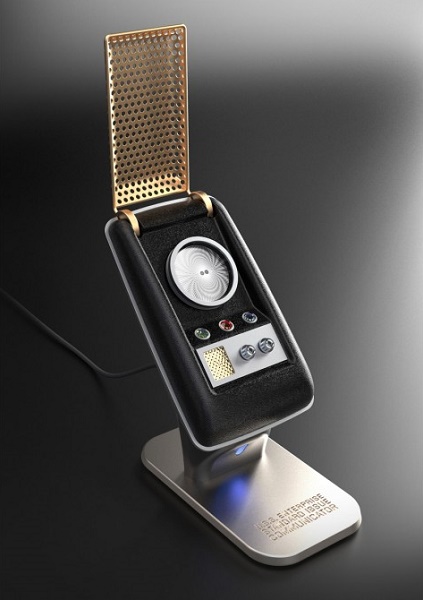 Dari pengakuan The Verge yang sudah mencobanya, di varian purwarupa, panggilan terasa jernih dan lantang. Saat penutup dibuka, Communicator akan mengeluarkan suara khas seperti di film Star Trek tahun 60-an. Kekuatan utama device ini sendiri terletak pada segi estetikanya, benar-benar disusun semirip mungkin dari mulai rancangan sampai bobot, dipadu dengan tambahan stand magnet serta kapabilitas wireless charging.
Communicator juga adalah barang yang layak dikoleksi, buat menyempurnakan memorabilia Star Trek Anda. Seandainya khawatir ia akan berdebu karena tidak pernah digunakan, tinggal taruh Communicator di atas meja kerja lalu sambungkan ke smartphone untuk menikmati lagu.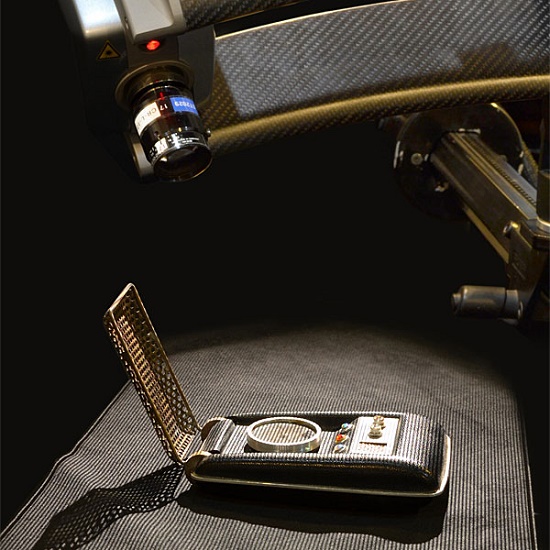 Gerbang pre-order Communicator tampaknya telah dibuka. Anda bisa memesannya di situs Think Geek ataupun Star Trek Shop. Harganya dibanderol US$ 150, cukup terjangkau khususnya bagi penggemar berat Star Trek, tapi baru tersedia bulan Januari tahun depan nanti.
Dan jangan lupa juga lengkapi diri Anda dengan remote control universal pistol Phaser dari The Wand Company.
Gambar: Star Trek Shop.
Are you sure to continue this transaction?
processing your transaction....