Di DLC Far Cry 5, Anda Akan Berhadapan Dengan Zombie, Laba-Laba Planet Mars, dan Pasukan Viet Cong
Pemilik Season Pass juga akan mendapatkan Far Cry 3 Classic Edition gratis.
Yoga Wisesa - 6 February 2018
Far Cry merupakan bukti kepiawaian Ubisoft dalam memasukkan potongan alam ke video game. Seri ini membawa pemain ke tengah-tengah konflik di benua Afrika, pulau tropis di samudra Pasifik, hingga menjelajahi Himalaya. Di game kelimanya, sang developer menciptakan daerah fiktif bernama Hope County yang berada di Montana, Amerika.
Meskipun latar belakang cerita Far Cry umumnya mengangkat tema yang cukup serius, developer memang pernah mengimplementasikan arahan komedi di spin-off seri ini, bisa kita lihat dari eksistensi Far Cry 3: Blood Dragon. Dan berdasarkan informasi dari Ubisoft, pendekatan seperti ini tampaknya juga dihadirkan lagi ke Far Cry 5.
Di situsnya, sang publisher asal Perancis itu menyingkap informasi mengenai Season Pass Far Cry 5. Dengan membelinya, Ubisoft menjanjikan tiga petualangan baru yang benar-benar unik: aksi menumpas mayat hidup, berlaga di perang Vietnam, hingga mengajak Anda ke planet Mars buat menghadapi serbuan alien laba-laba. Semua konten ini dihidangkan melalui tiga DLC berbeda, yaitu Dead Living Zombies, Hours of Darkness dan Lost on Mars.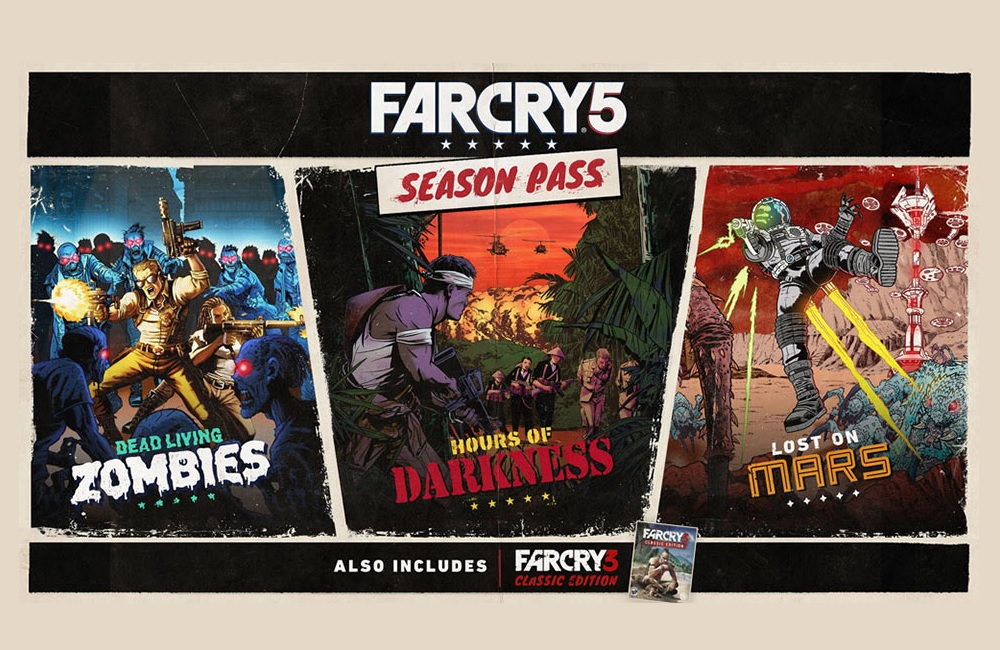 Menariknya lagi, pemilik akses Season Pass juga dapat kembali bertualang dan bertempur melawan kelompok perompak yang dipimpin oleh Vaas Montenegro di Far Cry 3, kali ini game dihidangkan untuk PlayStation 4 dan Xbox One. Far Cry 3 'Classic Edition' juga akan dijual terpisah empat minggu setelah Far Cry 5 dirilis. Itu berarti pemilik Season Pass bisa memainkannya lebih dulu.
Buat sekarang, belum diketahui kapan Dead Living Zombies, Hours of Darkness dan Lost on Mars akan dilepas, namun berdasarkan penyajian DLC di game-game Ubisoft sebelumnya, kemungkinan besar peluncuran mereka dilangsungkan secara bertahap.
Ada dua cara untuk memperoleh Season Pass Far Cry 5: pertama adalah membelinya ketika tersedia, atau Anda bisa mendapatkannya dengan memesan Gold Edition. Versi premium ini sudah dibundel bersama segala add-on, Season Pass serta bonus-bonus tambahan. Saat ini, Anda telah dipersilakan buat melakukan pre-order. Game rencananya akan dirilis di PC, Xbox One dan PlayStation 4 pada tanggal 27 Maret nanti.
Bersamaan dengan penyingkapan detail Season Pass ini, Ubisoft juga memublikasikan trailer baru, kali in difokuskan pada aspek cerita. Khusus bagi Anda yang berniat menikmati Far Cry 5 di Windows, pastikan dulu PC Anda telah memenuhi daftar kebutuhan hardware.
Far Cry 5 Gold Edition dibanderol di kisaran yang sama seperti versi 'gold' Assassin's Creed Origins: Rp 1 juta. Sangat mahal. Satu-satunya cara buat mendapatkannya di harga lebih rendah ialah dengan menunggu Steam Sale. Itulah yang saya lakukan buat mendapatkan Origins Gold Edition.
Are you sure to continue this transaction?
processing your transaction....