Di Tahun 2015, Nilai Permainan di Steam Mencapai $ 3,5 Miliar
Dua judul mendominasi kategori game terlaris dan permainan paling menguntungkan di tahun 2015: GTAV dan Fallout 4.
Yoga Wisesa - 6 January 2016
Steam memang masih jauh dari kata sempurna, apalagi di hari Natal lalu sempat terjadi kebocoran data sensitif user. Tapi sang pengelola servis distribusi digital terus berupaya memberikan layanan terbaik, terutama di sisi privasi. Begitu berharganya privasi, Valve bahkan enggan mengungkap angka penjualan game-game terlaris. Asumsinya, total pemasukan untuk Valve dan publisher sudah pasti tidak sedikit.
Mencoba menguak rahasia yang bersemayam di sana, programmer Sergey Galyonkin menciptakan websiteSteam Spy. Fungsinya simpel: mengestimasi penjualan di Steam berbekal sistem polling dan statistik. Di awal tahun 2016, Galyonkin memublikasikan sebuah analisis terkait Steam, memperlihatkan angka-angka menakjubkan. Berdasarkan perhitungan, nilai pasar game Steam di tahun 2015 mencapai US$ 3,5 miliar.
Dikomparasi dengan masa-masa sebelumnya, 2015 boleh dibilang sebagai tahun terbaik dan paling menguntungkan buat Steam. Sebelum membahasnya lebih lanjut, Galyonkin tak lupa memberi tahu bahwa kalkulasi yang dilakukannya tidak 100 persen akurat, tapi selisihnya tidak terlalu jauh.
Sebagai permulaan, terhitung ada lebih dari 3.000 judul permainan baru hadir di tahun lalu, kemudian jumlah pengguna yang mengakses Steam secara berbarengan melonjak dari rekor 8 juta menjadi 12 juta orang. Selama 12 bulan silam, Steam 'membantu' proses distribusi lebih dari 350 juta kopi permainan. Hebatnya lagi, angka di atas belum termasuk keuntungan dari game free-to-play ataupun DLC.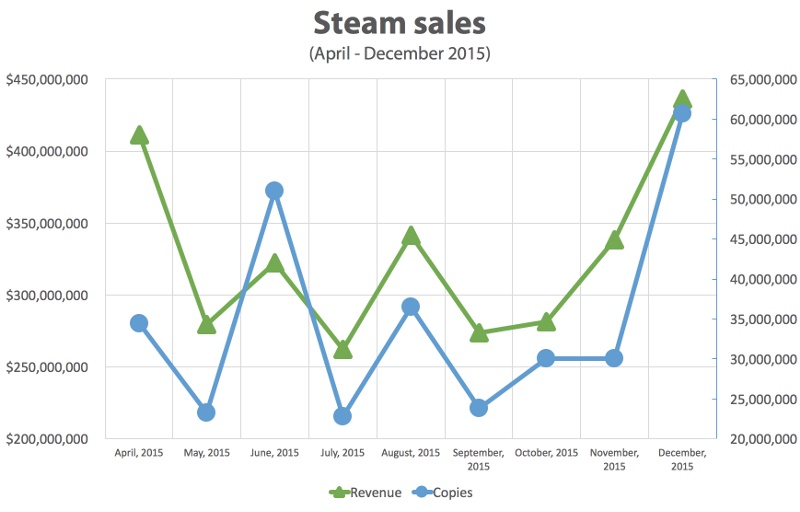 Anda mungkin sudah bisa menebak, penjualan tertinggi berada saat program diskon dilangsungkan, terutama pada periode Summer dan Winter Sales. Meski demikian, bulan Desember terpantau mengalahkan bulan April.
Menurut data dari Newzoo, pasar gaming core PC di tahun 2015 diperkirakan mempunyai nilai di kisaran US$ 27 miliar. Jadi dengan menyertakan keuntungan dari Dota 2 dan Team Fortress 2, Valve mengendalikan sekitar 15 persen pasar gaming global. Perlu diingat, tidak semua game yang di-redeem di Steam juga dijual di Steam, contohnya Grand Theft Auto V dan The Witcher 3.
Lima permainan dengan penjualan tertinggi meliputi:
Grand Theft Auto V
Fallout 4
ARK: Survival Evolved
Rocket League
H1Z1
Sedangkan lima game dengan pemasukan tertinggi ialah:
Grand Theft Auto V
Fallout 4
Counter-Strike: Global Offensive
Metal Gear Solid V: The Phantom Pain
The Witcher 3: Wild Hunt
Daftar lengkapnya dapat Anda lihat di bawah.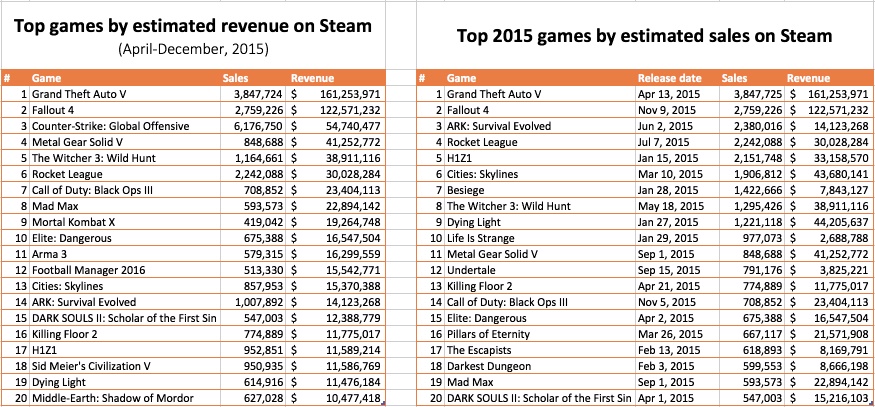 Are you sure to continue this transaction?
processing your transaction....