Digital Strategy to Optimizing Culinary Business
Registration to the delivery service and creating online profile
The public appeal to stay at home and reduce the spread of Corona virus resulting impact on some sectors, including culinary business. From the top-tier to the small stalls are struggling to have visitors due to the lockdown season. For some business players, for example, with the cloud-kitchen concept, they actually gain benefit by accommodating food ordering through digital applications.
Meanwhile, the digitization concept is quite easy to duplicate by other business players. Here are some recommended apps for business players to digitize their business followed by simple guidance.
Food delivery service
Currently, GoFood and GrabFood are the two most popular platforms with broad coverage in Indonesia. Business players can register their restaurants here for free as the following steps:
| | |
| --- | --- |
| GoFood 1. Download the GoBiz app in App Store or Play Store 2. Next, there are two kinds of businesses, individual with homemade scale and company with legal entity. 3. Fill up the business detail and owner profile. User is required to upload the ID or Tax ID (company). 4. Moreover, you have to complete the payment data. It is recommended to use a bank account with the same name as the business owner. If it's not, there must be power of attorney. 5. Last, read and agree on the terms and conditions. The verification process will be held within 7-14 working days. | GrabFood 1. Complete your profile through this page. Then, confirm your email - Grab recommends to use Gmail based one. 2. Complete your detail information of the business place, including to upload outside figure according to the registered name. 3. Enter the owner's identity attached to the photo. Make a selfie with your ID in the app for verification. NPWP should be attached also (if there is any). 4. Next, the user will be requested to upload the bank account photo. It is recommended to use a bank account with the same name as a business owner. If it's not, there must be power of attorney. 5. Last, complete the menu information. 6. Wait for the verification process within 72 hours. 7. Moreover, the next process can be managed through the GrabFood Merchant app available on App Store or Play Store. |
By becoming part of the messaging service ecosystem between Gojek and Grab, business owners are automatically asked to activate a digital wallet for transaction management. For GoFood merchants, transactions will be made using GoPay, while for GrabFood using Ovo. Therefore, it is also recommended to have downloaded and registered for both services before registration. Worry not, because the digital wallet balance can easily be transferred to a bank account.
There are some tips to follow:
In terms of food photos, make sure it's in good resolution. Give a good and clean impression on the menu.
Because it's a delivery service, a business should come with good packaging. Don't make it too simple that the customer feel like it's not enough.
Routinely updating information on availability and schedule.
Application Information Will Show Up Here
Application Information Will Show Up Here
Online business profile
Business information should also be easy to find, one way is by setting up an online profile. Includes business identity, address, menu, opening hours, and channels for consumers to provide reviews. One application that is highly recommended to help businesses make an online presence is Google My Business. This application can be downloaded for free, allowing people to find comprehensive information about the business they work at.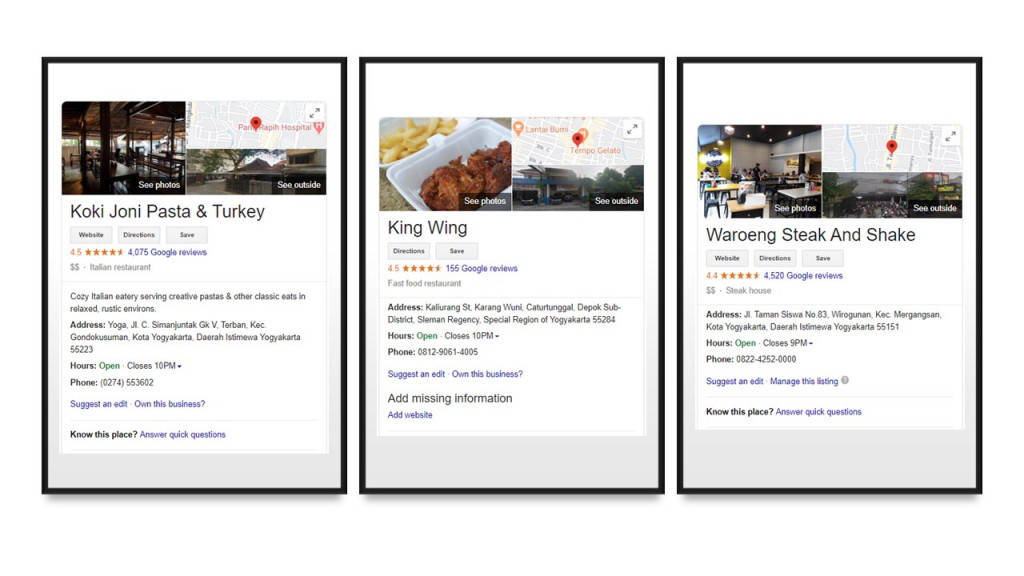 Here are few tips to manage culinary business information on Google My Business:
Download the Google My Business app on App Store or Google Play.
Register with your Gmail account.
Submit the business name - it can be already registered, just select. It can happen when someone has been checked-in at the location via Google Maps.
Enter the business category, in this case, you can choose as a restaurant or cafe. Next, add further information related to the location.
Also, don't forget to display the contact number and website if there's any: it's optional.
Furthermore, the business will be displayed on Google pages if there are users entering keywords related to the registered business mark. Users can also provide comments in the form of comments or upload photos from their visit. Ideally, there will always be users who will provide reviews, because for users there are points that can also be obtained from Google.
Application Information Will Show Up Here
Need a further promotion?
Already registered with the online delivery service and directory does not mean that businesses will immediately get a lot of visits. It should be noted, that online there are millions of businesses that are also competing to maximize their presence. So the promotion process must still be carried out by the business owner. Promotional approach can be done for free or paid.
A free example, a business owner can use social media or send messages to surrounding colleagues related to the business. Online presence makes it easy for potential customers to follow up on business information, for example when they want to find out the location or menu available - or want to try but with a delivery service.
How to pay, users can promote business with digital advertising, both through social media or Google Ads. Delivery services also usually promote potential businesses in their applications. The aim is to open up opportunities to reach new consumers.
Supporting business process
In addition, there are also tools that can help entrepreneurs to manage their business. For example online cashier services or financial records. It is important for businesses to keep books, in addition to records, the data obtained can also be studied and analyzed to accelerate business. A full list of applications can be seen in the following article: List of Supporting Services for SME Business Development.
–Original article is in Indonesian, translated by Kristin Siagian
Are you sure to continue this transaction?
processing your transaction....