Diramu oleh Anak-Anak Dari Pencipta Atari, The Polycade Ialah Mesin Arcade Era Modern
Polycade bisa menjalankan ribuan judul permainan yang pernah muncul di Atari, Game Boy, Sega, sampai NES.
Yoga Wisesa - 22 December 2015
Perjalanan game arcade dimulai saat para mahasiswa Stanford memperkenalkan Galaxy Game, namun genre ini baru benar-benar dikenal setelah Nolan Bushnell mendirikan Atari. Meskipun khalayak sudah beralih ke platformgaming modern, kuatnya kesan yang ditinggalkan arcade membuat ia sulit dilupakan, terutama bagi gamer veteran. Dan kadang, arcade juga memunculkan ide-ide unik.
Setelah Ken Burns mengungkap model miniatur mesin game lawas tersebut, kini dua orang putra Nolan Bushnell menciptakan versi modern dari mesin arcade. Melalui Kickstarter, Tyler dan Dylan Bushnell memperkenalkan The Polycade. Dengan mengusung desain klasik, Polycade mempunyai solusi atas keterbatasan mesin arcade terdahulu.
Meski teknik penyuguhannya hampir serupa, Polycade memiliki konsep dasar perancangan berbeda. Pertama, ia tak cuma bisa mengoperasikan satu judul permainan. Kemudian di sisi penampilan, wujudnya lebih elegan serta minimalis. Ia dapat dinikmati oleh seorang gamer, serta mendukung mode multiplayer dua pemain. Konstruksinya simpel dan kuat, mudah dikustomisasi serta diperbaiki.
The Polycade dibuat untuk ditempelkan ke tembok, mempunyai dimensi 132×76,2cm, dengan jarak terjauh dari sisi tembok 43,2cm. Bahan dasarnya memakai kayu lapis. Buat finishing, Anda diberi pilihan stiker vinyl atau cat semprot. Komponen panel kendalinya bisa dilepas, memastikan produk tetap future-proof seandainya developer merilis upgrade.
Device menyajikan panel TV LED Insignia 28-inci 60Hz. Kita dipersilakan menggunakan monitor lain dan proses menukarnya pun sangat mudah. Untuk input kendali, Anda dapat memilih tipe Classic (joystick dan tombol Happ), Showdown (joystick dan tombol Sanwa), atau Tech (joystick Ultimarc 4-8-wayswitchable dan tombol Happ). Buat pelengkap kontrol, ada opsi 'oldschool' (dua tombol dan joystick Happ 4-way) atau trackball.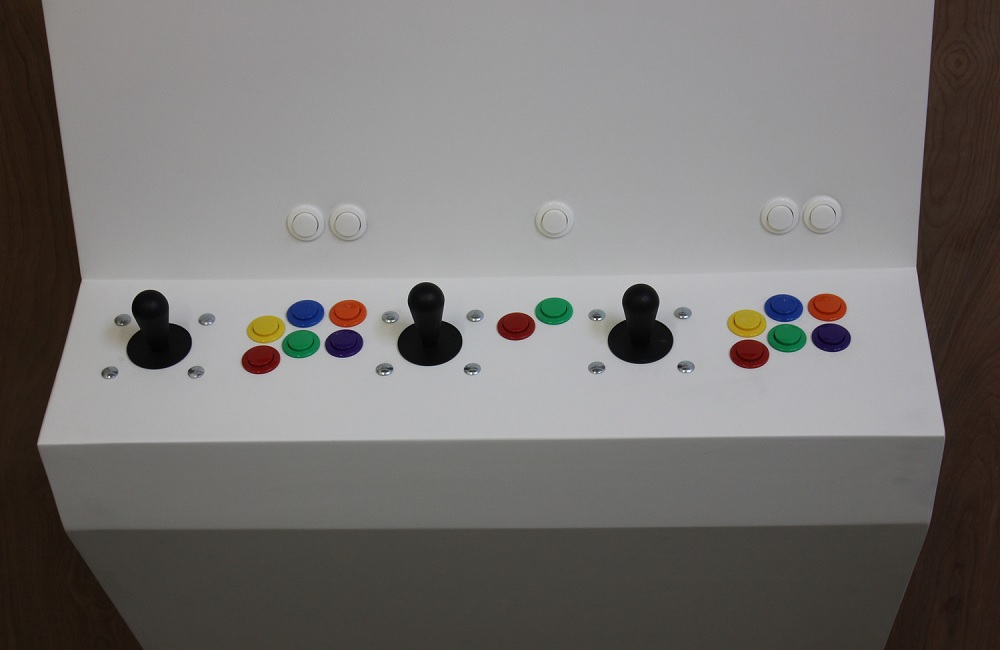 Sebagai jeroannya, The Polycade memanfaatkan Raspberry Pi 2 Model B (tipe Raspberry Pi terbaru) dipadu kartu SD 8GB yang sudah di-preload dengan software. Storage sanggup menyimpan ribuan permainan platform Atari 800, Atari 2600, Game Boy Color dan Advance, Sega Master System, Sega Genesis, NES, Super Nintendo, dan lain-lain. Paket pembelian Polycade juga tak lupa dibundel bersama puluhan game siap main, misalnya Streets of Rage, Virtua Fighter 2 sampai Sonic 3.
Rencananya, The Polycade akan mulai disalurkan ke para backer di bulan Februari 2016. Perkiraan harga retail-nya ialah US$ 1.950, sedangkan harga pledge Kickstarter terendah adalah US$ 1.250 (US only).