Direct Message di Instagram Sudah Mendukung Pengiriman Pesan Suara
Fitur ini digulirkan secara global ke pengguna Android dan iOS
Bambang Winarso - 11 December 2018
Setelah meluncurkan pesan video ke dalam fitur olah pesan bawaan, jejaring sosial kepunyaan Facebook, Instagram hari ini mulai meluncurkan pesan suara sebagai opsi lain bagi pengguna yang ingin mengirimkan pesan dalam bentuk audio, bukan video. Instagram telah menguji fitur ini setidaknya selama empat bulan. Dan kini, semua pengguna berbasis Android dan iOS segera bisa mempergunakannya.
Cara pakai fitur pesan suara di Instagram Direct ini sangat mirip dengan fitur serupa di perpesanan suara yang tersedia di Apple iMessage. Durasi pesan suara yang dikirimkan bisa mencapai satu menit, mencakup pesan perorangan atau kelompok.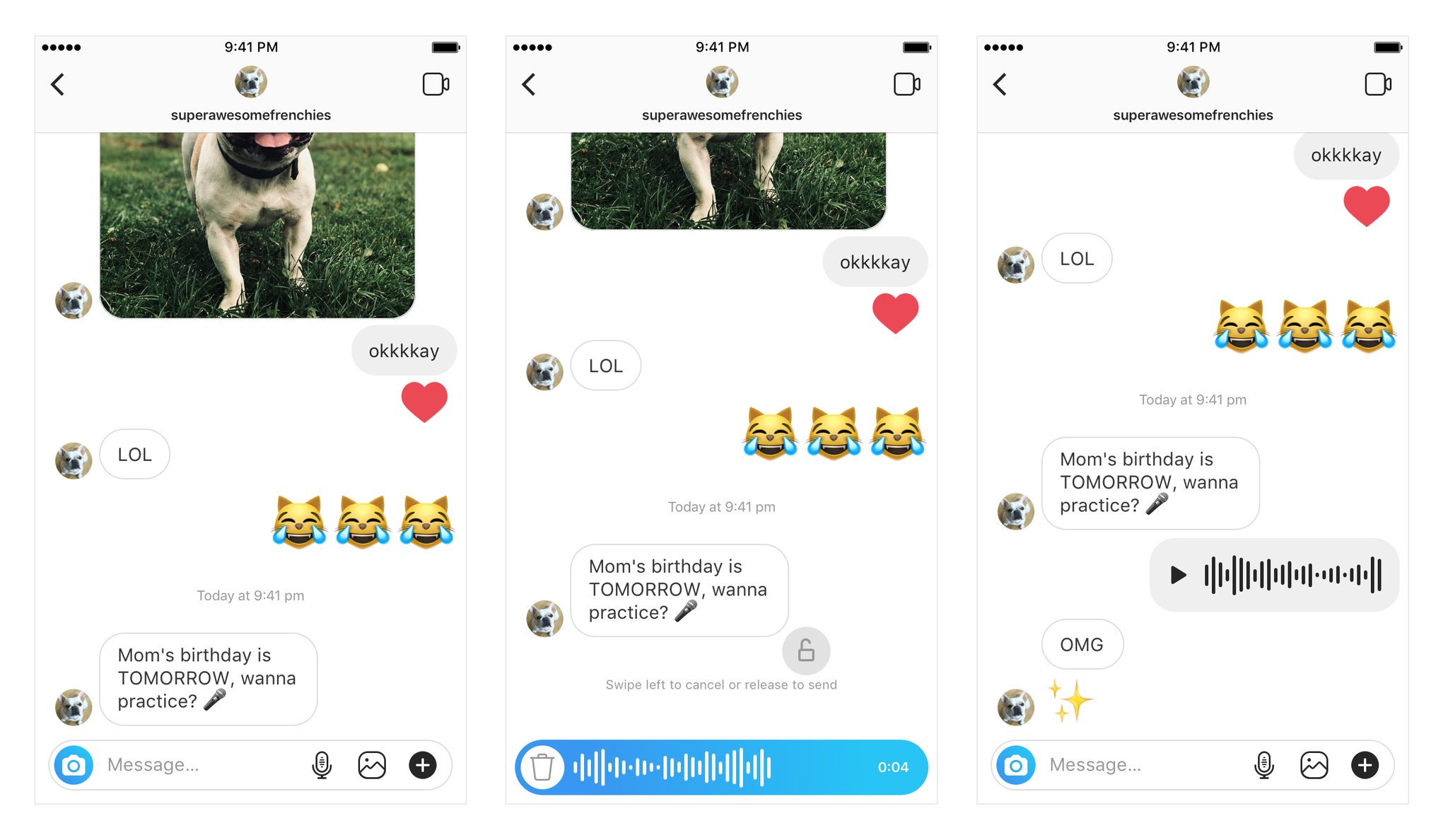 Untuk menggunakan fitur ini, pengguna cukup menekan tombol mikrofon dan pesan akan dikirim secara otomatis saat tombol dilepas. Tetapi jika pengguna merasa tidak yakin untuk mengirimnya atau ingin merekam ulang, mereka bisa menggeser jari Anda ke tempat sampah untuk menghapusnya sebelum melepaskan tekanan.
Starting today, you can send voice messages in Direct. Talk the way you want to be heard, whether by whispering what you're up to or shouting a compliment. pic.twitter.com/3rkdQneNXO

— Instagram (@instagram) 10 Desember 2018
Di platform lain, seperti WeChat, pesan suara mulai menjadi salah satu cara komunikasi favorit. Jadi cukup masuk akal apabila Instagram mengikutinya dengan merilis fitur yang sama. Instagram harus diakui agak terlambat menghadirkan fitur pesan suara ke DM. Pasalnya, Facebook sebagai perusahaan induknya sudah sejak beberapa tahun lalu menawarkan cara komunikasi ini.
Peluncurannya sendiri ditujukan untuk pengguna global, namun seperti pembaruan yang sudah-sudah, kemungkinan besar belum semua pengguna benar-benar akan menemukan fitur ini di fitur Direct Message miliknya. Jika Anda termasuk di antaranya, mohon bersabar dan periksa kembali besok.
Sumber berita Techcrunch dan gambar header Pixabay.
Are you sure to continue this transaction?
processing your transaction....