Disney+ Tembus 100 Juta Pelanggan
Padahal umurnya belum sampai satu setengah tahun
Glenn Kaonang - 10 March 2021
Disney+ terus menunjukkan pertumbuhan yang sangat pesat. Dalam pertemuan tahunan bersama para shareholder, CEO Walt Disney, Bob Chapek, mengungkapkan bahwa jumlah pelanggan layanan streaming video mereka itu sudah menembus angka 100 juta orang secara global.
Prestasi ini cukup membanggakan mengingat Disney+ baru beroperasi selama sekitar 16 bulan sejak diluncurkan pertama kali pada tanggal 12 November 2019. Sekarang, Disney+ sudah tersedia di 59 negara yang berbeda. Di Indonesia sendiri jumlah pelanggannya diperkirakan ada di kisaran 2,5 juta orang per Januari kemarin.
Angka 100 juta ini memang baru sekitar separuh dari total subscriber yang Netflix miliki. Namun Disney sendiri tidak menyangka pertumbuhannya bisa secepat ini. Prediksi awal yang Disney tetapkan adalah sekitar 60 sampai 90 juta pelanggan di tahun 2024, meski tentu saja prediksi tersebut dibuat sebelum pandemi COVID-19 melanda, yang ternyata membantu mendorong pertumbuhan jumlah pelanggannya (dan Netflix) secara signifikan.
Menurut Chapek, kesuksesan Disney+ ini menjadi motivasi bagi mereka untuk menyiapkan dana yang lebih besar lagi untuk pembuatan konten-konten orisinal. Targetnya adalah lebih dari 100 judul baru setiap tahunnya, dan ini mencakup beragam intellectual property (IP) dari Disney Animation, Disney Live Action, Marvel, Star Wars, dan National Geographic.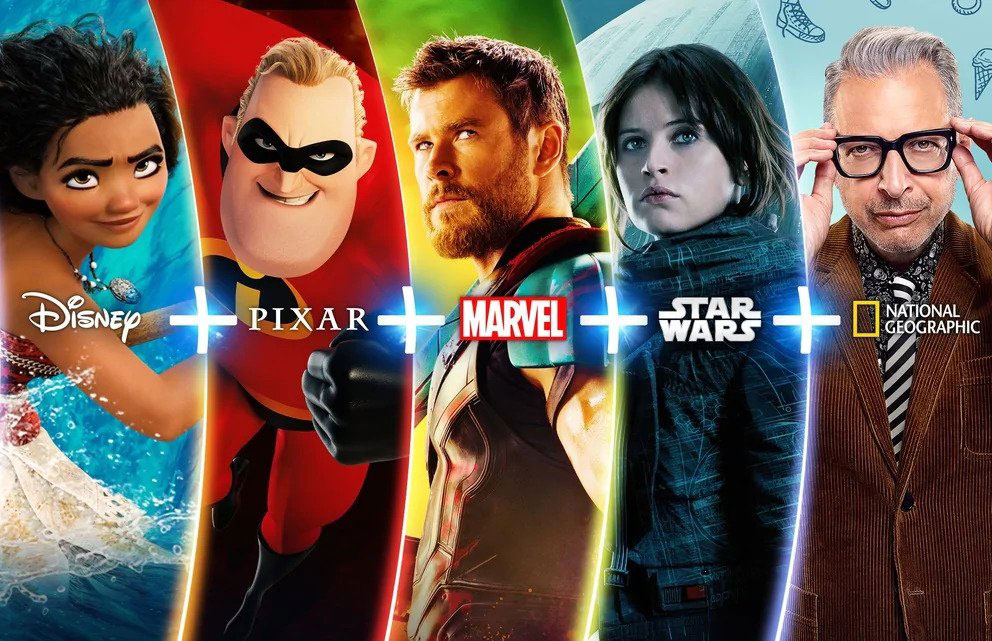 Baru-baru ini, Disney+ baru saja menyiarkan episode terakhir dari serial populer WandaVision, dan mereka juga telah menjadwalkan tayangan-tayangan unggulan lain sampai di bulan Juli 2021. Yang paling dekat adalah serial berjudul The Falcon and the Winter Soldier (masih dari properti Marvel), yang dijadwalkan tayang mulai 19 Maret.
Yang mungkin masih memicu perdebatan adalah terkait pemasukan. Pada bulan Desember kemarin, Disney melaporkan bahwa sekitar 30 persen dari total pelanggan Disney+ merupakan pelanggan Disney+ Hotstar, termasuk kita semua yang ada di Indonesia. Seperti yang kita tahu, tarif berlangganan Disney+ Hotstar jauh lebih murah daripada tarif Disney+ di beberapa negara.
Itu berarti ada selisih yang cukup besar antara pemasukan yang didapat dari satu orang pelanggan Disney+ Hotstar di Indonesia (Rp39.000 per bulan atau Rp199.000 per tahun) dengan yang didapat dari satu orang pelanggan Disney+ di Amerika Serikat ($6,99 per bulan atau $69,99 per tahun). Netflix di sisi lain juga menerapkan tarif yang berbeda di tiap negara, tapi selisihnya tidak sampai sejauh itu.
Sumber: The Verge. Gambar header: Depositphotos.com.
Are you sure to continue this transaction?
processing your transaction....