DJI Hadirkan Mode Penerbangan Otomatis Ke Semua Lini Phantom 3 dan Inspire 1
Glenn Kaonang - 9 September 2015
Saat memperkenalkan dronePhantom 3 Standard Agustus kemarin, DJI secara spesifik menarget konsumen yang baru mendalami hobi ini. Untuk itu, salah satu fitur yang diunggulkan adalah penerbangan otomatis yang terdiri dari tiga mode: Follow Me, Waypoint dan Point of Interest.
Kabar ini sejatinya cukup mengejutkan buat saya. Mengapa? Karena DJI Phantom 3 Professional dan Phantom 3 Advanced yang notabene dibanderol lebih mahal rupanya tak dilengkapi fitur serupa. Memang, kedua varian tersebut ditujukan buat pengguna yang lebih profesional. Tapi toh tidak ada salahnya menyematkan fitur penerbangan otomatis.
Rupanya tepat seperti itulah yang dilakukan DJI saat meramaikan ajang IFA 2015 kemarin. Mereka merilis firmware update untuk semua varian Phantom 3 sekaligus Inspire 1Update ini mengemas deretan fitur yang dijuluki Intelligent Flight Modes yang terdiri dari lima mode berbeda.
Info menarik: DJI Rilis Drone Matrice 100 yang Dibekali 'Penglihatan'
Mode yang pertama, Waypoint, memungkinkan pengguna untuk menetapkan titik-titik tertentu berdasarkan lokasi GPS sebagai rute terbang. Selanjutnya, baik Phantom 3 maupun Inspire 1 akan terbang mengikuti rute tersebut, dan pengguna pun hanya perlu berfokus mengendalikan kamera drone.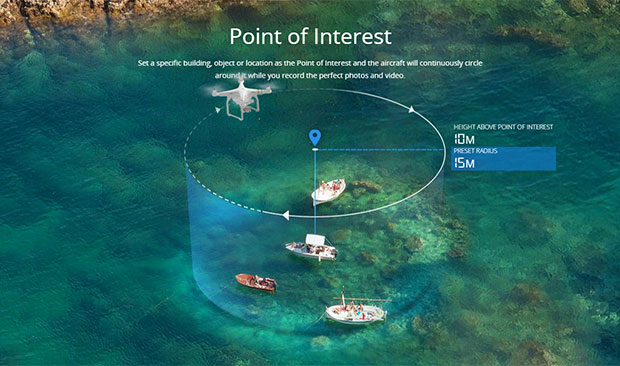 Mode yang kedua, Point of Interest, memungkinkan pengguna untuk menetapkan objek tertentu – bisa berupa pohon, orang atau rumah – sebagai 'pusat perhatian' dari drone. Selanjutnya, Phantom 3 dan Inspire 1 akan terbang mengitari dan mengarahkan kameranya ke objek tersebut, membentuk lingkaran yang sempurna yang berujung pada kesan sinematik pada hasil video.
Khusus mode ketiga, yaitu Follow Me, Inspire 1 tidak kebagian jatah. Namun buat ketiga model Phantom 3, mode ini memungkinkan drone untuk mengikuti seseorang secara konstan. Syaratnya cuma satu, yakni orang yang hendak diikuti tersebut harus terus memegang controller atau smartphone yang tersambung ke drone.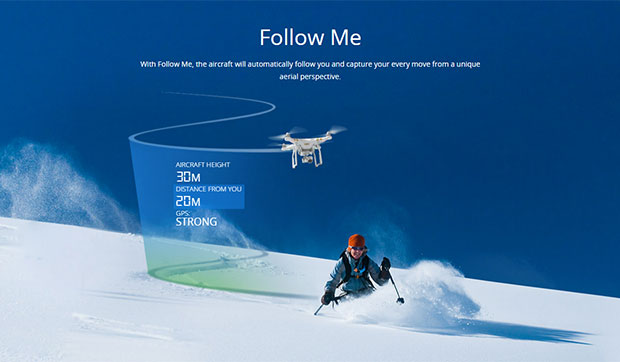 Dua mode lainnya, yakni Course Lock dan Home Lock, dirancang supaya pengguna lebih mudah memahami orientasi drone. Saat mode Course Lock aktif, gerakan drone akan mengikuti gerakan joystick pada controller. Jadi meskipun kameranya sedang menghadap ke arah kanan Anda, drone masih akan bergerak ke kiri ketika Anda mendorong joystick ke kiri.
Sedangkan fitur Home Lock berguna untuk mendekatkan atau menjauhkan drone dari posisi Anda. Jadi hanya dengan mendorong joystick ke atas atau bawah, drone akan bergerak menjauh atau mendekati Anda, tidak peduli ke mana pun kameranya sedang menghadap.
Info menarik: 8 Drone Murah Terbaik yang Bisa Anda Beli Saat Ini
Update ini jelas sangat berarti bagi pemilik Phantom 3 Professional maupun Phantom 3 Advanced. Kalaupun mode penerbangan otomatis tidak begitu menarik buat mereka, masih ada mode Course Lock dan Home Lock yang amat berguna ketika drone berada di kejauhan dan pengguna kesulitan mengenali orientasinya.
Di saat yang sama, update ini rupanya juga meningkatkan kualitas kamera milik Phantom 3 Advanced, dimana ia kini bisa merekam dalam resolusi 2,7K, atau tepatnya 2704 x 1520 pixel dalam kecepatan 30 frame per detik.
Seperti yang bisa kita lihat, hanya dengan firmware update saja, pengguna bisa seakan-akan mendapatkan drone baru yang lebih cerdas.
Sumber: DJI via Apple Insider.
Are you sure to continue this transaction?
processing your transaction....