Game
Dota 2 Reborn Akan Dapat Dimainkan Oleh 24 Orang Sekaligus
Dota 2 The International 2015 sudah usai, ditutup oleh kemenangan dramatis tim Evil Geniuses. Bagaimana tidak, sebagian prediksi yang ada tetap mengatakan bahwa kompetisi tahun ini akan dimenangkan kembali oleh tim asal Tiongkok.
Nyatanya? Untuk pertama kalinya sepanjang sejarah The International, tim asal Amerika Serikat berhasil menjadi juara, meski perjalanannya sama sekali tidak mulus.
Namun mendekati babak final The International 2015, Valve rupanya sempat menghelat satu pertandingan kejutan yang bertajuk All-Star Match. Pertandingan ini secara total melibatkan 20 pemain secara bersamaan; 10 adalah superstar di kancah turnamen profesional Dota 2, sedangkan 10 lainnya berasal dari tribun penonton.
Info menarik: Evil Geniuses Menangkan The International 2015 Dota 2, Raih $ 6,6 Juta
Hasilnya? Tentu saja sangat brutal. Kalau pertandingan 5 lawan 5 saja sudah bisa membuat heboh para penonton, bayangkan saja bagaimana jadinya kalau kehebohan tersebut dilipatgandakan. Ada Dendi yang selalu setia berkelana sebagai Pudge, ada Zeus yang tidak segan menghujamkan ultimate skill-nya ke 10 hero musuh sekaligus, dan yang terbaik, ada duet maut Techies bersama Tusk.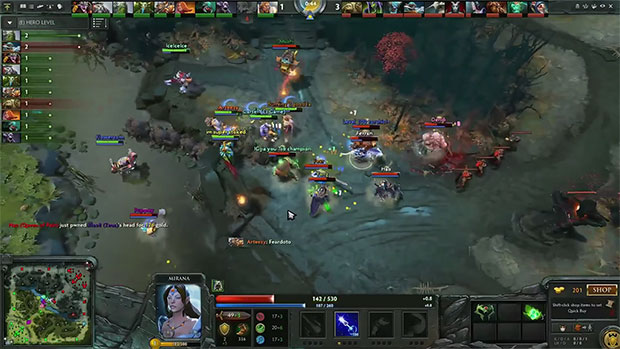 Kendati demikian, tujuan utama Valve sebenarnya adalah mempertontonkan salah satu fitur baru yang diusung Dota 2 Reborn, yakni Custom Game. Di sela-sela pertandingan tersebut, disebutkan bahwa mulai minggu depan, semua Custom Game dalam Dota 2 Reborn bisa dimainkan oleh 24 pemain sekaligus.
Penasaran seberapa gilanya pertandingan Dota 2 antara 10 pemain melawan 10 pemain lainnya? Anda bisa tonton video yang sangat menghibur di bawah ini.
Sumber: IGN.
Are you sure to continue this transaction?
processing your transaction....