Drone Canggih Ini Mampu Mencari Pendaki yang Tersesat di Hutan
Software drone mensimulasikan cara kerja otak manusia, menjadi semakin pandai berkat latihan.
Yoga Wisesa - 11 February 2016
Dengan tersedianya perangkat pintar dan kemudahan akses informasi, ternyata masih banyak orang tersesat di hutan tiap tahunnya. Hal ini menunjukkan bahwa keselamatan merupakan salah satu ranah penting di mana teknologi bisa dikembangkan secara lebih ekspansif lagi. Dan gabungan tim peneliti Swiss mencoba memberi jalan keluar melalui pendekatan familier.
Di Swiss, ada 1.000 panggilan darurat dilakukan oleh para pendaki yang terluka atau tersesat selama 12 bulan. Kendala ini mendorong tim dari University of Zurich dan Dalle Molle Institute of Artificial Intelligence buat melangsungkan riset secara bersama-sama. Hasil dari upaya kolaboratif tersebut adalah drone unik, mempunyai spesialisasi untuk menemukan orang-orang yang hilang di belantara.
Anda mungkin sudah tidak asing dengan cara kerja drone, namun kunci dari kemampuan device penyelamat nyawa itu terletak pada sisi software-nya. UAV dilengkapi kecerdasan buatan canggih, berjalan dengan rangkaian algoritma mutakhir. Perangkat lunak bekerja terus menerus dalam memindai area di sekitar drone via kamera build-in yang diposisikan di bagian luar. Teknologi tersebut sangat kompleks, mengharuskan peneliti menciptakan otak komputer sebelum memulai riset.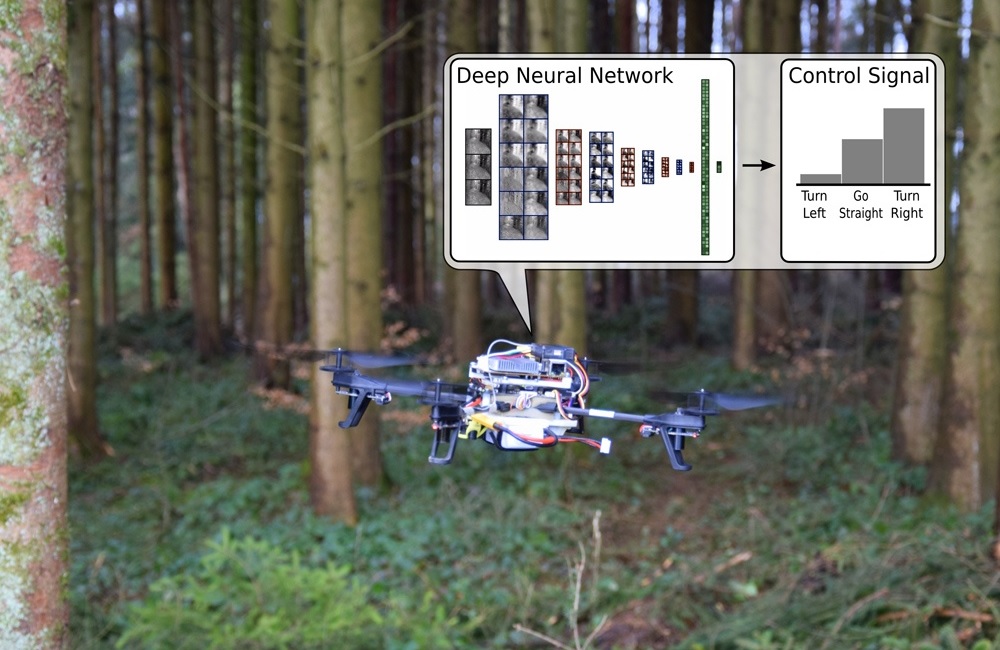 Algoritma tersebut ialah faktor wajib. Drone umunya memang dapat terbang tinggi dan banyak orang telah menggunakannya untuk keperluan komersial, tapi kendalanya, ia tidak bisa terbang secara otomatis di area-area 'kompleks' seperti hutan lebat. Satu kesalahan perhitungan kecil saja beresiko tabrakan. Oleh karenanya, diperlukan komponen otak pintar - agar UAV sanggup mengetahui seberapa rumit lingkungan itu.
Software drone mensimulasikan cara kerja otak manusia, menjadi semakin pandai berkat latihan, dinamai Deep Neural Networks. Dalam proses pembuatannya, tim peneliti diharuskan mendaki jalan setapak di Swiss Alps (bagian pegunungan Alpine) sembari menjepret puluhan ribu foto sebagai bekal data drone. Informasi tersebut diunggah ke software, dan langsung diuji secara praktek.
Kerja keras mereka memperoleh hasil mengagumkan. Tes dilaksanakan di jalan setapak baru, dan saat terbang, drone sanggup menemukan arah dengan keakuratan sebesar 85 persen - lebih tinggi tiga persen dibanding manusia. Tentu supaya drone dapat membantu penyelamatan, masih banyak aspek yang harus disempurnakan. Target jangka pendek mereka adalah mengajarkan UAV supaya bisa mengenal manusia.
Setelah hal itu terpenuhi, Profesor Luca Maria dari Dalle Molle juga menyampai, kita tidak perlu menunggu terlalu lama untuk melihat drone bekerja sama dengan manusia di masa-masa krisis.
Sumber: IEEE.org & Digital Trends.
Are you sure to continue this transaction?
processing your transaction....