Drone dan Action Cam 8K Bakal Hadir pada Awal Tahun 2022
Berkat SoC terbaru bikinan Ambarella
Di kalangan produsen system-on-a-chip (SoC), nama Ambarella memang kalah populer dibanding Qualcomm atau MediaTek. Kendati demikian, Ambarella selama ini punya peran besar dalam memajukan industri kamera dan drone, dan chip buatannya juga sudah lama menjadi otak di balik produk-produk populer keluaran GoPro maupun DJI.
Yang terbaru, Ambarella memperkenalkan AI vision processor CV5 di ajang CES 2021, dan SoC anyar ini bakal memulai tren action cam beserta drone dengan kemampuan merekam video 8K. Bukan sembarang 8K, melainkan 8K 60 fps. Sebagai referensi, ponsel flagship terbaru Samsung pun 'hanya' mampu merekam video 8K 24 fps.
Secara teknis, Ambarella CV5 memadukan AI engine CVflow dengan sepasang prosesor ARM Cortex-A76. Produksinya telah memanfaatkan teknologi pabrikasi 5 nanometer, dan itu berujung pada efisiensi energinya yang luar biasa: untuk encoding video 8K 30 fps misalnya, CV5 hanya mengonsumsi daya sebesar 2 watt saja.
Karena sangat irit daya, SoC ini tidak cuma ideal untuk action cam maupun drone saja, melainkan juga perangkat seperti kamera pengawas maupun kamera mobil. Namun tidak bisa dipungkiri, CV5 punya daya tarik tersendiri di mata produsen drone, terlebih berkat kemampuannya mengeksekusi fitur-fitur navigasi pintar selagi sedang mengolah data hasil perekaman video 8K 60 fps secara real-time.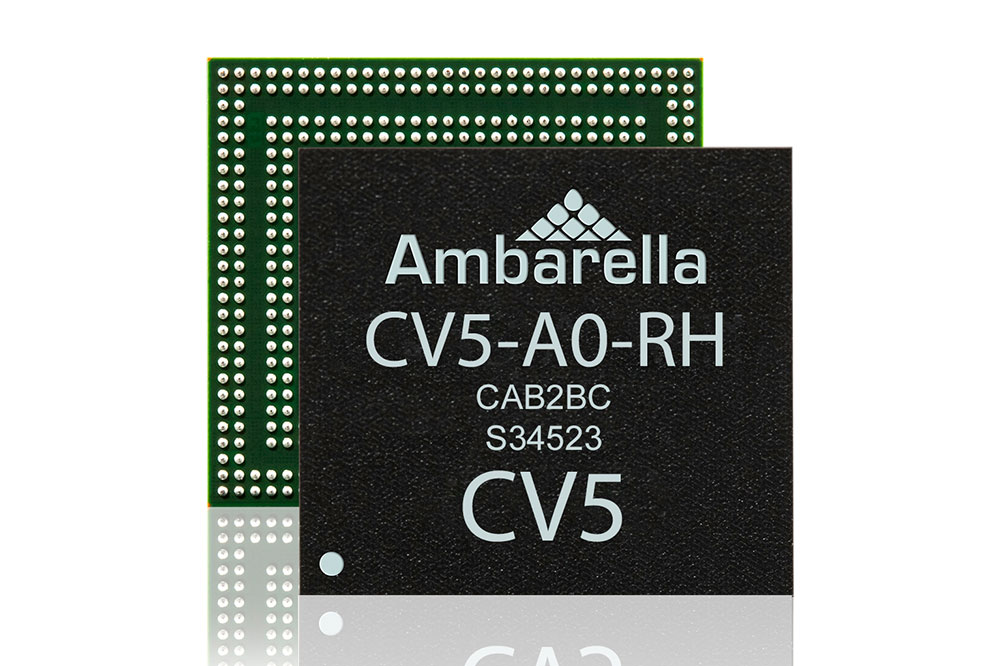 Untuk produsen action cam, CV5 juga kian menarik berkat kemampuannya mengatasi perekaman video 4K 240 fps, yang berarti adegan slow-motion bisa diabadikan dalam resolusi yang lebih tinggi lagi. Lebih lanjut, fakta bahwa CV5 dapat memproses empat 4K stream sekaligus tentu bakal menarik perhatian para produsen kamera 360 derajat.
Ambarella sejauh ini memang belum menyebutkan pabrikan mana saja yang sudah berniat menggunakan SoC CV5 pada produknya, tapi semestinya brand besar seperti GoPro, Insta360, atau DJI tentu tidak akan melewatkan peluang untuk menciptakan kamera maupun drone dengan kemampuan merekam video 8K 60 fps atau 4K 240 fps, tidak ketinggalan pula dukungan terhadap fitur-fitur advanced macam HDR maupun image stabilization.
Kapan perangkat-perangkat tersebut bakal tersedia masih tanda tanya. Namun kalau menurut perwakilan Ambarella sendiri, yakni Christopher Day yang menjabat sebagai VP of Marketing and Business Development, biasanya butuh waktu sekitar satu tahun sebelum perangkat-perangkat yang menggunakan SoC terbaru Ambarella bisa diluncurkan ke pasaran. Dengan kata lain, sepertinya kita masih harus bersabar sampai awal tahun depan.
Are you sure to continue this transaction?
processing your transaction....