Dua Tahun QRIS: Adopsi di Tengah Akselerasi Keuangan Digital Indonesia
DailySocial mengumpulkan sejumlah insight menarik terkait adopsi QRIS melalui survei kecil
Beberapa waktu lalu, Bank Indonesia (BI) menyebutkan total transaksi pembayaran dengan metode QRIS meningkat pesat selama satu tahun terakhir. Nilai transaksi QRIS mencapai sebesar Rp9 triliun di semester I 2021 atau melesat 214% dibandingkan periode sama tahun lalu. Total merchant yang menggunakan QRIS juga naik menjadi 8,2 juta. Setidaknya, ada penambahan sekitar 3 juta dari 6 juta merchant di akhir 2020.
Dalam sebuah webinar Digi X yang digelar Infobank, Asisten Gubernur dan Kepala Departemen Kebijakan Sistem Pembayaran Bank Indonesia Filianingsih Hendarta mengungkapkan, pandemi Covid-19 memberikan efek booster luar biasa terhadap percepatan keuangan digital di Indonesia. Selain faktor peralihan perilaku konsumen ke digital, akselerasi ini terbantu kolaborasi para pelaku di ekosistem digital di sektor bank dan non-bank yang semakin erat.
"Dalam waktu dekat, kami juga akan segera meluncurkan fitur Customer Presented Mode karena sekarang kita baru ada Merchant Presented Mode. Kami juga sedang piloting transaksi QRIS untuk cross border, baik inbound maupun dan outbound," ungkap wanita yang karib disapa Fili ini.
Dengan pencapaian yang tidak terduga ini, bagaimana asa implementasi QRIS ke depan di situasi saat ini, dan apa saja upaya yang dapat dilakukan untuk mendorong adopsinya?
Tentang QRIS
QRIS atau Quick Response Code Indonesian Standard (QRIS) merupakan bagian dari lima inisiatif besar yang dicanangkan Bank Indonesia untuk menuju Sistem Pembayaran Indonesia (SPI) 2025.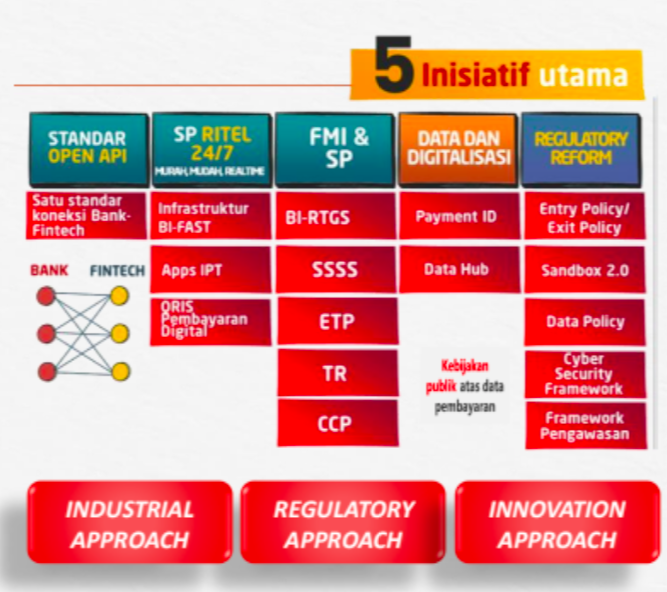 QRIS dikembangkan Bank Indonesia dan Asosiasi Sistem Pembayaran Indonesia (ASPI) untuk menggabungkan berbagai macam QR dari berbagai Penyelenggara Jasa Sistem Pembayaran (PJSP) menjadi satu QR Code. Sebagai sistem pembayaran digital, QRIS dirancang sebagai Standar QR Code untuk aplikasi uang elektronik berbasis server, dompet digital, dan mobile banking.
Welcome to Premium Content
Become a DailySocial.id Subscription, you can get unlimited access to discover the best minds of innovation and to perceive the finest tech journalism products in Indonesia. Learn more
Single Article

Access anytime, only this article.

Starting at

Rp 7,000 /article

Subscription

Unlimited access premium content.

Starting at

Rp 150,000 /month
Login or create account to access premium content
Are you sure to continue this transaction?
processing your transaction....