DuckDuckGo Luncurkan Layanan Gratis untuk Menghapus Tracker di dalam Email
Layanan ini pada dasarnya adalah layanan email forwarding, akan tetapi emailnya akan 'disterilkan' lebih dulu sebelum diteruskan ke akun utama
Glenn Kaonang - 21 July 2021
Pernahkah Anda membuka suatu email, lalu ketika Anda lanjut browsing sesudahnya, Anda menjumpai iklan mengenai produk yang sama seperti yang dibahas dalam email tadi? Pernahkah Anda membuka suatu email penawaran, lalu beberapa hari setelahnya Anda menerima email yang sama seakan-akan pengirimnya tahu bahwa Anda sudah membuka email sebelumnya tapi tidak memberikan respon?
Kalau pernah, itu namanya Anda pernah jadi korban praktik email tracking. Praktik ini cukup umum, dan diperkirakan sekitar 70% dari semua email memiliki tracker di dalamnya (biasanya disembunyikan dalam bentuk tracking pixel). Kalau Anda keberatan dengan praktik semacam ini, Anda bisa mencoba layanan terbaru dari DuckDuckGo. Buat yang tidak tahu, DuckDuckGo selama ini membangun reputasinya sebagai search engine dengan fokus pada aspek privasi.
Layanan bernama Email Protection ini pada dasarnya merupakan sebuah layanan email forwarding. Jadi Anda bisa mendaftarkan akun email @duck.com secara cuma-cuma, lalu setiap email yang dikirim ke alamat tersebut bakal diteruskan secara otomatis ke email utama Anda. Dengan kata lain, Anda sama sekali tidak perlu mengganti layanan email utama yang sudah Anda gunakan selama ini.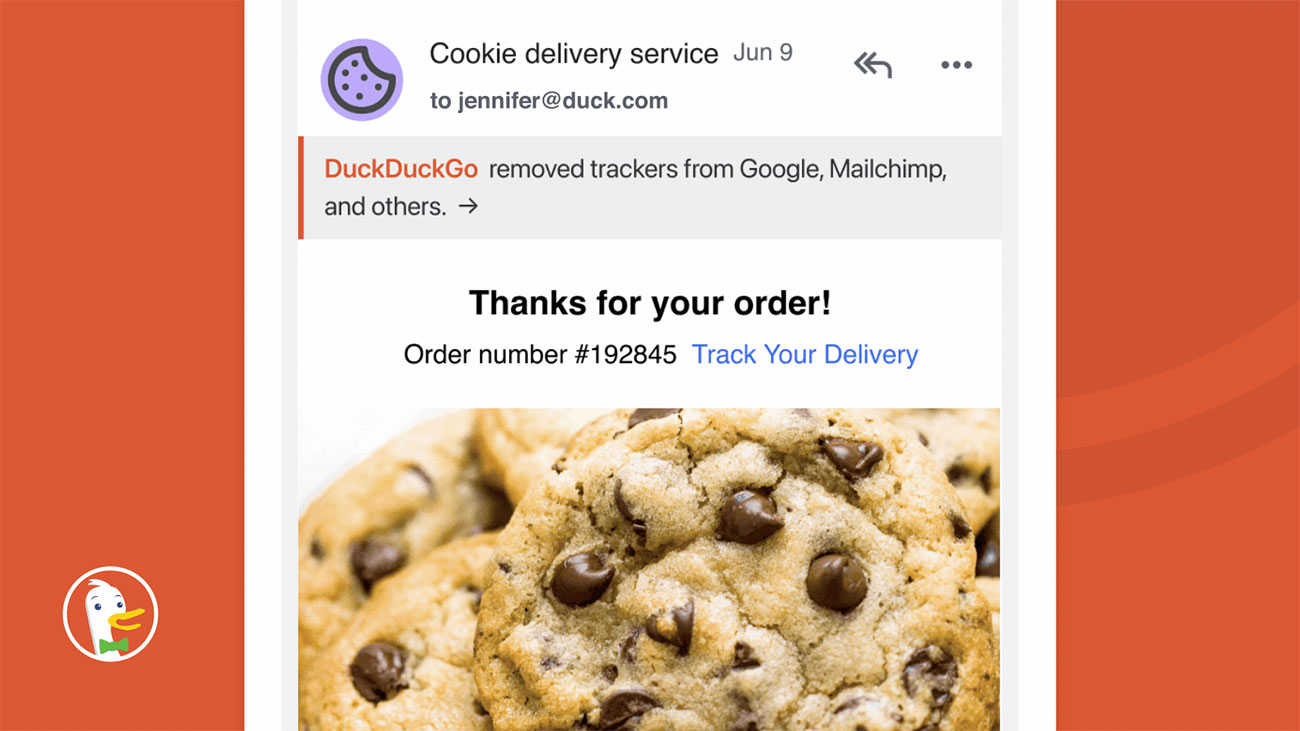 Namun yang paling penting adalah, sebelum email-nya diteruskan ke akun utama Anda, DuckDuckGo akan lebih dulu mengeliminasi semua tracker yang tersimpan. Jadi ketika akun utama Anda menerimanya, email tersebut sudah terbebas dari tracker dalam bentuk apapun, sehingga pengirimnya tidak akan tahu apakah Anda sudah membukanya atau belum.
DuckDuckGo memastikan bahwa mereka tidak akan menyimpan informasi apapun dari pengguna layanan Email Protection terkecuali alamat email utama yang dipakai. Semua kebijakan privasinya dijabarkan secara mendetail, dan DuckDuckGo sendiri selama ini memang sudah membangun reputasinya sebagai search engine yang sangat peduli terhadap privasi penggunanya.
Layanan Email Protection dari DuckDuckGo ini juga menawarkan fitur untuk menciptakan alamat email acak, yang kemudian bisa dipakai untuk, misalnya, mendaftar free trial di situs-situs tertentu. Fitur ini mirip seperti fasilitas Hide My Email milik layanan iCloud+. Bedanya tentu layanan milik DuckDuckGo ini kompatibel lintas platform.
Sejauh ini layanan Email Protection DuckDuckGo masih berstatus beta, yang berarti kita harus mendaftarkan diri dan mengantre terlebih dulu sebelum bisa menggunakannya. Buat yang tertarik, silakan unduh aplikasi DuckDuckGo di perangkat Android atau iOS, buka menu Settings, pilih Beta Features, lalu klik Email Protection dan pilih opsi "Join the Private Waitlist".
Sumber: Engadget dan DuckDuckGo.
Are you sure to continue this transaction?
processing your transaction....