Dukung.id dan Misinya Tingkatkan Kualitas Pendidikan
Telah melakukan enam kegiatan, memiliki pilihan donasi untuk pengguna
Yenny Yusra - 25 April 2018
Berangkat dari kepeduliannya kepada dunia pendidikan di Indonesia, Dukung.id didirikan oleh Zaky Zakaria. Kepada DailySocial, Zaky selaku Executive Director mengungkapkan saat ini banyak sekali masalah pendidikan, yang mungkin terlalu panjang jika dijabarkan.
Dukung.id hadir sebagai usaha membantu pemerintah dan masyarakat untuk percepatan pemerataan kualitas dan akses pendidikan di Indonesia.
"Masalah pendidikan tidak bisa selesai hanya dengan peran pemerintah saja. Harus ada peran dari kita sebagai masyarakat. Karena yang tahu persis masalah pendidikan di wilayahnya adalah masyarakat itu sendiri. Yang tahu ada guru yang kesusahan, bukan menteri atau pejabat. Tapi tetangga dari guru tersebut. Yang tahu informasi pertama ada bangunan sekolah yang rusak, bukan dinas atau pejabat, tapi masyarakat di wilayah tersebut."
Zaky menambahkan, pada akhirnya solusi juga bisa datang dari mana saja. Dari pertemuan dengan beberapa pihak, Zaky menemukan banyak solusi-solusi, ide-ide baru, gerakan-gerakan dan semangat yang datang dari masyarakat, namun belum ada platform khusus untuk menampung semua.
"Bagi mereka yang ingin memanfaatkan platform Dukung,id, tinggal masuk ke situs, daftar lalu isi formulir. Ikuti petunjuk yang ada. Setelah itu tim kami akan melakukan verifikasi identitas dan inisiatif tersebut," kata Zaky.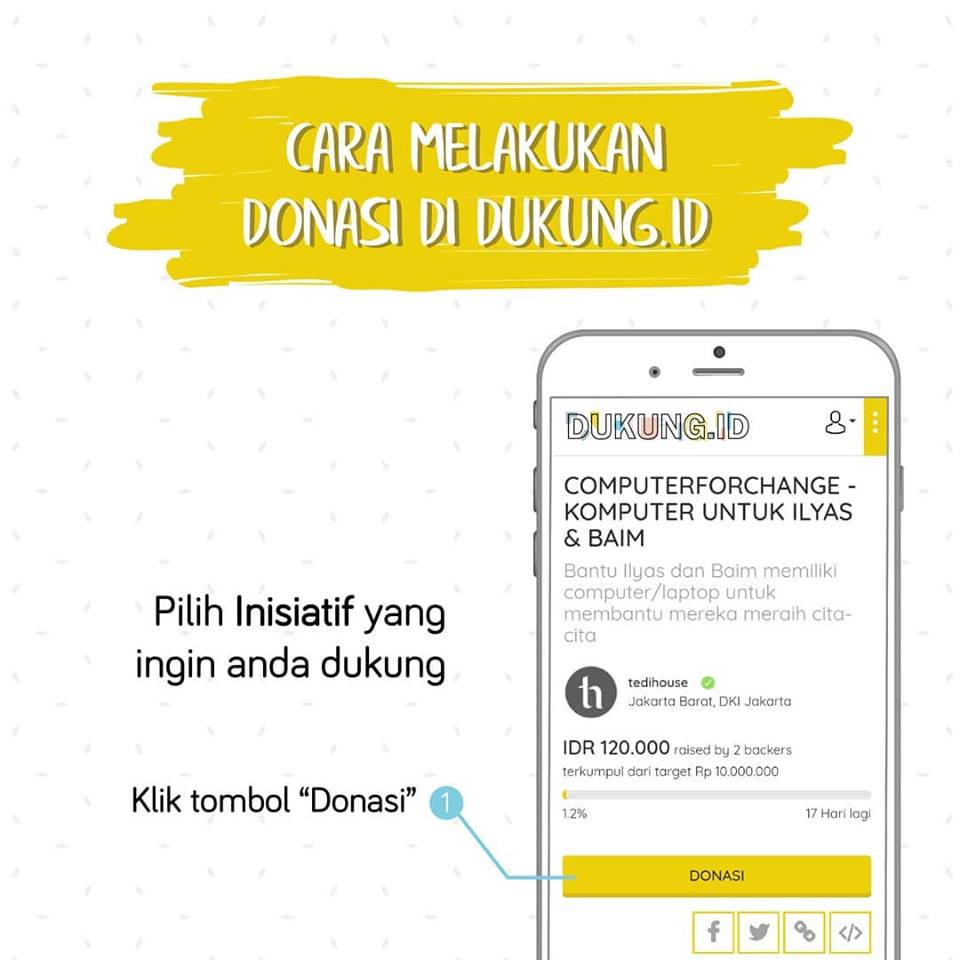 Setelah di verifikasi pengguna sudah bisa menerima dukungan (donasi) tersebut. Keberhasilan inisiatif tergantung dari seberapa luas inisiatif tersebut tersebar. Untuk itu sebarkan Inisiatif tersebut melalui akun media sosial yang dimiliki. Strategi monetisasi yang diterapkan oleh Dukung,id adalah, mengambil fee sebesar 5% dari setiap donasi yang terkumpul.
Sekilas platform yang dihadirkan oleh Dukung,id sama dengan cara kerja dari crowdfunding. Namun Dukung.id ingin fokus kepada pendidikan saja, terutama di pelosok daerah.
Kegiatan positif Dukung.id
Hingga kini Dukung.id telah menjalankan enam kegiatan, dan tercatat dua kegiatan sudah selesai dikerjakan. Di antaranya adalah Computer for change, sebuah gerakan dan teman-teman Tedihouse dan relawan, membangun Rumah Teladan di Nusa Tenggara Timur, pusat belajar bagi warga di Waturaka, gerakan literasi dari Panti baca ceria dan Hidden gems dan lainnya.
Dukung.id juga menyediakan pilihan donasi kepada organisasi yayasan yang terdaftar dan terpercaya. Hal ini memudahkan pengguna yang ingin memberikan donasi. Masing-masing inisiatif tersebut terbagi menjadi lima kategori, yaitu ekstrakurikuler, infrastruktur, alat peraga, penelitian dan kampanye.
"Tahun 2018 ini kami dipercaya oleh masyarakat dan menjadi top of mind, jika ingin mencari solusi dan juga membantu menyelesaikan masalah pendidikan pasti ke Dukung.id," pungkas Zaky.
Are you sure to continue this transaction?
processing your transaction....