Earphone Adel Dirancang Untuk 'Menyelamatkan' Pendengaran Anda
Yoga Wisesa - 11 December 2014
Anda gemar mendengarkan musik melalui earphone? Ada baiknya Anda lepas dulu benda itu dan simak artikel ini. Terdapat dua jenis output suara dihasilkan oleh produk audio, namun tahukah Anda satu tipe output yang paling sering digunakan sebetulnya malah sangat berbahaya bagi telinga, dan berpotensi melumpuhkan pendengaran?
Mayoritas earphone menyajikan output pneumatik atau bertekanan udara. Stephen Ambrose, pionir In Ear Monitor wireless di tahun 60-an, menemukan bahwa ketika lubang telinga ditutup total oleh earbud in-earphone, getaran speaker menghasilkan efek akustik. Dalam ruang tertutup itu, tekanan udara menghantam gendang telinga dengan ribuan kali kekuatan normal. Dan karena alasan itulah riset pengembangan Adel dilakukan.
Adel ialah serangkaian produk earphone hasil kerjasama Stephen Ambrose dengan 1964 Ears. Tapi bukannya mengusung teknik output konvensional, seri Adel mengusung sebuah teknologi inovatif bernama RealLoud. Ia mampu menghasilkan suara lebih kencang dan terasa luas, namun meminimalisir persentase kerusakan telinga.
RealLoud dalam Adel tidak menumpukan daya pneumatik ke gendang telinga. Ia memanfaatkan teknologi gendang telinga sekunder untuk menyerap tekanan berbahaya, mengamankan pendengaran Anda, tapi tetap menyalurkan suara secara optimal dan akurat via sistem akustik. Uniknya, bass terasa lebih dalam, midrange lebih jernih, dan suara tinggi terdengar lebih kaya.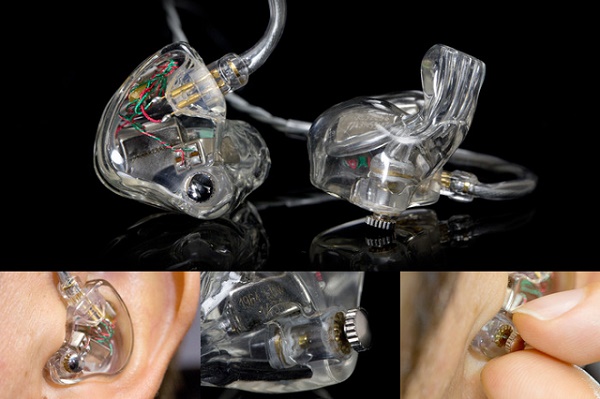 Info menarik: GX Gaming Zabius M, Earphone Spesialis Mobile Gaming, Telah Tersedia di Indonesia
Berbeda dari produk biasa, bagian earbud tidak mengeluarkan suara yang nyaring. Malahan, dengan RealLoud, Adel sepersepuluh kali lebih hening dibanding earphone standar. Ia tidak menyebabkan otot dalam telinga menjadi mengencang prematur - yang membuat suara jadi terkompresi - sehingga suara keras terasa lantang tanpa membutuhkan tingkat volume tinggi.
Memberikan pengguna pengalaman mendengar lebih baik, serta memastikan aset indra pendengaran tetap aman di waktu ke depan, Adel telah meraih dukungan dari United Healthcare, NSF, NIH, SeboTek, Vanderbilt Medical Center dan Starkey. 1964ADEL, joint venture Asius Technologies pimpinan Ambrose dan 1964 Ears juga terpilih sebagai pemenang Auto Desk Inventor of the Year 2013.
Untuk sekarang, ada beberapa varian in-earphone Adel ditawarkan di Kickstarter. Mereka adalah Adel Control, Adel Ambient, 1964ADEL U-Series, dan 1964ADEL A-Series - masing-masing mempunyai variasi tipe berbeda dengan spesifikasi berbeda. Di situs crowdfunding itu, Adel dibanderol mulai dari US$ 100 sampai US$ 1.600 untuk model kustom.
Are you sure to continue this transaction?
processing your transaction....