East Ventures Introduces "Warung Pintar", Integrates Startup Partner's Retail Technology Product
There are 8 units in Jabodetabek area applying IoT, big data analytics, and blockchain technology
East Ventures announces a second project after successful with EV Hive co-working space. This time by developing "Warung Pintar", a warung (shop) designed to enable digitalization targeting basic-level society. Through data management and analysis, its vision seeks to open new opportunities in term of financial inclusion, social security, behavior analysis, interaction with community and social influences monitoring.
This is a further attempt of East Ventures' commitment to be more active in technology projects for public, a commitment made since the establishment of Unit Creating Shared Value (CSV). The selection of "warung" concept is considered as it becomes a culture of Indonesians. Warung Pintar wants to empower a segment in society that has not been exposed to the digital world. In the early phase, there are 8 Warung Pintar points throughout Jabodetabek.
"Warung, as a form of traditional micro-enterprise, has been present since the 19th century and closely engaged in local culture. Therefore, by the fact that technology should be accessible by everyone, warung becomes a medium for all Indonesians to take part in the digital economy," said Agung Bezharie, Warung Pintar's CEO who previously working as East Ventures' Investment Associate.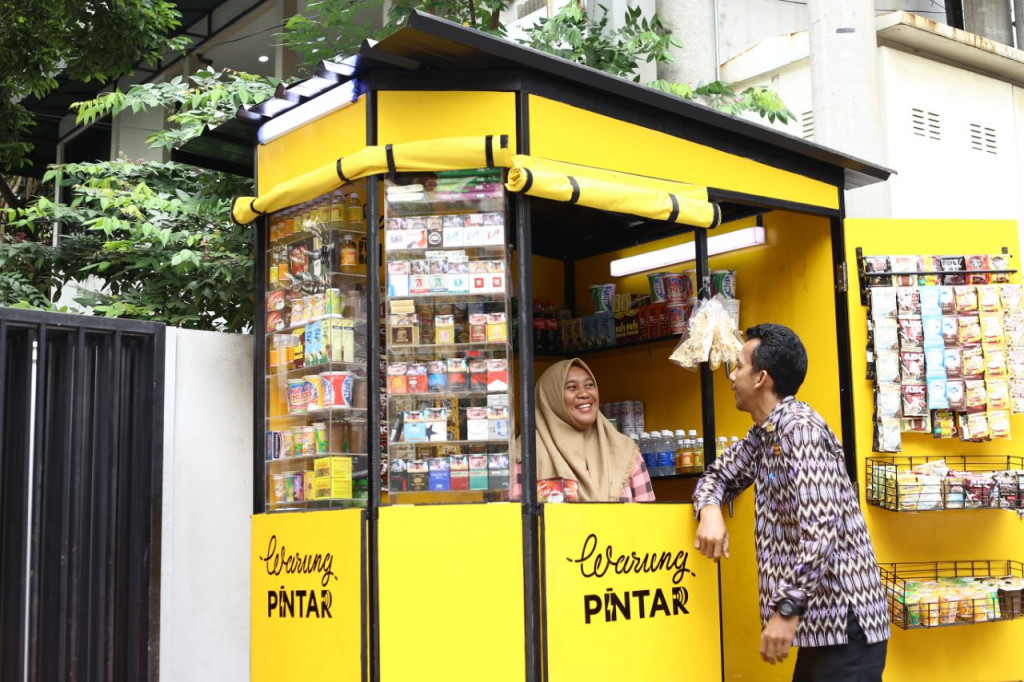 Using IoT, big data analytics and blockchain technology
Technology implementation for Warung Pintar is available in 3 pillars, IoT (Internet of Things), big data analytics and blockchain. IoT implementation aims to improve the accuracy of retail data entry. Big data analytics will be used for better understanding of customer behavior, as well as blockchain to create transparency and trust of the shop owners. To smoothen its development, two business technology experts, namely Sofian Hadiwijaya and Pandu Kartika Putra, were hired.
Hadiwijaya is responsible as technical team leader. His experience as a tech community builder and board members in Kudo, Pinjam.co.id and Go-Jek is valued to be impactful for the growth of Warung Pintar. Putra on the other hand is East Ventures' Associate of Civic Project. He previously was a technology specialist for general affair and involved in several activities such as Code for Bandung and Code4Nation.
"Although the digital platform implementation by consumers and merchants becomes high momentum in Indonesia, we are aware of some groups who against it due to the lack of exposure to the whole digital world. Warung Pintar takes a different approach to serve these segment by providing not only digital platform, but also building physical platform for them. We build an end-to-end solution starts from land discovery, funding, promotion to marketing. Warung Pintar is the answer for a new retailer," said Willson Cuaca, East Ventures' Managing Partner.
Cooperation and integration mechanism with East Ventures' partners
Cuaca explained, Warung Pintar offers partnership in the term of cooperation with shop owners. They only have to give commitment, honesty and time to fix the place once needed. The project is actually in contrary to the current e-commerce economic unit, with an average of purchasing percentage smaller, non-repetitive buyers and relatively smaller profits. Nevertheless, Warung Pintar is a sign for East Ventures' portfolio integration, given the enormous application of company's technology solution, a result of East Ventures' investment in this project.
Warung Pintar uses MokaPOS system for the cashier. Financial record and accounting will be using Journal. Customers can reload credit, purchase tickets and other items through Kudo services. Product procurement and last-mile distribution system provided by Do-cart. Warehouse distribution system managed by Waresix. In addition, all shops will be ready to fullfil EV Hive co-working space customer's needs.
– Original article is in Indonesian, translated by Kristin Siagian
Are you sure to continue this transaction?
processing your transaction....