English
East Ventures Leads Pre Series A Funding for SaaS Supply Chain Startup "Praktis"
Targeting D2C brands with end-to-end supply chain solutions for efficient operations
Praktis (formerly known PTS.sc), a startup providing data-driven supply chain solutions for the D2C (Direct to Consumer) brand, announced the pre-series A funding with an undisclosed value. This round was led by East Ventures with the participation of the Triputra Group.
Praktis will use the funds to improve its technology, build a team, and improve product offerings to provide better service to clients.
This startup was founded in 2017 by Adrian Gilrandy with two colleagues, Dipta Imanto and Mohamad Fahrul. Dipta has a background in strategic management and operations while working at the Triputra Group, where he met Dipta Imanto, who has experience in improving operations in various industries, from manufacturing, logistics, to agriculture. Later, the two of them founded Practical with Fahrul, a creative industry entrepreneur and also supports several local shoe brands.
The three of them aware that many local MSME brands are still having difficulties in managing a sustainable business in developing their business. Therefore, Praktis' solutions focus on providing assistance to brand owners in managing day-to-day operations with the help of technology.
Company's innovations
Praktis platform has full visibility of all supply chain processes, therefore, production planning and inventory control processes can be optimized and cost effective. The solutions consist of procurement and production activities, enabling brands to take advantage of praktis' wide network of suppliers to create and develop their products.
Furthermore, logistics and fulfillment services that offer operational efficiencies through automated systems and reliable partners; an order management system for brands to enter the right sales channels based on accurate data and demand predictions; and, access to working capital financing that assists brand development.
"Sorting out business operations and managing procurement, logistics, and store apart from designing and marketing good products can be a big problem for the D2C MSME brand. This is what we're trying to provide, a seamless operational management services," Praktis' Co-founder, Dipta Imanto in an official statement, Tuesday (12/14).
In 2025 projection, Indonesia's D2C market in fashion, food and personal care as well as furniture and household appliances will grow to a total of $36,120 billion per year. This bright prospect is reflected in Praktis' performance. It is claimed, Practis' current monthly income is experiencing more than 12-fold growth on a YOY basis in 2021 with an estimated CAGR of up to 24x and 31% CMGR based on an eight-month period from January to September 2021.
"As a single point of contact, we enable D2C brands to focus more on their core competencies, which in turn helps brands to achieve much higher revenue with efficient utilization of working capital. In the near future, we anticipate revenue growth of up to 6x," added Practical Co-founder Adrian Gilrandy.
Willson Cuaca, East Ventures' Co-Founder and Managing Partner said, "We invested in Practical with the belief that their product offerings will be able to help the D2C MSME brand to grow and thrive. Based on their performance so far, we can see that Practical products do indeed solve the main problems of their customers. We are excited about Practical's development as they continue to grow."
Currently, Praktis has been trusted by more than 100 brand customers, and has more than 1,000 supplier and manufacturing partners. Some of its clients include Brodo, NAH Project, Visval, Elhaus, Roughneck 1991, JakCloth.co.id, Kintakun, Pyopp, Rose All Day Cosmetics, and many more. Every month, Praktis can handle more than 300,000 shipments and more than 20,000 product items produced through supplier and manufacturing partners.
SaaS Solution
D2C is a business model that performs the sales process without intermediaries. Simply put, a businessman who produces goods, packages, and sends them directly to consumers without the intervention of other parties or third parties. These intermediaries vary, they can be resellers, dropshippers, to retail stores such as minimarkets.
Without the help of these intermediaries, business people can market their products through direct networks, such as websites, social media, to physical stores. However, this business model has drawbacks as businesses have to manage their own supply lines, facing long preparations, and dealing with consumers directly.
This is where Praktis comes in handy, and it is not the only players in this segment, there is also Sirclo which provides end-to-end e-commerce enabler solutions for brands with larger business scales.
Based on the MSME Empowerment Report 2021 by DSInnovate, there are several basic problems experienced by MSME players in Indonesia, including: lack of working capital, shortage of raw materials, procurement processes, accounting miscalculations, difficulties in marketing products, and process transaction.
In order to overcome this problem, 83% of MSME actors admit to using services from digital startups. From this hypothesis, the founders are passionate about presenting a variety of products with different value propositions. Currently there are dozens of startups that present various types of SaaS in this segment.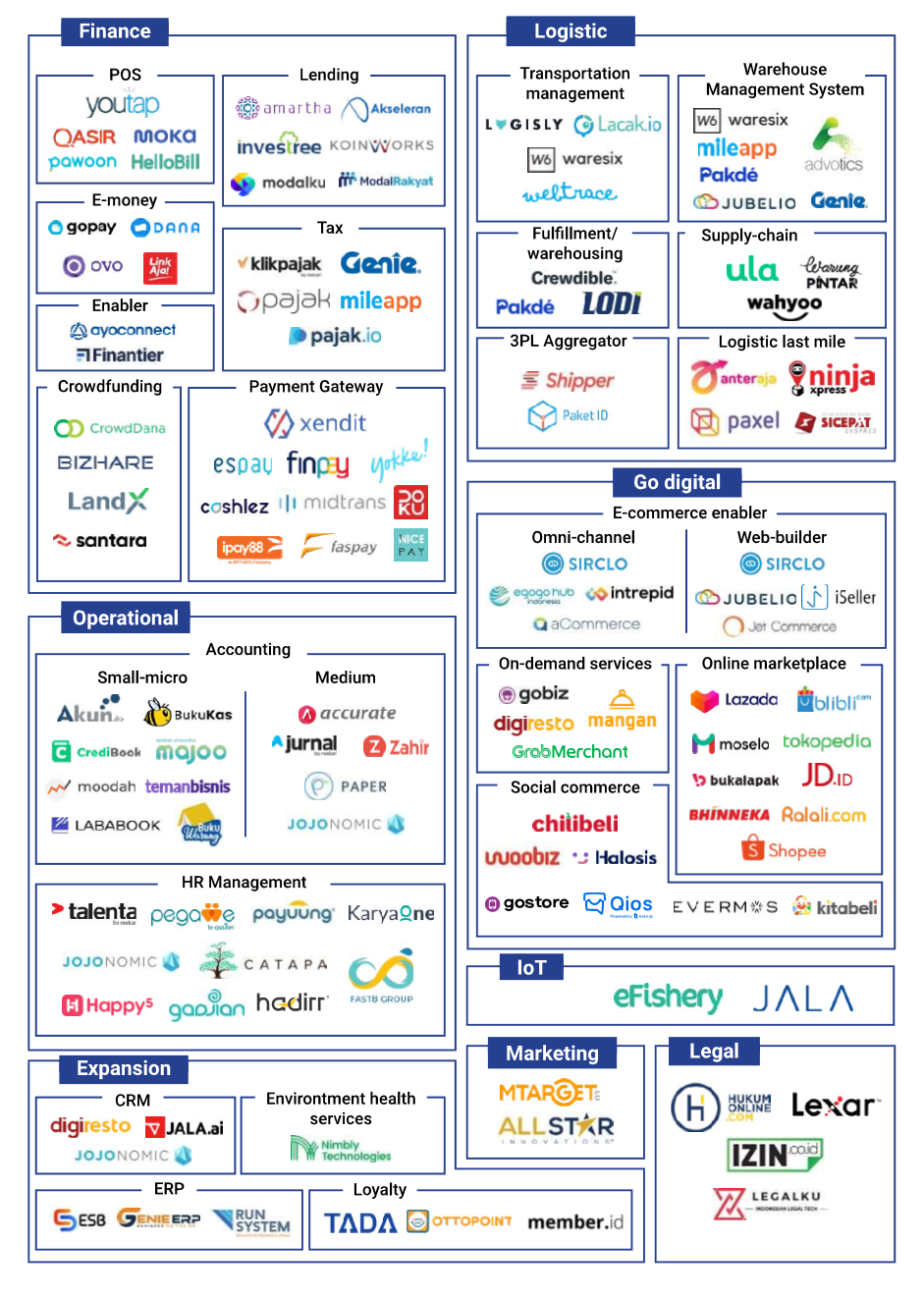 –Original article is in Indonesian, translated by Kristin Siagian
Are you sure to continue this transaction?
processing your transaction....