Echelon Indonesia 2015 Roadshow Segera Diselenggarakan di Jakarta dan Bandung (UPDATED)
Tandai kalender Anda pada tanggal 4 dan 5 Maret 2015
Michael Erlangga - 26 February 2015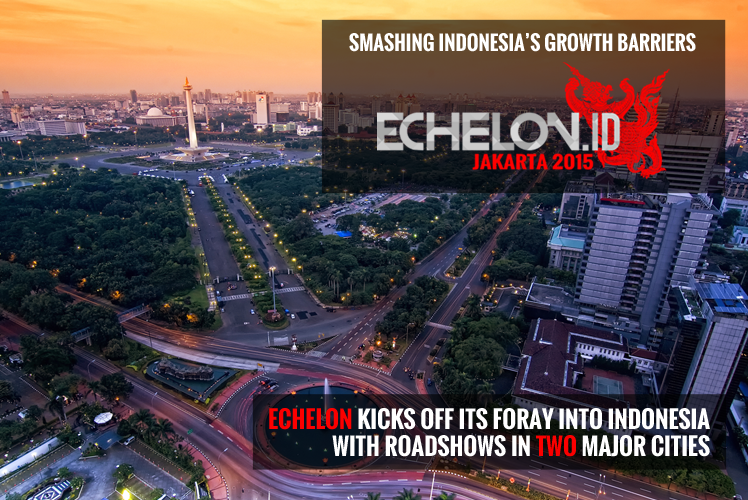 Mempertemukan berbagai pemangku kepentingan ekosistem startup dan teknologi di Indonesia, DailySocial mempersembahkan konferensi akbar Echelon Indonesia 2015 dengan tajuk "Smashing Indonesia's Growth Barriers" pada bulan April nanti. Kami berharap mampu memperkenalkan potensi lokal kepada jajaran delegasi internasional di industri ini. Sebelum acara puncak tersebut, tim Echelon akan menggelar beberapa roadshow untuk memberikan sedikit preview tentang Echelon 2015 di Jakarta dan Bandung pada tanggal 4 dan 5 Maret secara gratis.
Pemahaman DailySocial perihal kebutuhan rekan-rekan startup di Tanah Air diharapkan bisa membantu kematangan ekosistem startup di Indonesia. Oleh sebab itu, Echelon 2015 Roadshow mengundang beberapa nama dan tech startup influencer yang erat relevansinya terhadap tren digital di Tanah Air sebagai pembicara dalam serangkaian tema yang beragam.
Echelon 2015 Roadshow akan digelar selama dua hari di dua kota yakni Jakarta dan Bandung pada tanggal 4 dan 5 Maret 2015. Tanpa dipungut biaya apapun, besar harapan kami untuk para penggiat startup dapat memperkaya wawasan dan networking mereka dalam perhelatan ini nantinya. Berikut informasi detil Echelon 2015 Roadshow:
Jakarta
Hari/Tanggal: Rabu, 4 Maret 2015
Waktu             : Pukul 17.00 – 21.00 WIB
Tempat           : Global Entrepreneurship Program Indonesia, Ciputra GEPI Incubator – DBS Tower 9th Floor, Ciputra World 1 Jl. Prof. DR. Satrio Kav.3-5, Jakarta 12940
Pembicara dan tema yang akan diambilnya adalah:
"Growing The Travel Tech Business in Indonesia" oleh Co-Founder dan Indonesia & Malaysia Managing Director HotelQuickly Ltd. Faustine Tan
"Growing a Community-based Business in Indonesia" oleh Co-Founder dan Business Director Female Daily Network Affi Assegaf
"Using Technology to Enrich Non Technology Industry" oleh Co-Founder dan CTO 8Villages Sanny Gaddafi
"Can Accelerators Help Your Startup Grow?" oleh Co-Founder dan CEO CekAja.com John Patrick "J.P." Ellis
Bandung
Hari/Tanggal: Kamis, 5 Maret 2015
Waktu             : Pukul 17.00 – 21.00 WIB
Tempat           : Bandung Digital Valley, Jalan Geger Kalong Hilir, Bandung, Jawa Barat 40152
Pembicara dan topik yang dibawakannya ialah:
"Bandung's Role in Indonesia's Growth" oleh Indra Purnama dari MIKTI
"Building a Company Outside of ICT" oleh Co-Founder dan CEO eFishery Gibran Huzaifah
"Fundraising From Foreign Investors" oleh Co-Founder dan CEO Urbanindo Arip Tirta
"How Best To Leverage On Tech Conferences Like Echelon" oleh Co-Founder Revasi Suriafur Ken
Untuk informasi lebih lanjut dan pendaftaran, silakan kunjungi tautan berikut ini.
–
Update 1: penambahan jajaran pembicara untuk roadshow Bandung
Thank you for Reading DailySocial.id
Starting at less than Rp 5.000/Day. You get unlimited access to DailySocial.id