Electronic Arts Bagi-Bagi Permainan Bejeweled 3 Gratis
Yoga Wisesa - 18 September 2014
Siapa yang tidak suka dengan kata 'gratis'? Meneruskan program On the House, Electronic Arts memasukkan satu lagi permainan gratis ke dalam daftar mereka. Kali ini, game tersebut merupakan satu judul puzzle match-three kebanggaan PopCap Games yang dirilis empat tahun lalu, ia berjudul Bejeweled 3.
Bejeweled 3 adalah permainan terakhir trilogi Bejeweled, diluncurkan via digital download sebelum PopCap diakuisisi EA. Bejeweled 3 menyajikan empat mode game baru ditambah empat buah yang telah ada sebelumnya dalam Bejeweled 2. Ada 65 badge untuk Anda kumpulkan dan ia hadir dengan tampilan visual beresolusi HD (720p).
Gameplay inti tak banyak berubah, Anda diminta menggeser sebuah permata untuk menciptakan 'rantai' permata-permata berwarna sama. Saat hal itu terjadi, permata-permata akan mengilang dan permata baru segera muncul mengisi dari atas. Jika beruntung, set permata baru dapat menghasilkan reaksi berantai, disebut dengan istilah cascade. Berbeda dari game sebelumnya, pemain tetap bisa mencocokan permata saat reaksi berantai berlangsung.
Info menarik: Megaxus Luncurkan Game World In AyoDance
Selain mode Classic, Anda bisa menikmati Lightning dan Quest, serta meng-unlock mode Butterflies, Diamond Mind, Ice Storm dan Poker dengan memenuhi persyaratan tertentu. Zen ialah salah satu mode favorit karena pemain bisa menikmatinya secara santai, diiringi musik menenangkan. Anda dapat memainkannya tanpa henti dan permata akan terus digantikan. Game juga memastikan pemain tidak terjebak tanpa solusi karena setidaknya mereka bisa menggerakkan satu buah permata.
Tanggal 7 Desember 2010, Bejeweled 3 tersedia secara retail seharga US$ 20. Kemudian ia akhirnya dirilis di console melalui PlayStation Network dan Xbox Live Arcade, serta platform handheld Nintendo DS. Tepat satu tahun setelah diluncurkan, Bejeweled 3 tersedia untuk perangkat iOS - dengan angka '3' yang dihilangkan.
Walaupun berbasis Bejeweled 3, versi iOS hanya menyertakan tiga buah mode game: Classic, Zen dan Diamond Mind. Baru dari update-update selanjutnya - Butterflies, Lightning dan Poker - tersedia. Sebelum masuk menjadi judul On the House, Bejeweled 3 dibanderol seharga US$ 6,5 di platform distribusi digital EA, Origin.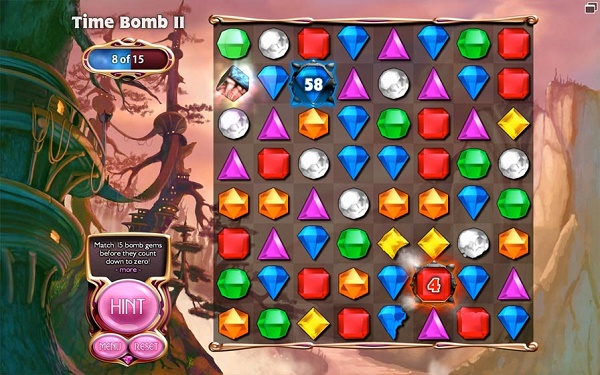 Info menarik: App Buku Cerita Interaktif The Great Adventures of Botchi Segera Meluncur Minggu Ini
Bagian terbaik dari program On the House adalah kesederhanaannya. Anda tidak usah mendaftar ulang dan tanpa waktu kadaluarsa. Yang Anda perlukan hanyalah login ke akun Origin dan mendapatkan Bejeweled 3 dari laman On the House. Via app launcher, Anda tinggal buka menu Free Games dan klik On the House.
Silakan amankan dulu kopi Bejeweled 3 gratis ini, karena seperti judul-judul On The House lain - Peggle, Dead Space, Wing Commander dan Battlefield 3, ia hanya hadir sesaat. Yang penting, Bejeweled 3 sudah masuk ke daftar library My Games, selanjutnya Anda boleh mengunduhnya kapan saja.
Bejeweled 3 gratis tersedia hingga tanggal 28 Oktober nanti. Kira-kira permainan apa lagi yang akan dibagi-bagikan Electronic Arts selanjutnya?
Sumber gambar: PopCap.com.
Are you sure to continue this transaction?
processing your transaction....