Entering the Fifth Year, Dicoding Is Set to Accommodate Indonesian Developers
Currently has more than 140 thousand registered developers
Randi Eka - 12 March 2019
In early March 2019, a startup iin education and programming community, Dicoding has celebrated its early fifth year. In an ocassion at Asian Insight Coonference 2019, Dicoding's Co-Founder & CEO, Narenda Wicaksono shared some of the achievements. They've acquired more than 140 thousand developers, 800 local startups, and produce 5200 digital content. Dicoding community members come from various area, of 454 cities and regencies in Indonesia.
"Dicoding vision is to be the best network for Indonesian developers. Therefore, they have two main objectives. First is to help developer becoming entrepreneur that capable to develop world-class products. Second is to deliver as much digital talents available. In its fifth year, it becomes an important milestone in achieving Dicoding's vision and mission, also supporting digital-based creative economy development program," he said.
Since the beginning, Dicoding use the web-platform to reach developer and potential ones in Indonesia. There are some activities to follow through Dicoding, from developer competition, events, and learning channel in programming. Recently, they also launch job marketplace feature that allows partners to connect with the alumni.
"We're focus to produce more relevant digital talents with market's demand. We'll keep working with world-class tech principals to develop the most updated technical curriculum. Their target is to produce new product every month. In the next few months, we'll create subscription model for more access to the high-quality class at affordable price," Dicoding's Co-Founder & COO, Kevin Kurniawan said to DailySocial.
Kevin also said, although their members are in all over Indonesia, Dicoding has no plan to build new branches in other areas. Their headquarter is located in Bandung.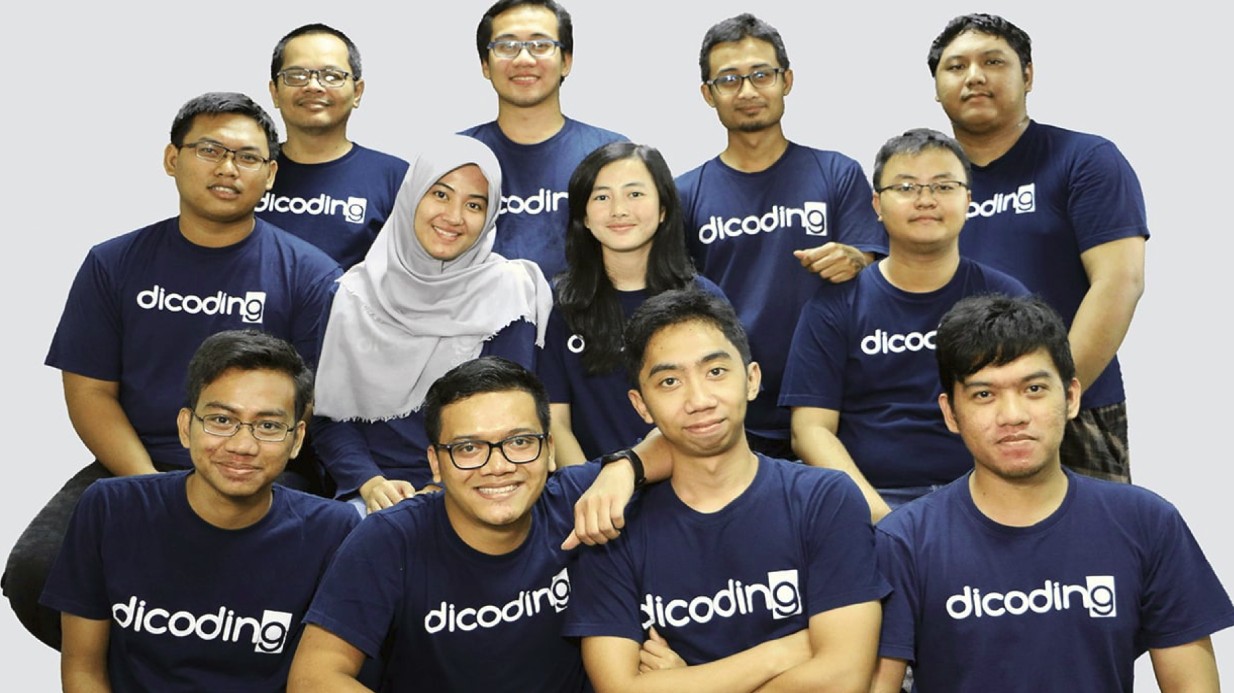 Connecting developer and industry
Dicoding partners with industry players, the government, and tech enthusiasts for its activities and learning materials. Bekraf, Microsoft, Google, and Samsung is some of Dicoding's strategic partners.
Currently, there's an online class to be an Android, Kotlin, Game, Azure Cloud, AWS Associate, and Progressive Web Apps developer. If the participants can pass the final test, they will get graduation certificate approved by IT industry players and will be considered in the recruitment.
In its fifth year, Dicoding plans to add some online classes with the latest topic to support the active classes verified by industry players, such as Google and Indonesian Game Association.
"Speaking of Indonesian public interest on programming, coding can be mastered by anyone, even though those without any IT background. For example, Junia Firdaus, a Gojek's driver who made it into an Android Developer in one of the company in Jakarta. The competency standard for developer in Indonesia is merely low. Due to digital competency that is not very updated in formal academic institution," Kevin added.
However, Dicoding team is optimistic that Indonesian resources can compete with overseas players in the future. As long as they have high fighting spirit and learn using the right curriculum.
– Original article is in Indonesian, translated by Kristin Siagian
Are you sure to continue this transaction?
processing your transaction....