Epic Games Store Bakal Kedatangan Sederet Fitur Baru yang Menarik
Semuanya dapat dipantau oleh publik lewat sebuah Trello board
Glenn Kaonang - 18 March 2019
Diluncurkan pada bulan Desember lalu, Epic Games Store tanpa sungkan menjadi penantang baru Steam dengan strategi yang begitu agresif: developer yang menjajakan karyanya di Epic Games Store bakal meraup 88% dari total penjualan, dan Epic hanya akan mengambil komisi sebesar 12% saja.
Tanpa harus menunggu lama, taktik ini sudah membuahkan hasil. Sejumlah developer ternama mulai meninggalkan Steam dan hijrah ke Epic Games Store. Steam yang tadinya merajai ranah distribusi game digital kini harus tabah melihat game AAA macam The Division 2 dan Metro Exodus sirna dari platform-nya.
Kendati demikian, Epic Games Store bukanlah tanpa cacat. Berhubung platform ini masih seumur jagung, wajar apabila ia kalah jauh perihal fitur jika dibandingkan dengan Steam. Kabar baiknya, Epic sadar betul akan hal ini, dan mereka juga ingin bisa setransparan mungkin kepada konsumennya.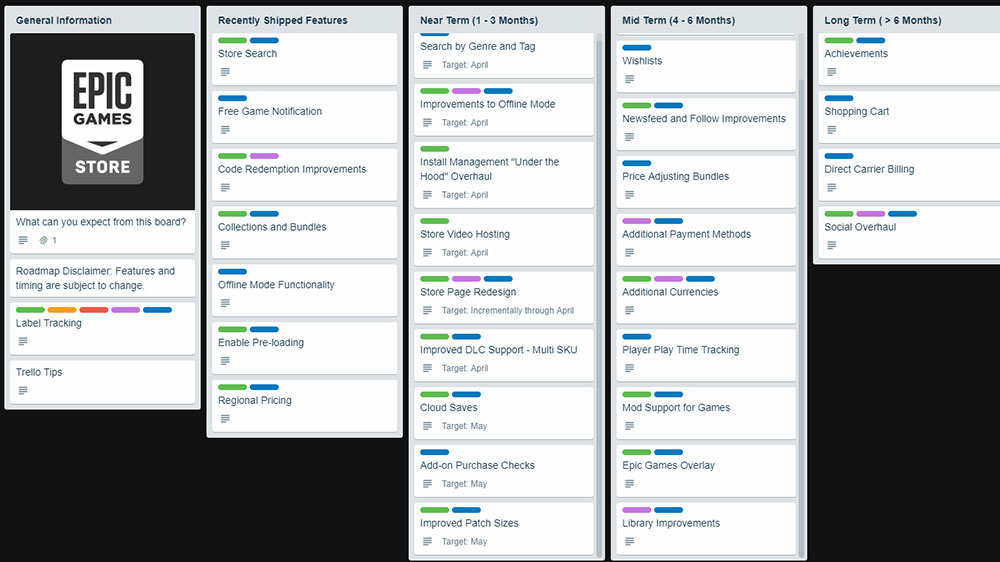 Bukti transparansinya datang dalam wujud Trello board berjudul "Epic Games Store Roadmap". Di situ siapapun bisa melihat garis besar fitur-fitur yang sedang dan akan dikerjakan oleh tim developer Epic Games Store. Seandainya ada bug atau problem yang mengganggu, kita juga dapat memantau perkembangannya lewat Trello board ini.
Deretan fitur baru yang telah direncanakan dibagi berdasarkan estimasi waktu perilisannya. Dalam waktu dekat ini (1 - 3 bulan ke depan), fitur-fitur penting yang akan dirilis mencakup pencarian berdasarkan genre, tampilan baru yang lebih mendetail, dukungan DLC yang lebih mumpuni, dan cloud save.
Selanjutnya, dalam 4 - 6 bulan mendatang, fitur-fitur yang sudah direncanakan meliputi user review, wishlist, dukungan mata uang selain US$ serta metode pembayaran lain, memantau waktu bermain, dukungan mod, dan in-game overlay ala Steam.
Di atas setengah tahun, bakal ada fitur-fitur seperti achievement dan shopping cart. Namun yang perlu dicatat, semua ini sifatnya tidak permanen dan bisa berubah-ubah tergantung kondisinya. Terlepas dari itu, konsumen tak harus menunggu pengumuman dari Epic dan bisa memantaunya sendiri di Trello board ini.
Sumber: Epic Games via Kotaku.
Are you sure to continue this transaction?
processing your transaction....