Erajaya Hadirkan EraVersary 2020: Semua Pelanggan Dapat Hadiah
Banyak hadiah yang ditawarkan oleh Erajaya pada ajang yang satu ini
Dimas Galih W. - 19 August 2020
Tampaknya Agustus 2020 merupakan bulan yang penuh dengan hadiah. Hal tersebut ditambah oleh grup Erajaya dengan meluncurkan EraVersary yang diadakan pada tanggal 15 Agustus 2020 hingga 31 Oktober 2020. Program EraVersary yang awalnya dijalankan sebagai bagian dari rangkaian perayaan hari jaya Erajaya Group, sekarang telah menjadi salah satu program promosi ritel dan distribusi berskala nasional.
Pada ajang kali ini, Erajaya didukung oleh dua merek besar, yaitu Samsung dan Nokia. Selain itu sebagai co-sponsor, EraVersary 2020 juga didukung oleh Huawei, OPPO, Indosat, dan XL. Dukungan juga diberikan oleh merek-merek lain seperti Xiaomi, Apple, realme, Vivo, DJI, Garmin, Face Shop, Kredivo, Tec Protec, dan Smartfren.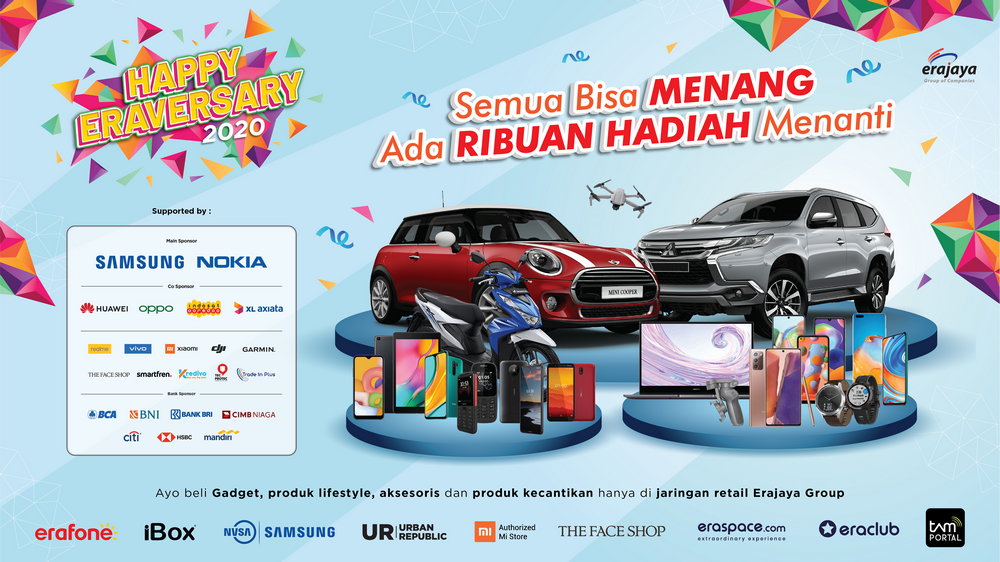 "EraVersary telah menjadi agenda promo tahunan kami yang selalu dinanti-nantikan dan mendapatkan sambutan positif dan antusias dari masyarakat. Untuk pertama kalinya, kami memperluas cakupan program ke mitra jaringan distribusi yang berbelanja lewat TAM Portal. Kali ini pula kami memperkenalkan berbagai macam layanan baru yang akan memberikan pengalaman berbelanja yang lebih holistik dan positif" ungkap Hasan Aula, Wakil Direktur Utama Erajaya Group.
Bersamaan dengan EraVersary 2020, grup EraJaya juga memperkenalkan cara bertransaksi baru. Cara bertransaksi ini sebenarnya sudah digaungkan sebelumnya, yaitu dengan O2O (Online to Offline dan Offline to Online). Cara baru tersebut adalah sebagai berikut:
Scan to Pay: belanja offline dan bayar secara online
Click dan Pick-up: belanja online kemudian ambil di toko yang dipilih
Mobile Shopping: belanja melalui aplikasi Whatsapp
EraXpress: belanja online lalu di antar dari toko terdekat
TAM Portal: portal belanja online mitra distribusi
Potongan harga yang diberikan pada EraVersary 2020 ini memang cukup menarik. Keluarga iPhone 11 misalnya, akan mendapatkan potongan harga Rp. 1.000.000. Selain itu, smartphone Samsung bakal mendapatkan diskon sampai Rp. 3 jutaan. Drone DJI pun mendapatkan potongan harga sampai Rp. 5 juta.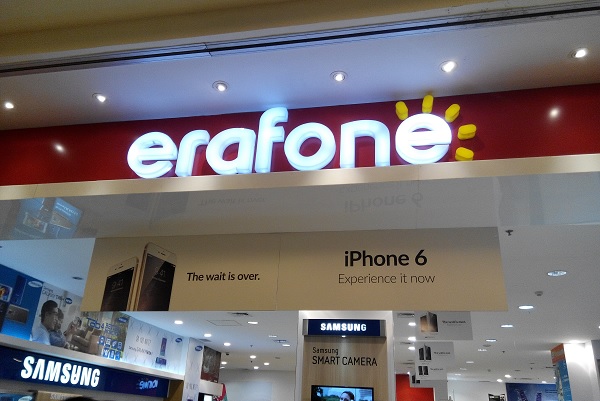 Semua yang belanja tentu saja bakal mendapatkan hadiah. Pengundian hadiah program EraVersary direncanakan akan dilakukan di bulan November 2020, dan hadiah akan mulai diserahkan kepada atau diambil oleh para pemenang mulai minggu pertama bulan Desember 2020.