Ericsson: by 2020, the Data Traffic in Southeast Asia will Reach 3 Exabytes per Month
Michael Erlangga - 17 June 2015
Ericsson's Ericsson Mobility Report projected that by 2020, the mobile data traffic in Southeast Asia, including Indonesia, will be nine times bigger to the extent of 3 Exabytes (equal to three thousand Terabytes) per month. Indonesia is one of five top countries with most significant growth of cellular utilization.
Reviewing about the availability of 2G network which can be traced down to 1995, and 3G in 2005, as well as 4G/LTE this year, has assured Ericsson to predict that in 2020, Indonesia will start adopting 5G global faster. According to the company, the needs of data will not only grow bigger, but also faster, with lesser latency.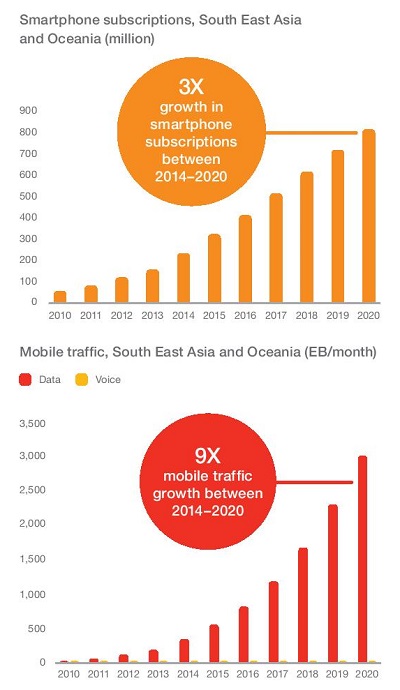 Ericsson Indonesia's VP Marketing Communication Hardyana Syintawati presented the data about Indonesian consumers, who're positioned as the fourth within the global most growing number of new cellular users. This offers new battlefield for operators, in which they are forced to improve their network performance, maintain their customer' loyalty, and acquire new customers.
Syintawati stated that 72% of mobile subscription in Indonesia are still dominated by feature phone, whilst the rest 28% are adopted by smartphone users. It's way late, compared to Singapore whose 98% of the mobile subscription are smartphone users.
Ericsson forecasted that mobile penetration in Indonesia will reach 100%, making Indonesian market as a hot commodity. With the similarities exist between Southeast Asian and Oceania markets, Ericsson also presents the data stating that social media and instant messaging services will remain in the lead.
The number of 4G/LTE customers are expected to grow up to 16 times bigger from 2014 to 2020, and by 2020, 25% (or practically one of every four mobile users) will use LTE technology.
"With a significant growth of data users, especially from smartphone users in Southeast Asia and Oceania that will be tripled between 2014 and 2020, it's now important for operators to improve their network performance," Ericsson Indonesia's President Director Thomas Jul, who's been in charge for the past one and a half year, added.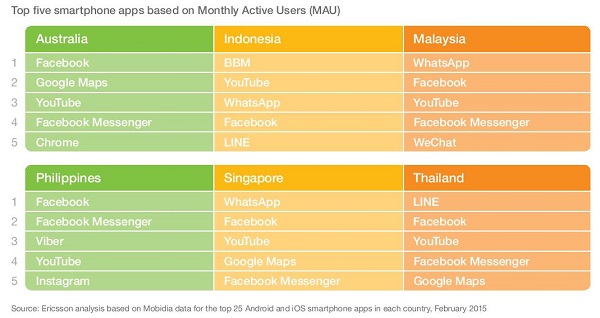 Thomas Jul's prediction on app coverage is seen to be still relevant in 2020. The quality of video streaming service becomes an instant parameter from the users of whether the network they capture within their area is good or bad. The parameter of the average internet speed in Indonesia is online music streaming, while it has gone as far as HD (high-definition) quality video streaming in Australia.