Game
Evil Geniuses Menangkan The International 2015 Dota 2, Raih $ 6,6 Juta
Dengan tiga dari empat tim Tiongkok beradu di babak semi-final - ditambah lagi kesempatan kedua bagi Vici Gaming, Ehome, LGD di lower bracket - tidak heran jika kita berasumsi bahwa The International 2015 Dota 2 lagi-lagi mungkin akan didominasi oleh para jawara Timur. Tapi kompetisi tahun ini kembali membuktikan, analisis saja tidak cukup buat menebak hasil akhirnya.
Teriakan 'USA! USA!' bergema di gelanggang KeyArena Seattle seusai pertandingan grandfinal epik antara CDEC melawan Evil Geniuses. Tim kuda hitam asal China itu memaksa Evil Geniuses untuk mengeluarkan segenap kemahiran mereka, namun tentu saja cuma ada satu pememang. Buat pertama kalinya semenjak turnamen The International diadakan, gamer profesional Amerika Serikat yang tergabung dalam Evil Geniuses memenangkan ajang tahun ini.
EG sempat bertekuk lutut di hadapan CDEC dalam preliminary final, terseret ke lower bracket, memaksa mereka bertarung melawan andalan sekaligus pemegang skor tertinggi di Group Stage A, LGD Gaming. Kesuksesan di sana memberikan Evil Geniuses kesempatan kedua untuk berduel dengan CDEC. Dan saksi mata momentum klimaks The International 2015 pasti menyadari, perbedaan skill keduanya sangatlah tipis.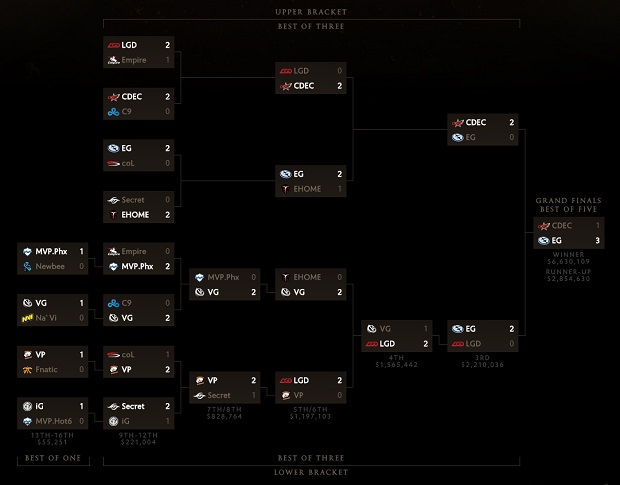 Alhasil, grand final turnamen tahun ini tak kalah dramatis dari laga Alliance versus Na'Vi dua tahun silam. Hebatnya lagi, tidak banyak orang menyangka CDEC dan EG bisa bertemu di sana. Mereka berdua berusaha mati-matian dari kursi Wild Card. Perjuangan CDEC tidak kalah keras. Mereka tiba di Seattle sebagai tim Tiongkok urutan keempat, namun sekarang diakui jadi salah satu regu Dota 2 terbaik dunia. Penghujung The International 2015 merupakan momen langka yang patut disaksikan para fans.
Info menarik: Valve Rombak Game MOBA Andalannya Dengan Engine Baru, Umumkan Dota 2 Reborn
Perjalanan Evil Geniuses sendiri tidaklah mulus. Sebelum event dimulai, mereka tertimpa sejumlah masalah. Tim kehilangan dua pemain berbakat dalam periode 'Great Western Shuffle' (kini berada di bawah Team Secret), tapi untungnya memperoleh dukungan sang superstar muda, Suma1l. Masih berusia 16 tahun, Syed Sumail Hassan pindah dari Pakistan ke Amerika demi mengejar impiannya menjadi gamer Dota profesional, mendapatkan bimbingan sang veteran Clinton 'Fear' Loomis secara langsung.
Khalayak memang sudah mengakui bahwa Evil Geniuses diisi oleh individu-individu jenius, tapi baru saat inilah mereka bekerja sebagai satu tim yang solid. Selain membawa kebanggaan bagi negara dan timnya, Fear, Suma1L, Aui_2000, ppd dan UNiVeRsE juga mengamankan uang US$ 6,6 juta lebih - jumlah terbesar dalam kejuaraan esport global.
Melewatkan grandfinal-nya? Silakan tonton rekamannya di bawah.
Dan embedded video ini berisi rekaman awal hingga akhir The International 2015.
Sumber: Dota2.com.
Are you sure to continue this transaction?
processing your transaction....