Facebook Gulirkan Fitur List untuk Berbagi Hal-hal Favorit di Status
Fitur List digulirkan secara bertahap untuk semua pengguna Facebook
Bambang Winarso - 15 February 2018
Facebook selalu punya cara untuk membuat penggunanya merasa dimanjakan. Setelah meluncurkan latar belakang warna dan tekstur, kali ini Facebook meluncurkan satu fitur tambahan bernama List, sebuah fitur yang memungkinkan pengguna membuat daftar tempat favorit, makanan kesukaan, lagu populer, dan lain sebagainya. Tujuannya tak lain adalah untuk membuat Facebook terasa kian personal, kiat dekat dengan pengguna.
Fitur List saat ini belum digulirkan secara global, tapi proses distribusinya sudah dimulai dan secara perlahan akan tiba di seluruh pengguna di dunia.
Saya sendiri sudah bisa menggunakan fitur List sejak beberapa pekan yang lalu, meskipun belum tertera di opsi Status. Tapi, hari ini fitur List sudah bisa dijumpai di opsi Status, terletak di baris terakhir tepat di bawah Tag Event.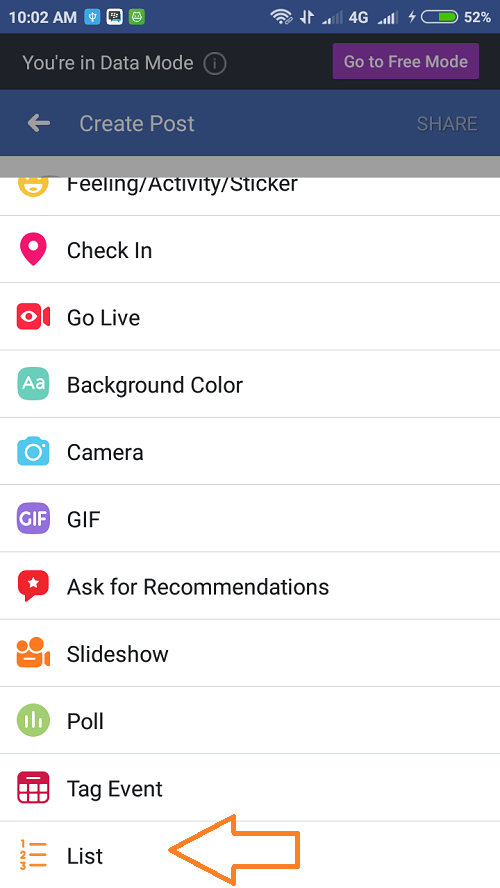 Untuk membuat List, Anda cukup men-tap List dan memilih beberapa judul yang disediakan oleh Facebook. Jika Anda punya judul sendiri, bisa membuatnya dengan men-tap opsi Create a list with your own title. Selanjutnya buat judul dan item-item daftar sesuai dengan judul buatan Anda.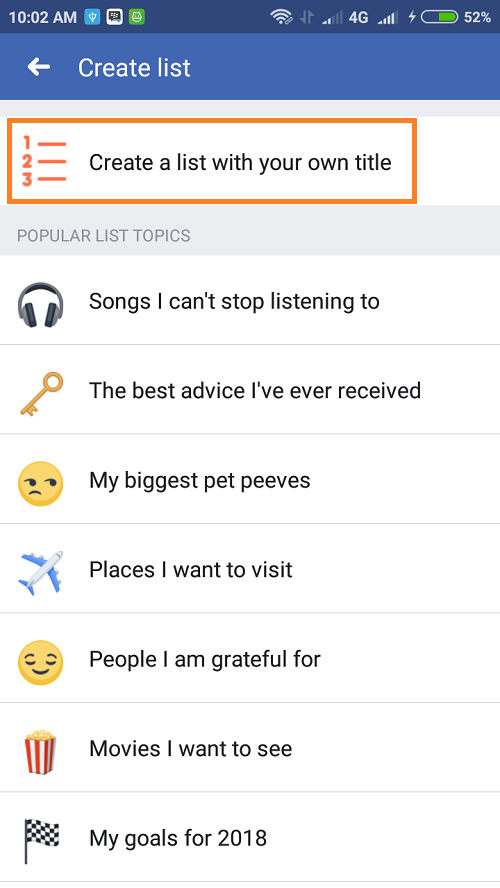 Saat membuat daftar, Anda juga bisa memilih warna untuk latar belakang dan memilih jenis poin, apakah berbentuk angka atau titik. Setelah dibagikan, pengguna lain yang sudah berteman bisa ikut membagikan sekaligus mendapatkan penawaran untuk membuat daftar yang sama, terutama jika mereka belum melihat opsi List di kolom status.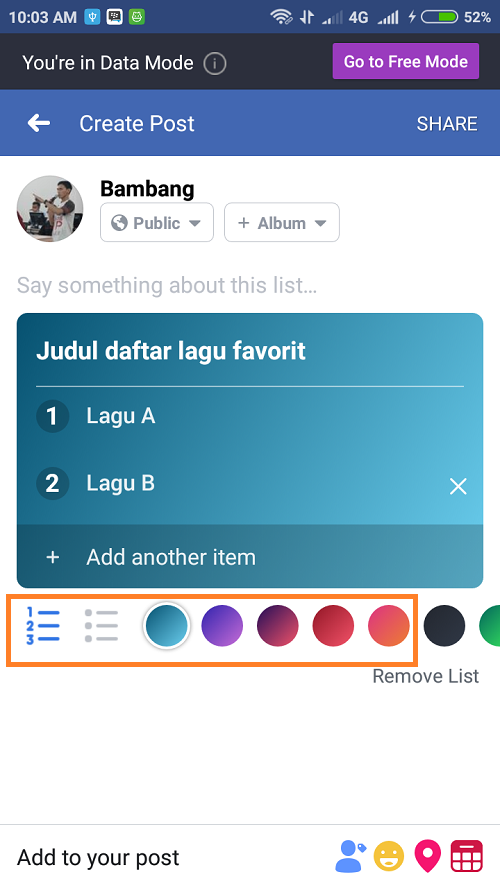 Konten-konten bersifat personal menjadi tantangan besar bagi Facebook terutama di tahun 2016 dan 2017. Menurut laporan The Information di bulan Desember 2016, update personal mengalami penurunan sebesar 15% selama setahun penuh dan terus anjlok hingga 21% selama rentang pertengahan 2014 ke 2015. Sementara menurut laporan dar eMarketer, pengguna Facebook berusia muda juga mengalami penurunan. Di tahun 2017, terdapat 2.8 juta pengguna di bawah usia 25 tahun, dan diprediksi turun ke angka 2.1 juta di tahun ini.
Sumber berita Techcrunch.
Are you sure to continue this transaction?
processing your transaction....