FEB UI Akan Adakan Seminar dan Pelatihan Mengenai Pasar Modal
Seminar akan berlangsung pada tanggal 21-22 Februari 2019, sementara pelatihan pada tanggal 23 Februari 2019
Randi Eka - 15 February 2019
Fakultas Ekonomi dan Bisnis Universitas Indonesia (FEB UI) akan kembali mengadakan The 18th Indonesia Capital Market Student Studies (ICMSS). Acara tersebut bertajuk seminar dan pelatihan mengenai pasar modal. Secara berturut-turut, acara ini telah diadakan sejak 17 tahun lalu, mengundang para pakar dan investor berpengalaman.
ICMSS FEB UI tahun ini adakan membawa tema besar "Market Resilience: Sustaining Financial Growth Amidst Global Tensions". Akan dibahas mengenai dampak ancaman global dan domestik terhadap pertumbuhan keuangan Indonesia. Acara akan berlangsung selama tiga hari.
Sesi seminar akan berlangsung pada tanggal 21-22 Februari 2019. Sementara sesi  pelatihan akan berlangsung pada tanggal 23 Februari 2019. Acara akan dilaksanakan di Auditorium Soeria Atmadja FEB UI. Sementara pelatihan akan dilaksanakan di gedung Bursa Efek Indonesia (BEI).
Beberapa pemateri yang akan dihadirkan dalam sesi seminar meliputi Ralph Van Doorn (Lead Country Economist of World Bank) Mari Elka Pangestu (Menteri Pariwisata dan Ekonomi Kreatif 2011 - 2014), Aidil Zulkifli (CEO Uang Teman), dan masih banyak lagi. Sementara pelatihan akan difokuskan tentang kiat mengembangkan portofolio keuangan dan penilaian saham di BEI.
Untuk informasi lebih lanjut seputar acara ini, kunjungi: www.icmssfebui.com/buy-tickets.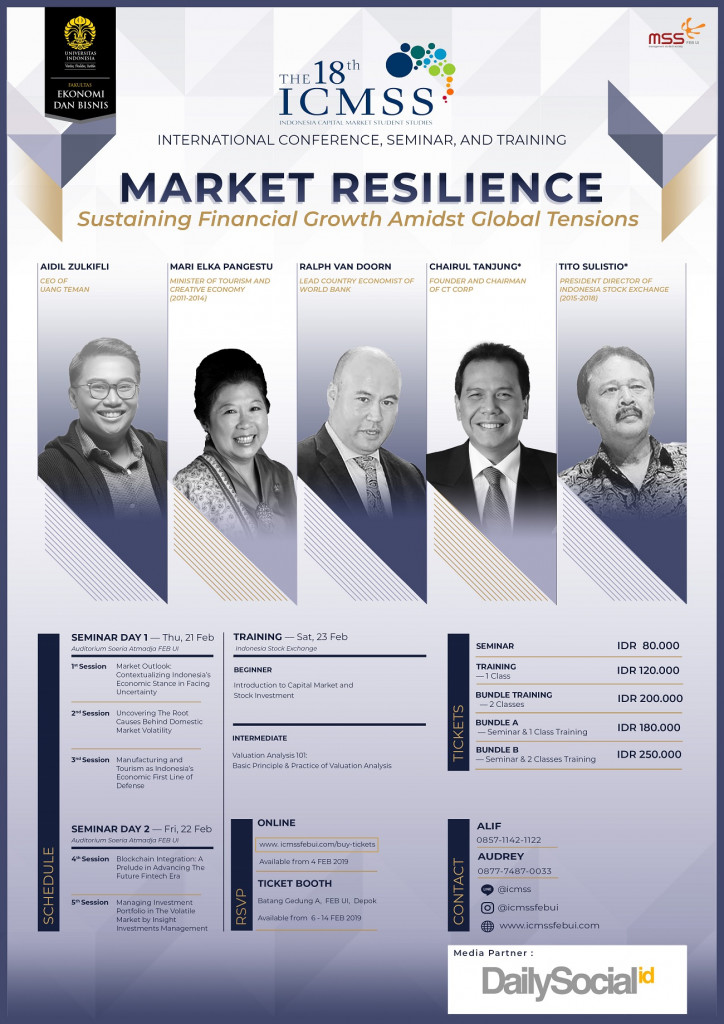 Disclosure: DailySocial merupakan media partner The 18th Indonesia Capital Market Student Studies