Finfini Tawarkan Solusi Integrasi Data Finansial Berbasis API
Produk pivot dari DompetSehat dan VeryFund
Marsya Nabila - 29 May 2020
Terus menggali apa yang menjadi kebutuhan pengguna, harus selalu menjadi fondasi dasar bagi perusahaan agar terus berinovasi. Kisah ini juga terjadi di dalam tim Finfini. Sejatinya, Finfini lahir hasil dari keputusan pivot dari dua produk sebelumnya yang sudah dirilis ke pasar, yakni DompetSehat dan Veryfund.
Head of Product Rangga WP mengatakan, Finfini menggabungkan engine dari dua produk sebelumnya menjadi tiga sektor, yakni engine data/account aggregation, data analytics, dan data processing. Engine tersebut ternyata paling dibutuhkan pengguna daripada produk yang sudah jadi.
DompetSehat itu sendiri menyediakan jasa layanan pengatur keuangan untuk individu dengan menghubungkan akun banknya. Sementara Veryfund menawarkan kemudahan untuk mengecek saldo dan melacak transaksi keuangan dari berbagai akun bank milik pengguna.
"Ternyata banyak korporasi di luar sana yang lebih membutuhkan engine kami daripada DompetSehat dan Veryfund. Jadi kami putuskan untuk membuat brand sendiri. Pada tahun 2017 kami putuskan untuk pivot [..], kami belajar dari kegagalan sebelumnya dan mengasah diri melihat potensi pasar," terangnya kepada DailySocial.
Model bisnis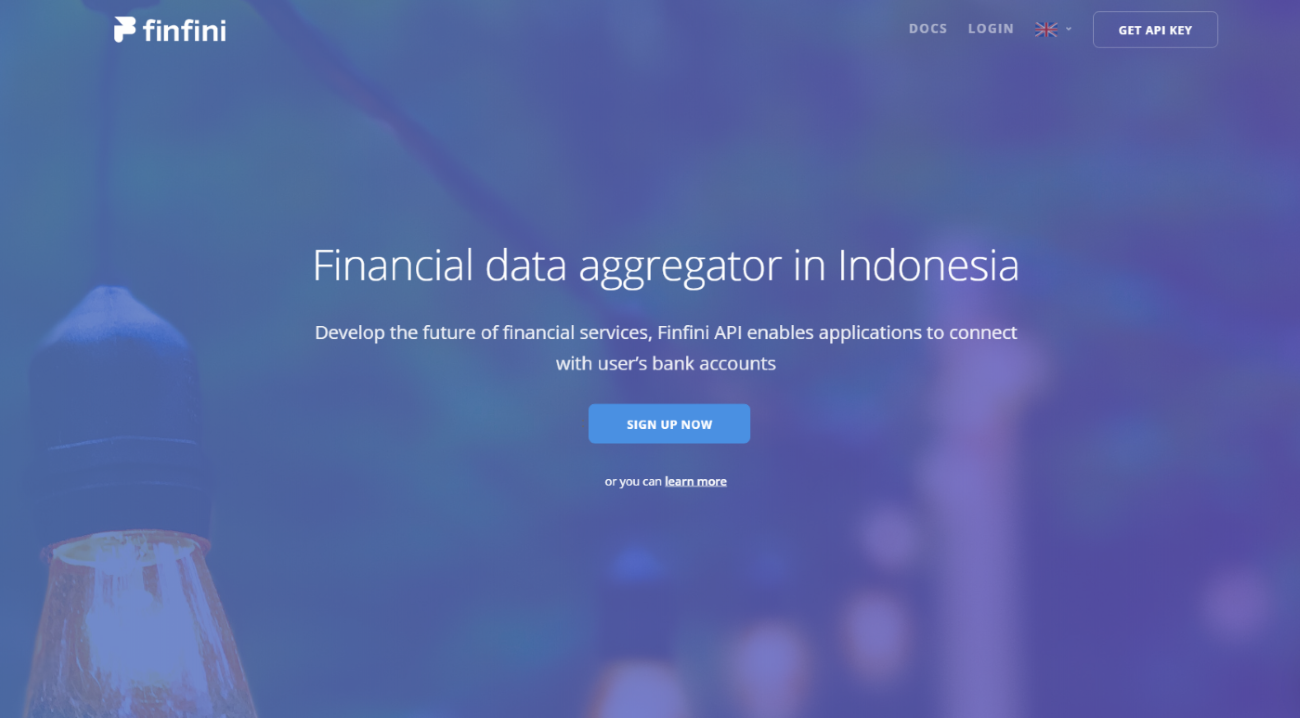 Rangga menerangkan Finfini membagi layanannya ke dalam tiga sektor, yakni data/account aggregation, data analytics, dan data processing. Data aggregation merupakan layanan yang berfungsi untuk mengumpulkan data-data yang tersebar secara publik di internet, atau data privat yang bisa diakses atas seizin pemilik akun. Misalnya, data keuangan di bank atau data investasi.
Data privat ini dapat diperoleh Finfini karena biasanya pemilik akun memiliki kebutuhan untuk mengajukan pinjaman di suatu institusi keuangan tertentu. "Atau ketika pemilik akun ingin mencatat pemasukan atau pengeluaran tiap bulan yang tercatat di masing-masing rekening bank, dan menampilkannya dalam bentuk grafik, sehingga pemilik akun dapat mengatur keuangannya lebih baik."
"Sehingga kami menempatkan diri di antara dua demand, yakni pemilik rekening, dan/atau perbankan/fintech lain. Perbankan/fintech/pengembang aplikasi adalah klien yang menggunakan jasa kami untuk mempermudah user mereka," sambungnya.
Dari ketiga sektor tersebut, menghasilkan empat produk yang ditawarkan ke pengguna korporasi Finfini. Yakni, account aggregation yang mengumpulkan data-data keuangan, menghubungkan dengan internet banking untuk mengambil laporan keuangan tiga bulan terakhir, atau lima transaksi terakhir.
Kemudian, document parsers seperti OCR parser untuk KTP, rekening koran, dan dokumen lain, juga PDF parser untuk rekening koran dalam bentuk PDF; Cashflow analytics adalah engine untuk menganalisis hasil parsing rekening koran tersebut apakah ada indikasi fraud, sehingg tim risk/fraud di institusi keuangan dapat menganalisis dan mengambil keputusan layak kredit lebih cepat.
"Terakhir modul e-KYC, untuk validasi KTP, face comparison, phone verification, dan lain sebagainya."
Solusi end-to-end ini sebenarnya ditujukan untuk melayani institusi keuangan sebagai fokus awal perusahaan. Namun, tidak menutup kemungkinan solusi tersebut bisa digunakan secara modular, misalnya hanya mau pakai modul e-KYC suite saja, tidak masalah.
Hanya saja, dampak dari pandemi Covid-19 yang berdampak pada institusi keuangan, kini Finfini membuat layanannya menjadi modular agar lebih fleksibel untuk menjangkau perusahaan dari sektor lain. "Saat ini kami sedang terlibat dengan Kementerian Keuangan untuk proyek OCR ini."
Beberapa pengguna Finfini di antaranya adalah Julo, Welbi, dan Ngorder.
Rangga juga mengonfirmasi bahwa saat ini perusahaan masih menggunakan dana sendiri alias bootstrapping untuk operasionalnya. Belum ada rencana untuk melakukan penggalangan dana eksternal.
Are you sure to continue this transaction?
processing your transaction....