Twitter Garap Fitur Baru Lagi, Kali Ini Fitur untuk Menyimpan Cuitan
Fitur Save for Later akan berfungsi sebagai tombol bookmark untuk menyimpan cuitan yang menarik
Bambang Winarso - 11 October 2017
Setelah mengumumkan rencana untuk menambah batasan 140 karakter menjadi 280, Twitter kembali mengumumkan pengujian lain berupa fitur "Save for Later" alias tombol bookmark yang memudahkan pengguna menyimpan cuitan untuk dibaca lagi nanti. Seperti halnya penambahan karakter cuitan, fitur bookmark ini juga sudah lama dinantikan sejak Twitter secara mengejutkan mengganti tombol favorit dengan hati. Hilangnya tombol favorit secara dramatis mengubah cara orang menggunakan Twiter, pasalnya tombol Favorit yang biasa digunakan untuk mengikuti cuitan yang dianggap penting sudah tiada.
Pengujian fitur Save for Later pertama kali dibeberkan oleh Product Head Twitter, Keith Coleman melalui cuitan yang lumayan panjang.
✨Fresh out of HackWeek and coming soon — a new way to save tweets to read later. Been a top request (❤️!) The team would love your feedback as they dial in the design! #SaveForLaterhttps://t.co/6oo2lhqFbW

— Keith Coleman (@kcoleman) 10 Oktober 2017
Kemudian dilanjutkan oleh Product Manager, Jesar Shah yang mengatakan bahwa fitur bookmark banyak diminta oleh pengguna terutama di Jepang yang merupakan pasar terbesar kedua setelah Amerika Serikat.
For Hack Week @Twitter we started developing #SaveForLater. Here's the early prototype that we put together in a week, which is likely to change. pic.twitter.com/c5LekvVF3l — jesar (@jesarshah) 9 Oktober 2017
Sebenarnya tanpa fitur Save for Later, pengguna punya banyak cara untuk menyimpan suatu cuitan. Misalnya dengan menekan tombol hati atau retweet. Tetapi, kedua metode tersebut tak bisa berfungsi lebih baik dibandingkan tombol khusus yang memang dirancang untuk itu. Tombol hati memang bisa jadi opsi terbaik, tapi dikhawatirkan justru akan membiaskan makna dan fungsi sebenarnya. Bahwa tombol hati hanya untuk menyatakan ungkapan yang bersifat positif tentang sesuatu dalam cuitan.
Saat ini fitur Save for Later masih dalam tahap penyempurnaan, di mana pengembang di belakang Twitter masih menunggu umpan balik dari pengguna dan melakukan polesan di sana-sini sebelum digulirkan secara global.
Twitter saat ini sedang dalam situasi yang kurang menguntungkan. Kehadiran dua fitur ini ke layanannya belum tentu akan banyak membantu membawa mereka kembali ke jalur yang benar. Karena di sisi lain, Facebook melalui portofolio-nya terus menggempur dengan berbagai inovasi. Tak hanya harus waspada dengan ancaman rival, Twitter juga harus menjaga kepercayaan investor. Di lantai bursa, saham Twitter terus mengalami penurunan meski sempat membaik di periode Juli 2017. Pada perdagangan Senin kemarin, saham Twitter ditutup turun 1.01% di $17.67. Dalam satu tahun terakhir, penurunan ini tercatat sudah menyentuh angka 11%.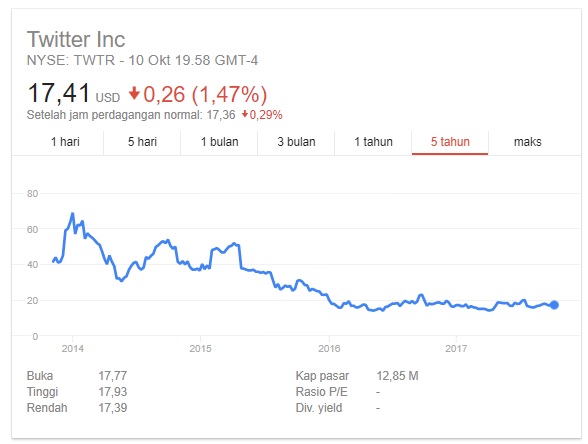 Sumber berita AndroidHeadlines dan gambar header Pixabay