Fitur Bookmarks di Twitter Resmi Digulirkan Secara Global
Bookmarks mempermudah pengguna Twitter menyimpan kicauan penting untuk dilihat lagi di kemudian hari
Bambang Winarso - 1 March 2018
Inovasi yang diterjemahkan dalam fitur-fitur baru dibutuhkan oleh Twitter untuk dapat terus bersaing dengan Facebook, Instagram, Snapchat dan Vero yang sekarang sedang naik daun. Bulan lalu, Twitter menguji fitur Bookmarks di aplikasi Android beta yang memungkinkan pengguna untuk menandai tweet. Setelah melalui proses pengujian yang panjang, Twitter akhirnya secara resmi menggulirkan fitur Bookmark tersebut secara global.
Bookmarks adalah nama resmi untuk fitur yang pertama kali diperkenalkan sebagai "Save For Later" pada bulan Oktober 2017. Fitur ini memberi pengguna cara baru untuk menyimpan tweet secara pribadi agar dapat diakses lebih mudah pada waktu yang berbeda, sehingga pengguna tak harus menyukai tweet untuk mengikuti perkembangan atau membacanya di lain waktu.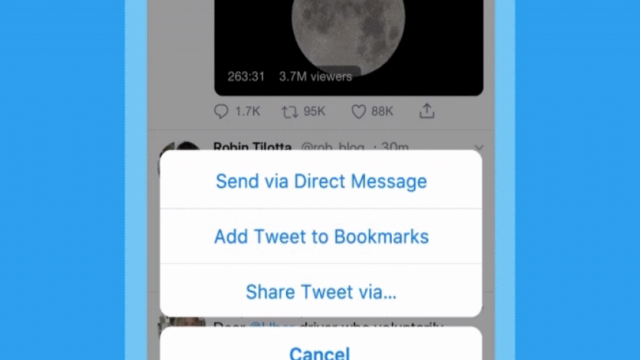 Mulai sekarang, semua tweet akan memiliki ikon 'share' yang diperbarui. Ikon ini bisa digunakan untuk bookmark dan berbagi. Menurut Twitter, ikon ini seharusnya memudahkan pengguna untuk menyimpan kicauan secara publik ataupun pribadi, sesuai dengan kebutuhan mereka. Twitter juga mengatakan telah menambahkan beberapa fitur baru ke tombol share, termasuk pilihan untuk berbagi kicauan via DM, email atau teks.
Bookmark yang tersimpan bersifat private dan dapat dihapus oleh pengguna kapan saja. Pengguna juga bisa berbagi kicauan yang dibookmark ini, dengan menggunakan ikon share yang sama. Semua pengguna Twitter akan memiliki akses ke Bookmark segera setelah melakukan pembaruan yang diluncurkan secara global untuk platform web seluler, Twitter Lite, Android, dan iOS.
Today we are rolling out a new 'share' icon that allows you to:

☑️Direct Message Tweets to others
☑️Share Tweets via email or text message
☑️Bookmark Tweets you want to save

— Twitter (@Twitter) February 28, 2018
Kilas balik sedikit, fitur Bookmarks ini pertama kali diperkenalkan pada bulan Oktober tahun lalu, kemudian dikembangkan sebagai bagian dari Hack Week di Twitter. Sebelum debut, perusahaan berbagi rincian rutin tentang perkembangannya. Dan setelah melalui berabagai tahapan, Bookmarks kini bisa digunakan oleh masyarakat luas.
Sumber berita Twitter.
Application Information Will Show Up Here