Banyak Fitur Tambahan, Apakah Grab Makin Asyik Digunakan?
Mulai dari konten berita, video, game, hingga horoskop tersedia di Super App Grab
JuLi Andrian - 6 March 2019
Ketika mendengar tentang Grab, apa yang pertama kali terlintas dalam pikiran kita? Sebagian besar orang tentu akan membayangkan sebuah aplikasi yang menyediakan layanan transportasi online menggunakan mobil dan sepeda motor, pemesanan makanan, serta pengantaran barang. Ternyata selain layanan tersebut, banyak fitur lain yang tersedia, namun mungkin tidak kita sadari.
Fitur-fitur tersebut dapat kita lihat di bagian bawah halaman utama aplikasi. Scroll ke bawah setelah menu utama aplikasi, kita akan menemukan beberapa fitur tambahan yang dimiliki Grab. Beberapa bagian masih berkaitan erat dengan layanan Grab. Seperti "Tea Places" dan "Foodie Swipe" yang menawarkan rekomendasi makanan terdekat, "Places to Go" sebagai rekomendasi tempat menarik, atau "Penawaran Spesial" yang berisi informasi mengenai promo terbaru.
Sejak akhir tahun 2018 lalu, Grab telah meningkatkan statusnya dari Unicorn menjadi Decacorn pertama di Asia Tenggara. Decacorn sendiri merupakan istilah yang diberikan kepada perusahaan startup yang valuasinya mencapai $10 miliar. Setelah mendapatkan pendanaan seri H, valuasi Grab saat ini mencapai nilai sekitar $11 miliar. Ketersediaan dana yang besar tentu menjadi salah satu pendorong berbagai inovasi layanan dapat dilakukan oleh Grab.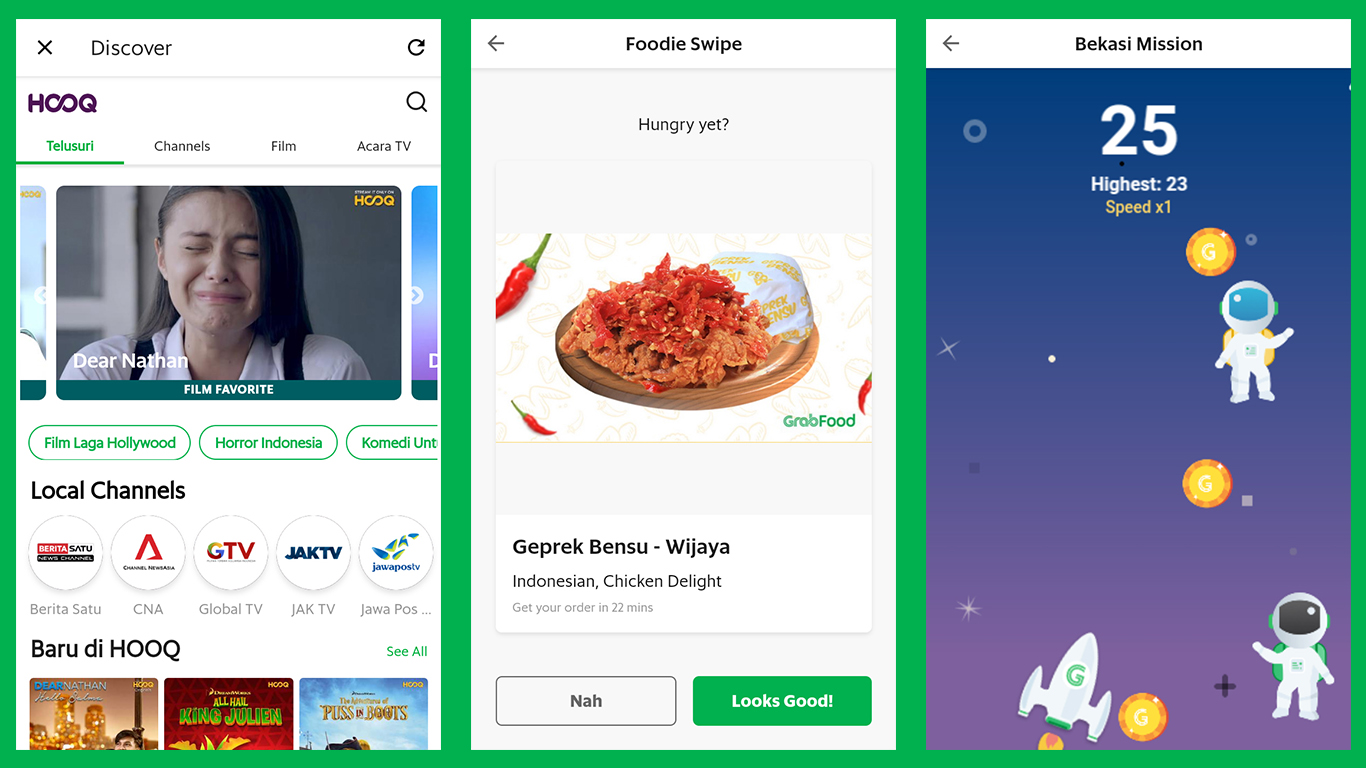 Beberapa fitur lain seperti Stories by Grab dan Grab TV, serta UGC (User Generated Content) bertajuk "Jadi Foodie Sejati" tampaknya diniatkan sebagai strategi untuk meningkatkan user engagement. Konten-konten di dalamnya masih sangat lekat dengan layanan Grab dan pengalaman para pengguna dalam menggunakan layanan tersebut. Namun, ada beberapa fitur lain pula yang mulai disematkan Grab dalam aplikasinya dengan konten-konten yang tidak berhubungan dengan layanan Grab, seperti transportasi, pemesanan makanan, pengantaran barang, atau pembayaran tagihan yang juga mereka miliki.
Yang pertama adalah "Games For You" yang menyajikan lima permainan yang dapat dimainkan secara gratis atau menggunakan poin. Ada pula "Horoskopnya Grab" yang menyajikan ramalan zodiak, serta "Personality Quiz" untuk melihat kepribadian pengguna. Ketiga fitur tersebut cukup menyenangkan untuk digunakan pada waktu senggang atau untuk sekedar seru-seruan.
Dengan filosofi platform terbuka mereka, Grab juga menjalin kerja sama dengan beberapa pihak untuk fitur-fitur lain yang dimiliki. Antara lain dengan Yahoo, Detik, dan CNN Indonesia untuk fitur Daily News sebagai aggregator berita, dengan OVO untuk pembayaran, serta yang terbaru dengan HOOQ untuk berbagai konten video yang dapat dinikmati secara langsung bagi pengguna level Platinum di aplikasi Grab. Berbagai fitur ini telah menjadikan Grab sebagai "Super App". Nah, menurut Anda, dengan berbagai fitur tersebut apakah membuat aplikasi Grab makin asyik digunakan?
Disclosure: Artikel ini adalah konten bersponsor yang didukung oleh Grab.
Are you sure to continue this transaction?
processing your transaction....