Game
Fortnite Mengalahkan Kepopularitasan PUBG dan Menghasilkan Pemasukan Lebih Besar
Hal ini tercapai sebelum pecahnya rekor stream Twitch minggu lalu oleh Ninja dan musisi rap Drake.
Berkat meledaknya kepopularitasan PlayerUnknown's Battlegrounds, formula last man standing berskala masif saat ini menjadi hal terpanas di industri gaming. Awalnya, genre battle royale lewat PUBG berhasil menyingkirkan Dota 2 sebagai permainan terfavorit di Steam. Tak lama, developer lain berbondong-bondong mengadopsi formula ini, serta berupaya menyediakannya di  platform mobile.
Fortnite buatan Epic Games merupakan satu judul yang tak malu-malu membuntuti kesuksesan PUBG dengan membubuhkan mode battle royale di permainan. Disajikan secara terpisah dari bagian PvE-nya dan dihidangkan gratis, Fortnite Battle Royale segera menghimpun 10 juta pemain lebih dua minggu setelah meluncur di bulan September 2017. Dan masih di awal tahun 2018, game tersebut berhasil memperoleh rekor membanggakan.
Berdasarkan laporan yang diungkap oleh perusahaan riset SuperData, Fortnite Battle Royale kabarnya berhasil memperoleh pemasukan lebih besar dan mengumpulkan pemirsa live streaming lebih banyak dibanding game action multiplayer ciptaan desainer Brendan Greene tersebut. Pencapaian itu tercatat terjadi di minggu terakhir bulan Februari, artinya bahkan sebelum pecahnya rekor stream Twitch minggu lalu oleh Ninja dan musisi rap Drake.
Dari kurva yang diungkap oleh SuperData, jumlah penonton PlayerUnknown's Battlegrounds di Twitch berada di atas Fortnite Battle Royale hingga momen titik balik di bulan Februari. Saat jumlah viewer PUBG melandai turun, angka pemirsa kreasi Epic Games itu terus meningkat. Di penghujung bulan kemarin, Fortnite Battle Royale sukses menggalang 14 juta active viewer, sedangkan pemirsa PUBG berada di angka 8,7 juta.
Di periode yang sama, pemasukan Fortnite juga akhirnya melampaui PlayerUnknown's Battlegrounds, yakni US$ 126 juta versus US$ 103 juta. Ketika jumlah profit PUBG tertinggi berada di bulan Desember 2017 (sewaktu game keluar dari early access dan meluncur di Xbox One), pendapatan Fortnite Battle Royale versi PC dan console naik dengan stabil.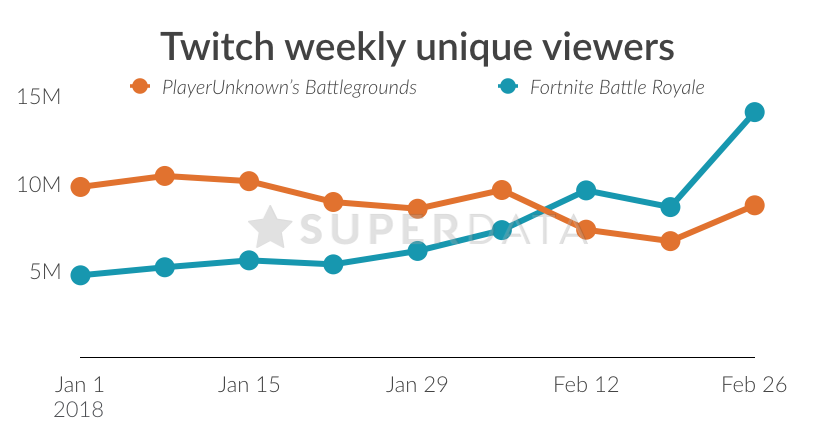 Menurut SuperData, kesuksesan Fortnite disebabkan oleh faktor kemudahan akses. Game ini bisa dinikmati gratis, sedangkan untuk bermain PUBG, Anda harus mengeluarkan uang sebesar US$ 30 (atau Rp 200 ribu di Indonesia). Fortnite juga lebih gampang dipelajari serta lebih bersahabat bagi gamer belia berkat desain dunia dan karakter ala kartunnya.
Dan di waktu ke depan, ada kemungkinan kompetisi di ranah battle royale akan bertambah sengit. Mungkin hanya tinggal menunggu waktu bagi perusahaan-perusahaan gaming raksasa seperti Activision-Blizzard, Electronic Arts, and Ubisoft untuk turut berkecimpung di sana, dengan mengimplementasikan formula last man standing di IP-IP mereka yang sudah terkenal.
Are you sure to continue this transaction?
processing your transaction....