Game Android Pilihan Minggu Ini (World of Darkness, Real Steel, dll)
Sebagian besar game dirilis di tahun 2015, tapi tak mengurangi keseruan permainannya
Bambang Winarso - 26 August 2017
Halo, apa kabar Anda di akhir pekan ini? Semoga selalu sehat dan makin semangat karena hari ini dan besok adalah kesempatan bagus bagi Anda dan orang-orang tercinta untuk menghabiskan waktu bersama.
Menemani akhir pekan Anda yang cerah, Dailysocial Lifestyle hadirkan 5 game Android yang semoga kehadirannya makin memeriahkan momen terbaik Anda.
World of Darkness
https://www.youtube.com/watch?v=Z69M4sMujhI
Buat Anda yang gemar bermain game genre RPG, World of Darkness bisa jadi salah satu incaran. Permainan dibumbui cerita mitos yang penuh dengan fantasi. Di game ini imajinasi Anda dibuat melayang liar, menantang dan ada fitur dimana Anda dapat bertemu dengan pemain lain untuk berlaga.
Application Information Will Show Up Here
Real Steel Champions
Game yang diangkat dari film populer dengan nama yang sama ini mengajak Anda bertarung bersama robot-robot tangguh. Ada 17 robot yang dapat Anda pilih untuk mengarungi 100 lebih level pertarungan. Bagi Anda yang sudah menonton film-nya, dijamin lebih menjiwai permainan.
Application Information Will Show Up Here
Ninja Saga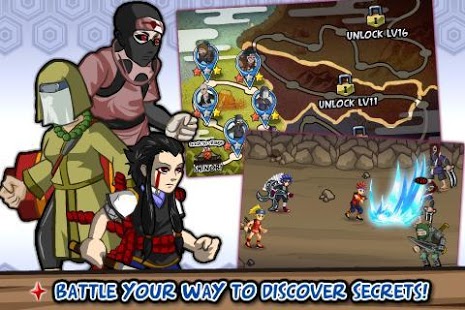 Sedang mencari game RPG yang tidak membosankan? Ninja Saga jawabannya! Game ini mengajak Anda berpetualang di dunia ninja dengan tanpa batas. Setiap hari akan ada misi-misi baru yang harus diselesaikan jika ingin naik ke tingkatan yang lebih tinggi. Reward bisa ditukarkan dengan senjata atau item lain yang sekiranya dibutuhkan di tantangan berikutnya.
Application Information Will Show Up Here
Skyward
Skyward ini punya gameplay yang menarik dan unik. Tantangannya juga sulit, butuh jam terbang dan panduan yang telaten untuk bisa memainkannya dengan baik. Tugas Anda adalah memecahkan teka-teki lewat potongan-potongan labirin sampai tiba di bagian intinya. Ingin tahu lebih? Download dan coba sekarang!
Stormfall: Rise of Balur
Game ber-genre strategi MMO ini mengusung gameplay yang nyaris serupa dengan game MMO lainnya. Tak jauh dari cerita kerajaan, istana, monster, dan mengambit plot di masa lampau atau bernuansakan legenda.
Tapi disitulah kekuatan game jenis ini. Alur cerita dan dongeng yang disampaikan menjadi bumbu yang membuat gamer terhanyut seolah menjadi bagian dalam permainan.
Application Information Will Show Up Here