Game Apa Yang Paling Disukai di Steam?
Yoga Wisesa - 3 December 2014
Berdasarkan informasi terakhir di Steam 'Exploration' Sale, terhitung ada sebanyak 5.647 judul permainan dijual melalui software distribusi digital buatan Valve itu. Game sebanyak itu ialah impian rival-rival sekaligus publisher lain. Saya yakin banyak dari Anda dapat mudah menebak game Steam terpopuler, namun tahukah Anda apa judul yang paling disukai di sana?
Sebelum membahas hal itu, kita perlu tahu bahwa beberapa waktu ke belakang terdapat peningkatan tajam total permainan di Steam. Pada bulan September 2014, ada 3.700 game tersedia di sana. Artinya hampir 2.000 judul baru muncul dalam dua bulan.
Valve memang tak pernah mengungkap data penjualan, namun lima tahun lalu sebuah publisher yang pernah mencoba menawarkan layanan serupa menyatakan, Valve menguasai lebih dari 70 persen penjualan karya elektronik.
Kembali ke tema game terfavorit di Steam, ternyata informasi terbaru memperlihatkan kepopularitasan belum tentu merepresentasikan kualitas. Valve memang sengaja menyiapkan fitur Steam Reviews sebagai medium sharing pengalaman pelanggan Steam ke sesamanya. Untuk hari ini, Dota 2 masih menjadi judul yang paling banyak diakses, disusul Counter-Strike: Global Offensive, Team Fortress 2, serta Football Manager 2015.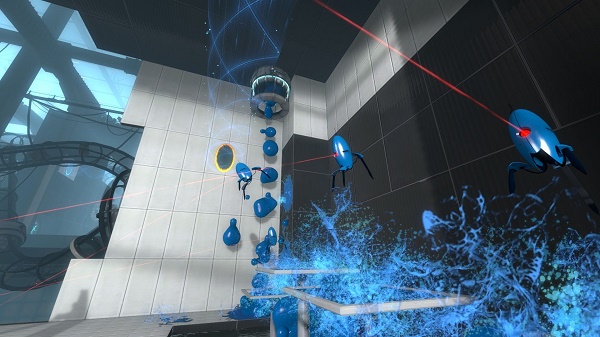 Info menarik: Diskon Game Hingga 90 Persen di Steam 'Exploration' Sale, Mari Segera Belanja
94 persen dari 280.000 gamer Dota 2 memberi respon positif. Menariknya, Team Fortress 2 berhasil menggungguli Dota 2 dengan skor 97 persen dari 200.000 pemain. Di atas mereka semua, Skyrim berjaya karena digemari oleh 98 persen gamer-nya (hampir 70 ribu pemain). Namun tiga dari empat game dengan skor mendekati 100 persen merupakan garapan developer independen.
Mereka ialah Nuclear Throne, Crypt of the NecroDancer, dan One Finger Death Punch, masing-masing mendapatkan 99 persen. Untungnya permainan buatan Valve sendiri-lah yang berada di puncak daftar, menang tipis dari tiga game tersebut karena jumlah pemberi review lebih banyak. Ia adalah Portal 2, sekuel permainan puzzle eksperimental berperspektif orang pertama, dirilis tanggal 18 April 2011.
Bukan hanya di Steam, Portal 2 banyak memperoleh sanjungan dan penghargaan dari khalayak. Mayoritas orang memujinya karena Portal 2 menguji logika pemain semaksimal mungkin tanpa membuat game jadi membosankan. Ia juga didukung penulisan naskah percakapan yang mengagumkan, humor-humor lucu, serta aktor pengisi suara papan atas dunia.
Tak cuma sebagai game, Portal 2 dimanfaatkan untuk platform edukasi via fitur level editor Puzzle Maker. Tool ini sengaja dirancang untuk guru matematika, menjadi bagian dari prakarsa Steam for Schools serta program Teach with Portals. Ada 2.500 pengajar lebih sudah bergabung di dalamnya.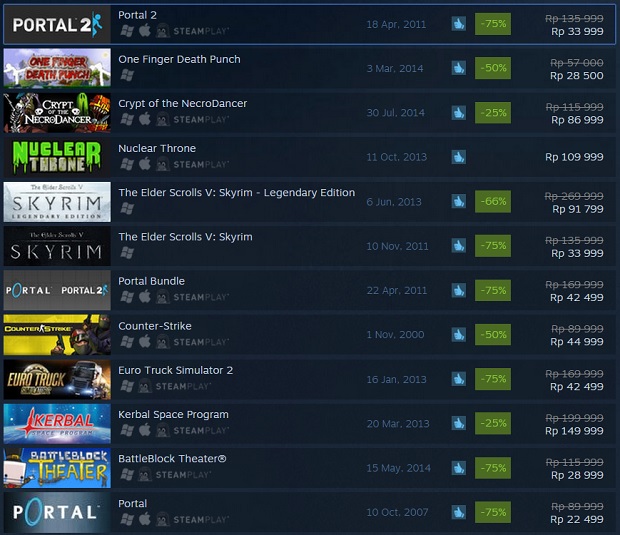 Sumber: Steam.