Game
Game Browser Unik Berjudul Bad News Latih Kita Mengidentifikasi Hoax
Bad News dirancang sebagai 'vaksin' dalam perang melawan hoax.
Ada banyak manfaat dari terbukanya internet dan kemudahan penggunaan sosial media, namun hal yang paling saya syukuri adalah akses gratis ke berbagai macam ilmu pengentahuan. Namun tentu saja ada dampak buruk dari kondisi ini: semakin banyaknya informasi yang beredar, maka kain sulit juga menyaring fakta dari rekayasa.
Merasa terpanggil karena masalah hoax belakangan jadi semakin parah, tim Social Decision-Making Laboratory di Universitas Cambridge pimpinan Dr. Sander van der Linden mengembangkan sebuah permainan unik berjudul Bad News. Disajikan sebagai game browser, Bad News dirancang untuk menyadarkan kita situasi yang tak jarang terjadi di jejaring sosial, sehingga kita dapat lebih cerdas dalam mendeteksi berita bohong.
Bad News menempatkan Anda sebagai news-monger. Pemain dipersilakan buat menanggalkan etika demi membangun persona palsu lewat follower dan tingkat kredibilitas. Misi Anda cukup sederhana, yakni mengumpulkan sebanyak-banyaknya pengikut dan membangun 'perusahaan berbasis hoax'. Tantangannya, Anda tidak boleh ketahuan terang-terangan berbohong serta mengecewakan para follower.
Setelah Anda melewati sesi pengenalan (dan survei anonim jika berkenan), permainan dimulai secara unik. Anda diminta menciptakan sebuah persona atau 'meminjam' nama tokoh atau badan terkenal. Sebagai Presiden Trump, game meminta saya mem-posting tweet mengenai keputusannya menyatakan perang dengan Korea Selatan. Baru setelah tweet itu beredar, Bad News menyadarkan saya bahwa username-nya sedikit berbeda dari akun resmi sang presiden, yaitu 'Donald J. Trunp'.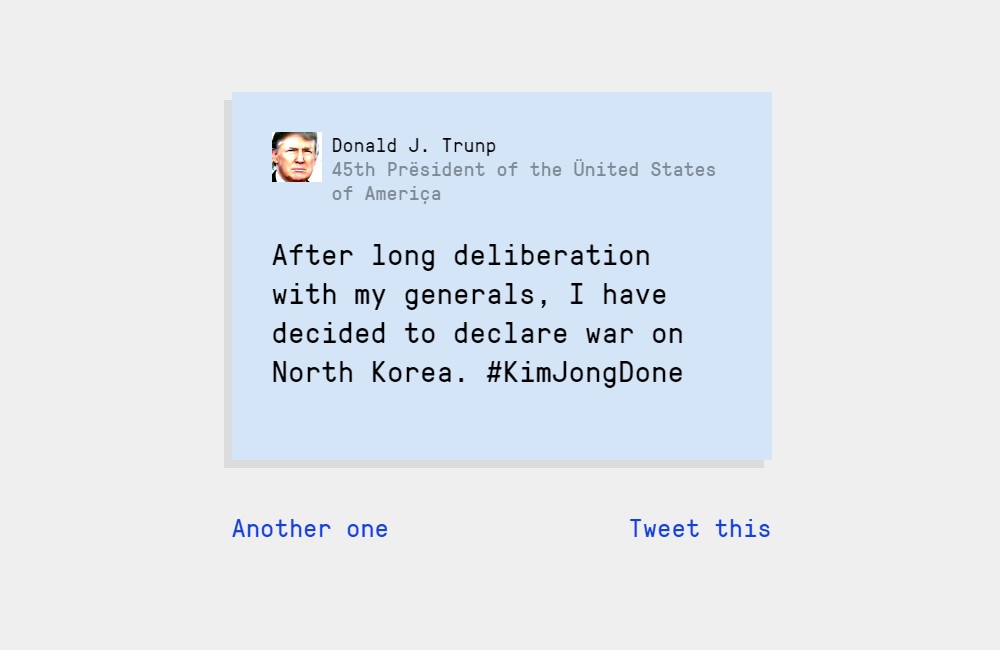 Skenario selanjutnya mirip kejadian di dunia nyata: beberapa orang segera merespons tweet tanpa mengecek kredibilitas akun saya, bahkan puluhan user memutuskan buat mengikuti 'Trunp'. Selanjutnya, permainan akan membawa Anda menciptakan perusahaan berita. Di sana Anda diminta membuat keputusan-keputusan penting, seperti menentukan tema berita serta strategi apa yang digunakan untuk menyajikannya.
Dr. van der Linden menjelaskan bahwa dengan membuat orang memahami sisi penciptaan berita bohong, Bad News akan berperan menjadi vaksin dalam perang melawan hoax. Permainan betul-betul mengekspos teknik yang digunakan penyebar kabar palsu di dunia nyata, sehingga Anda bisa segera mengenalinya begitu melihat hal serupa beredar di internet.
Bad News bisa Anda nikmati tanpa perlu membayar ataupun mendaftar. Cukup kunjungi situsnya via browser dan klik/tap tombol 'Play the Game'.
Saya sudah mencobanya sebentar, dan menurut saya, game ini sangat unik. Kontennya ditulis dengan pintar, serta dibumbui oleh sejumlah twist tak terduga. Jika Anda aktif di sosial media, saya sangat menyarankan Anda untuk segera memainkannya.
Are you sure to continue this transaction?
processing your transaction....