Game Ini Bisa Dimainkan dari Notification Center Milik iPhone atau iPad
Terinspirasi oleh easter egg milik Google Chrome, ia bahkan bisa dimainkan dari lock screen
Glenn Kaonang - 28 April 2016
Anda tentunya masih ingat dengan Flappy Bird, bukan? Kini bakal penerusnya kembali muncul, meski gameplay-nya agak sedikit berbeda. Namun yang amat berbeda adalah bagaimana game berjudul Steve – The Jumping Dinosaur ini bisa dimainkan dari Notification Center milik iPhone atau iPad.
Seperti yang kita tahu, sejak iOS 8 developer bisa merancang widget aplikasi untuk ditempatkan di Notification Center. Selama ini mayoritas widget dimaksudkan untuk memberi akses cepat terhadap suatu fungsi dalam aplikasi. Namun baru kali ini ada widget yang merupakan sebuah game.
Saat pengguna membuka aplikasi dengan menyentuh icon-nya, ia hanya akan menampilkan panduan untuk menambahkan widget pada Notification Center. Setelahnya, Anda tinggal menarik Notification Center dan mulai bermain. Dan karena ada di Notification Center, ini berarti Anda bahkan bisa memainkannya dari lock screen sekalipun.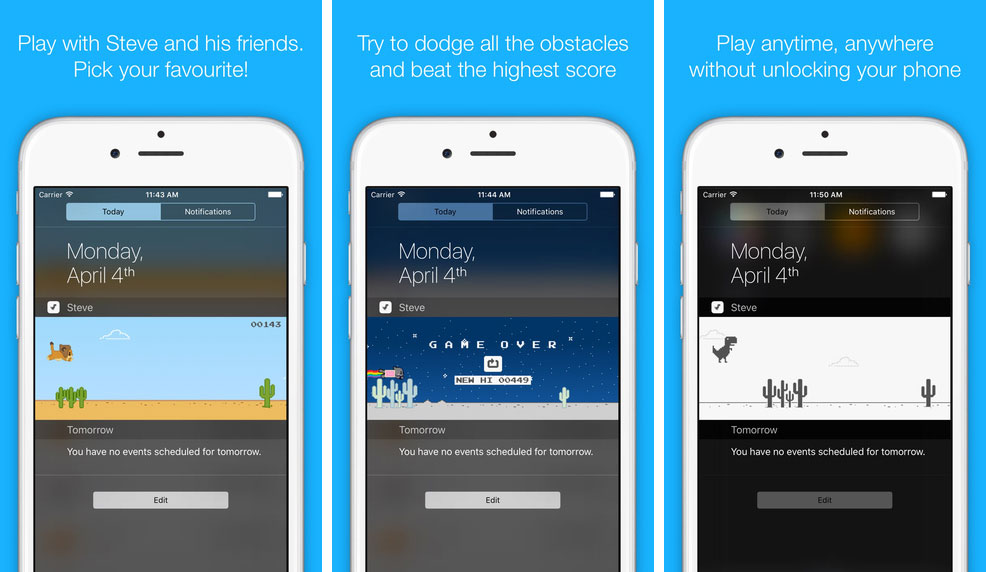 Gameplay-nya sangat sederhana: Anda hanya perlu menyentuh layar untuk membuat sang T-Rex melompati rintangan. Sang pengembang, pemuda 22 tahun asal Spanyol bernama Iván De Cabo, mengaku bahwa ia terinspirasi oleh easter egg yang terdapat pada browser Chrome saat sebuah situs tidak dapat dibuka – entah karena salah server-nya atau salah koneksi Anda sendiri – yang bisa diaktifkan dengan menekan tombol Space.
Steve – The Jumping Dinosaur saat ini bisa didapat secara cuma-cuma dari App Store. Terdapat opsi in-app purchase untuk membuka karakter-karakter baru seperti Nyan Cat atau Ninja Turtle, sekaligus membuat tampilan keseluruhannya jadi berwarna.
Sumber: TechCrunch.