Telah lama dinantikan, Electronic Arts (EA) akhirnya resmi merilis The Sims Mobile untuk smartphone Android dan iOS. Anda mungkin sudah familier dengan franchise The Sims besutan Maxis yang satu ini.
Ya, The Sims versi Mobile menawarkan kesempatan untuk membangun kehidupan baru yang ideal sebagai orang virtual yang disebut 'Sims' dan Anda dapat mengontrol aktivitas kesehariannya.
Tampilan grafis yang disuguhkan sudah sangat baik, sehingga membuat game simulasi kehidupan sehari-hari ini terasa lebih nyata. Berikut sejumlah tips dan trik dalam bermain dan menikmati The Sims Mobile.
Membuat Karakter Suka-suka
Langkah pertama Anda dalam menjalani kehidupan baru dimulai dari membuat karakter Sims sesuka hati. Anda mungkin bisa menghabiskan banyak waktu pada tahap ini, karena ada banyak bagian yang bisa disesuaikan mulai dari tampilan luarnya saja.
Anda bisa mengubah bagian-bagian tubuh dengan sangat detail seperti bentuk wajah, mata, hidung, bibir, pipi, dagu, kuping, gaya rambut, alis, kumis jenggot, dan warnanya. Lebih lanjut, postur tubuh, kekuatan otot, warna kulit, baju, celana, gaya sepatu dan warnanya juga bisa diatur.
Anda tak perlu terburu-buru dan buatlah karakter Sims yang unik dan berbeda dari yang lain. Dengan banyaknya ketersediaan pilihan tersebut, sebenarnya wajar sih game ini sangat menarik terutama di kalangan kaum hawa.
Membangun Rumah Impian
Bagian ini juga sangat menarik, di mana memungkinkan Anda membangun rumah, mengatur dekorasinya, dan membeli berbagai perabotan. Namun, di awal kehidupan Anda hanya dibekali dengan uang terbatas.
Jadi untuk membangun rumah impian, Anda harus mengumpulkan uang yang banyak dengan bekerja keras. Karena harga perabotan rumahnya juga tergolong cukup mahal.
Tips Bermain The Sims Mobile
Hadir dengan skema free to play, pemain dan developer sama-sama diuntungkan. Kita bisa mendapatkan hiburan tanpa harus membayar di muka dan developer bisa menjangkau lebih banyak pemain dan mendapatkan penghasilan jangka panjang dengan in-app purchase di dalamnya.
Jika Anda ingin menikmati permainan dan mengembangkan Sims tanpa perlu mengeluarkan uang sungguhan, ada beberapa hal yang harus Anda ketahui.
Pertama The Sims Mobile memiliki dua mata uang yakni gold yang disebut Simoleons dan uang premium yang disebut SimCash yang bisa dibeli dengan uang sungguhan.
Kedua, Anda harus bekerja, meningkatkan karier, dan menyelesaikan quest untuk mendapatkan reward berupa Simoleons, SimCash, dan item lainnya seperti career point, XP, serta home ticket.
Meski begitu, Anda juga harus memerhatikan energi Sims. Jika habis, kita tidak bisa melanjutkan pekerjaan dan energi bisa terisi kembali dengan bersantai, seperti berendam, mandi, buang air, dan tidur. Ada cara cepat untuk mengisi energi, dengan memakan cupcakes. Namun, Anda harus membelinya dengan SimCash.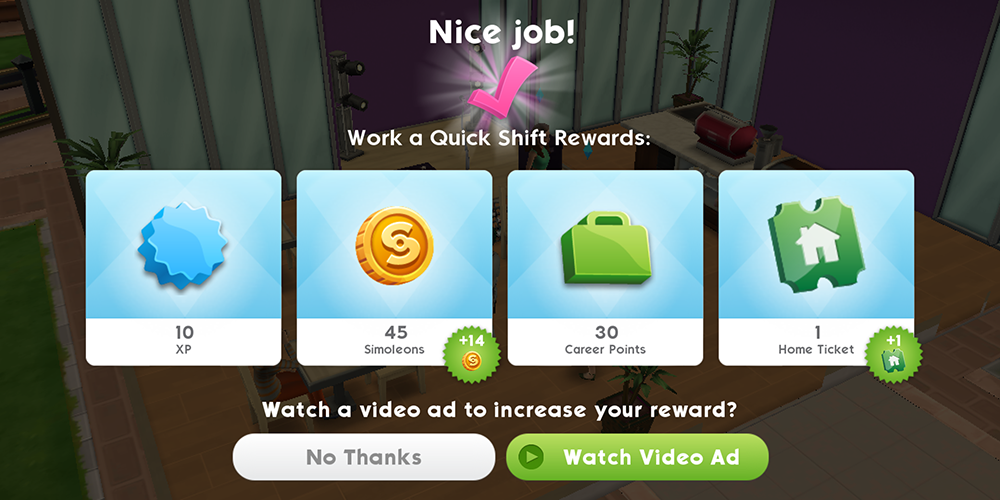 Ketiga, menonton video iklan untuk mendapatkan reward tambahan. Saya rasa menonton video iklan di dalam game sudah umum, asalkan frekuensinya tidak berlebihan.
Keempat, dalam dunia The Sims – fashion adalah segalanya. Kita bisa mendapatkan pakaian baru dan berbagai aksesorisnya. Sayangnya, kita harus menggunakan fashion gem yang juga harus dibeli dengan SimCash dengan harga cukup mahal. Jika Anda ingin bermain secara gratis, lupakan hal yang satu ini.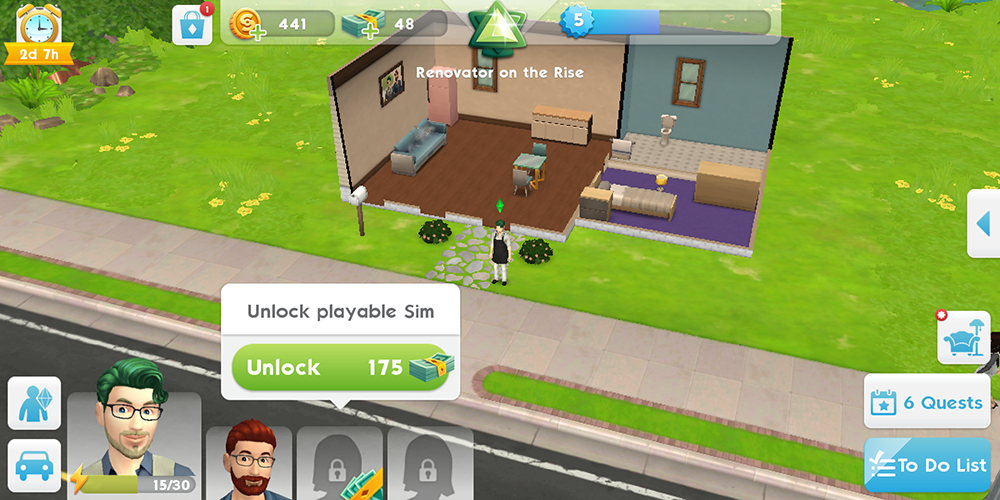 Kelima dan yang paling penting menurut saya, simpan baik-baik uang premium Anda yakni SimCash untuk membuka dua slot Sims yang tersisa. Ya, dari awal game ini sudah menyediakan dua Sims gratis dan dua slot lainnya bisa dibeli dengan SimCash.
Dengan membuka slot Sims yang tersisa, totalnya ada empat Sims yang bisa Anda mainkan. Artinya lebih banyak aktivitas yang bisa dilakukan secara bersamaan, sehingga berpotensi menghasilkan penghasilan lebih besar.
Keenam, lakukan apa yang Anda inginkan secara efisien. Sesekali mungkin bolehlah kita top upSimCash dan kita bisa memanfaatkan deals penawaran terbatas.
Verdict
SimCash adalah segalanya dalam The Sims Mobile dan cukup sulit di dapat secara gratis. Ada banyak konten atau item berbayar yang mempermudahkan permainan. Jadi, jika ingin bermain gratis maka alokasikan sumber daya terbatas untuk membeli item lain yang memberi lebih banyak SimCash.
The Sims Mobile memang bukanlah game yang bisa Anda selesaikan dalam semalam, bahkan tidak memiliki akhir. Jadi, nikmati saja sampai bosan. Tujuan dari game ini sendiri adalah membangun hubungan harmonis antara Sims satu dengan yang lain dan bisa bermain bersama dengan teman-teman dari dunia nyata.
DailySocial.id adalah portal berita startup dan inovasi teknologi. Kamu bisa menjadi member komunitas startup dan inovasi DailySocial.id, mengunduh laporan riset dan statistik seputar teknologi secara cuma-cuma, dan mengikuti berita startup Indonesia dan gadget terbaru.