Geek Girls Asal Bandung, Yuk Ikutan Acara Workshop Teknologi '10to10 Female of the Future'
wiku - 21 September 2015
idGeekGirls didukung oleh Microsoft akan menyelenggarakan acara workshop untuk perempuan di kota Bandung. Workshop bertema teknologi ini akan mengajak peserta untuk membuat aplikasi mobile.
Acara yang diberinama 10to10 Female of the Future ini akan menghadirkan workshop untuk membuat aplikasi mobile tanpa memerlukan keahlian coding, caranya menggunakan aplikasi Windows App Studio. Aplikasi ini nantinya akan dilombakan dan akan mendapatkan hadiah gadget.
Peserta yang mendaftarkan diri (target 50 orang) nantinya akan dibagi ke 10 tim dan masing-masing akan membuat dua aplikasi untuk perangkat bergerak. Semua aplikasi akan dilombakan dan memperebutkan total 50 juta dan gadget Windows Phone Lumia 1020 atau Windows Tablet Dell Venue 8 (atau gadget lainnya dengan nilai setara).
Workshop, selain menghadirkan tim dari Microsoft Indonesia, juga akan dihadiri oleh ketua-ketua chapter idGeekGirls dari Bandung, Jakarta, Bogor dan Yogyakarta.
Dalam rilisnya disebutkan bahwa, "diharapkan event 10to10 Female of the Future akan menjadi pembuka jalan bagi event-event 10to10 Female of the Future lanjutan untuk meningkatkan pengetahuan dan partisipasi perempuan Indonesia dalam bidang teknologi".
Seuai namanya, acara akan dilaksanakan mulai pukul 10 pagi sampai dengan 10 malam. Bertempat di Co&Co Space, Jl. Dipati Ukur No.5, Bandung dan diadakan pada tanggal 26 September 2015.
Siapa saja yang bisa mendafarkan diri? Diutamakan peserta yang ikut adalah kalangan blogger dan social media savvy. Tipe peserta ini yang dipilih alasannya karena dalam workshop peserta akan diminta menggabungkan keahlian blogging dan social media ke aplikasi mobile yang dibuat selama acara. Seluruh peserta juga diharapkan membawa laptop sendiri, untuk menunjukkan bahwa aplikasi Windows App Studio dapat berjalan di OS apapun.
Pendaftaran dalam menuju tautan ini: bit.ly/join10to10 atau bit.ly/info10to10. Bisa juga menghubungi ke +62-888-0111-8336 (phone/sms/whatsapp/telegram) atau melalui Facebook/Twitter @idgeekgirls dan idgeekgirls@gmail.com.
Pembaca perempuan Trenologi yang berada di Bandung, jangan lupa catat tanggalnya, dan klik untuk mendaftar.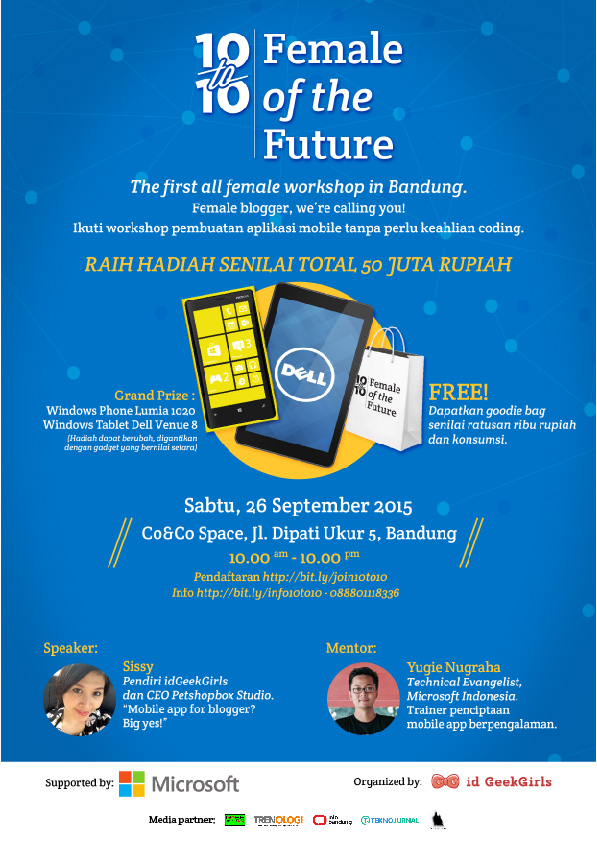 *) Trenologi adalah media partner acara 10to10 Female of the Future.