GO-JEK Segera Resmikan Operasional di Vietnam
Dimulai dengan akuisisi mitra pengemudi, tawarkan kemitraan tanpa potongan komisi
Randi Eka - 22 May 2018
GO-JEK dikabarkan segera meresmikan kehadirannya di Vietnam bulan Juli 2018 ini. Hadirnya GO-JEK ke pasar Vietnam akan menantang dominasi Grab. Pasca menyerahnya Uber, Grab praktis tanpa saingan di negara-negara Asia Tenggara selain Indonesia.
Di fase awal, GO-JEK akan fokus pada strategi akuisisi mitra. Salah satunya dengan menghilangkan komisi 20 persen yang biasanya dikenakan pada pengemudi. Dinilai ini akan menjadi strategi yang apik, pasalnya pesaingnya Grab mengenakan komisi 28 persen ke mitra.
Vietnam adalah eksekusi pertama dari rencana ekspansi, selanjutnya akan ada Singapura dan Filipina. Sementara di wilayah tersebut sudah menjadi basis operasi layanan Grab (dan Uber yang kini sudah diakuisisi bisnisnya di Asia Tenggara oleh Grab).
Pasca akuisisi Uber Asia Tenggara, Grab kini mendominasi industri di berbagai negara. Menurut hasil survei yang dilakukan Financial Times, porsi layanan Grab cukup kuat di tiap negara di Asia Tenggara. Hanya di Indonesia populasinya lebih didominasi oleh GO-JEK, itu pun masih dalam tahap persaingan yang dinamis.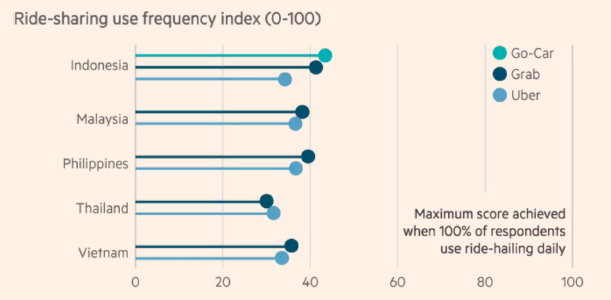 Menurut beberapa pemberitaan lokal di Vietnam, kehadiran GO-JEK cukup disambut baik, pun demikian dari sisi regulasi. Pasalnya Grab telah begitu mendominasi pasar transportasi di wilayah tersebut. Penyelidikan otoritas setempat juga mengindikasi adanya pelanggaran undang-undang terkait persaingan usaha pasca akuisisi Uber.
Peran GO-PAY?
Belum ada kabar pasti soal memboyong layanan yang diusung PT Dompet Anak Bangsa (GO-PAY). Namun bisa dipastikan bahwa sistem pembayaran akan menjadi peta jalan produk GO-JEK di tiap negara. Sejak tahun Januari 2017, pemerintah Vietnam sudah mulai menyusun regulasi untuk mempertegas aturan soal e-money dan mata uang virtual. Kerangka kerjanya kini ada di bawah naungan State Bank of Vietnam (SBV) --sama seperti peran Bank Indonesia (BI) di sini.
Application Information Will Show Up Here
Are you sure to continue this transaction?
processing your transaction....