Gojek Meluncurkan "GoCorp", Bantu Bisnis Kelola Tunjangan Transportasi Karyawan
Pelaku usaha mendapatkan data perjalanan karyawan untuk meningkatkan efisiensi operasional
Corry Anestia - 13 October 2021
Gojek meluncurkan solusi pengelolaan tunjangan transportasi karyawan GoCorp. Karyawan dapat memesan layanan transportasi GoRide, GoCar, GoCar L, dan GoCar/GoRide Protect+ untuk kebutuhan pekerjaan tanpa perlu mengajukan reimburse.
Sebagaimana disampaikan dalam keterangan resminya, Head of Transport Marketing Gojek Amanda Parikesit mengatakan, saat ini puluhan juta masyarakat Indonesia telah memanfaatkan layanan Gojek untuk memenuhi kebutuhan transportasi mereka. Namun, ia menilai karyawan dan pelaku usaha masih terkendala oleh reimburse biaya transportasi.
Pada web portal GoCorp, para pelaku usaha dapat mengatur batasan tunjangan transportasi, mengawasi penggunaan tunjangan, dan mendistribusikan tunjangan transportasi karyawan setiap bulannya sesuai kebijakan perusahaan bersangkutan. Keuntungan lainnya, pelaku usaha dapat menghemat biaya transportasi ketimbang memiliki armada perusahaan sendiri yang membutuhkan biaya pemeliharaan dan operasional.
"Pelaku usaha bisa mendapatkan data dan insight mengenai perjalanan karyawan yang dapat dimanfaatkan untuk meningkatkan efisiensi operasional perusahaan. GoCorp dapat digunakan pelaku usaha dari berbagai skala, mulai dari UMKM, startup, dan perusahaan besar. Tidak ada persyaratan jumlah karyawan tertentu," ungkap Amanda.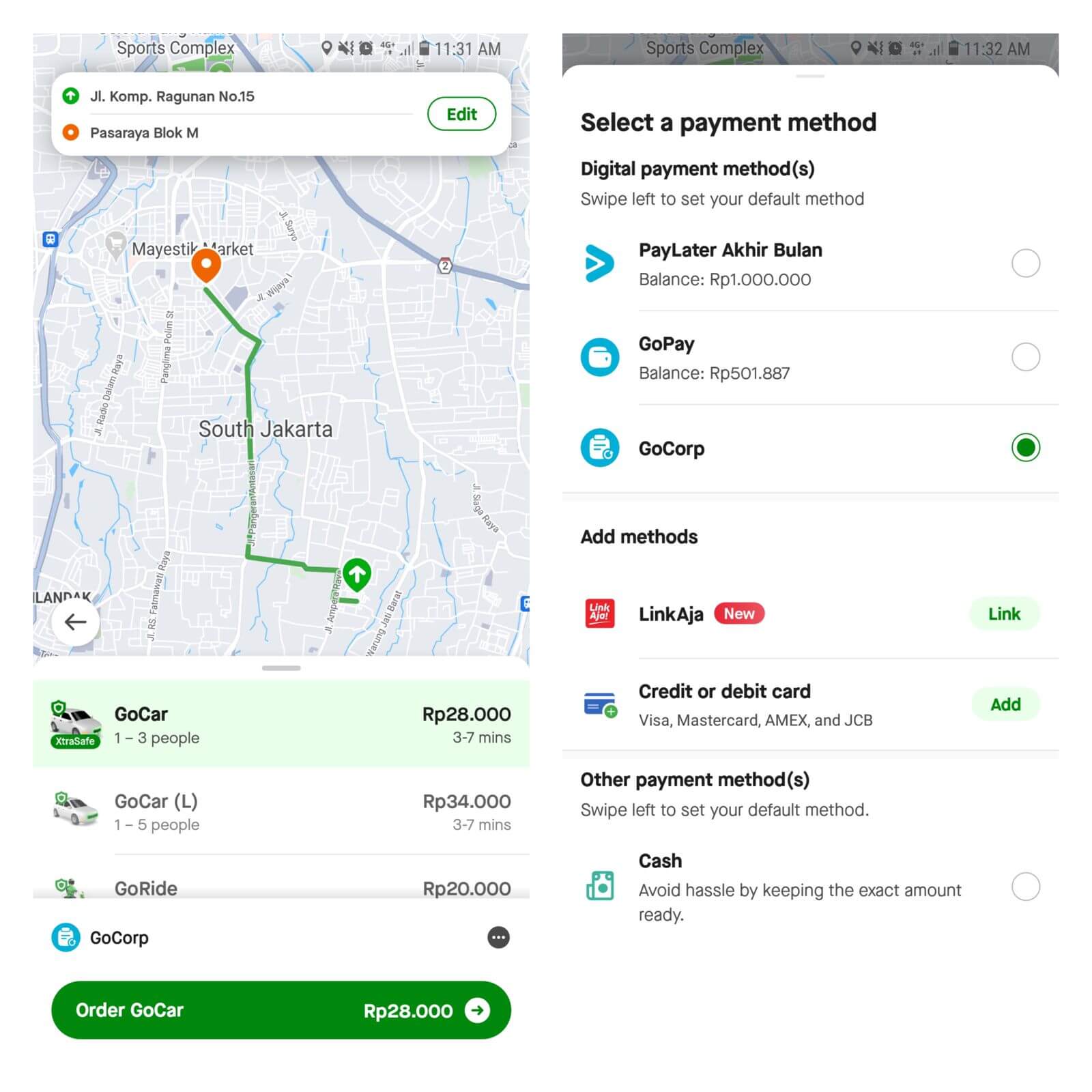 Lebih lanjut, cara pemesanan GoCorp sama halnya dengan layanan transportasi Gojek lainnya. Demikian juga dengan metode pembayarannya. Adapun seluruh catatan perjalanan karyawan akan muncul secara real-time. Baik karyawan dan pelaku usaha dapat memesan dari bandara, terminal, atau stasiun di puluhan lokasi titik penjemputan Zona Nyaman Gojek. GoCorp juga didukung dengan ketersediaan jutaan mitra driver di seluruh kota/kabupaten Gojek di Indonesia.
"Kami berharap layanan ini menjawab kebutuhan pelaku usaha akan solusi pengaturan transportasi karyawan yang mudah dan transparan, sehingga mereka bisa menjalankan operasional usahanya dengan lebih efisien dan bisa terus tumbuh," tutup Amanda.
Layanan on-demand untuk bisnis
Di tengah situasi pandemi Covid-19, layanan on-demand untuk segmen bisnis/korporasi punya potensi untuk dikembangkan. Hal ini untuk mengakomodasi kebutuhan pelaku usaha atau korporasi yang melakukan penyesuaian aktivitas perkantoran dan skema kerja selama masa pembatasan interaksi fisik.
Di Indonesia, layanan sejenis sudah ada yang diluncurkan oleh Grab. Pada layanan Grab Business, pelaku usaha atau perusahaan dapat memesan layanan transportasi, food delivery, kurir instan, dan voucher. Demikian juga mantan pemain incumbent di Indonesia, Uber yang menawarkan layanan Uber for Business usai bisnisnya di Asia Tenggara dicaplok oleh Grab.
Menurut studi kasus yang dilakukan Grab, perusahaan dapat menghemat biaya hingga 35% apabila beralih ke layanan yang disesuaikan berbasis teknologi dari layanan transportasi dan pengiriman dengan kontrak jangka panjang.
Application Information Will Show Up Here
Are you sure to continue this transaction?
processing your transaction....