Google App "Primer" Is Now Providing Content in Bahasa Indonesia
There are 54 title of local contents in 5 minute duration
Randi Eka - 12 April 2018
Google announces the latest update of a learning app "Prime" for Indonesian's users. Currently, it has 54 content titled in Bahasa Indonesia, approximately within 5 minutes. It is done by the assumption that Primer was designed for mobile users. This app has launched in August 2017 and free to download in Android and iOS version.
"The updated version of Primer comes with the latest feature of skills, rewards, and curated methods. It's designed to help users focus more on the ability they want to build or learn. Users will now get badges as the reward, that is expected to encourage them to learn harder," Veronica Utami, Google Indonesia's Head of Marketing, said.
In general, there are some content coverages include business planning, brand building, website and social media development, marketing via email, sales, business management, digital marketing in general, and content development. Primer is now providing additional lessons developed by Womenwill related to opportunities for women entrepreneurs in Indonesia.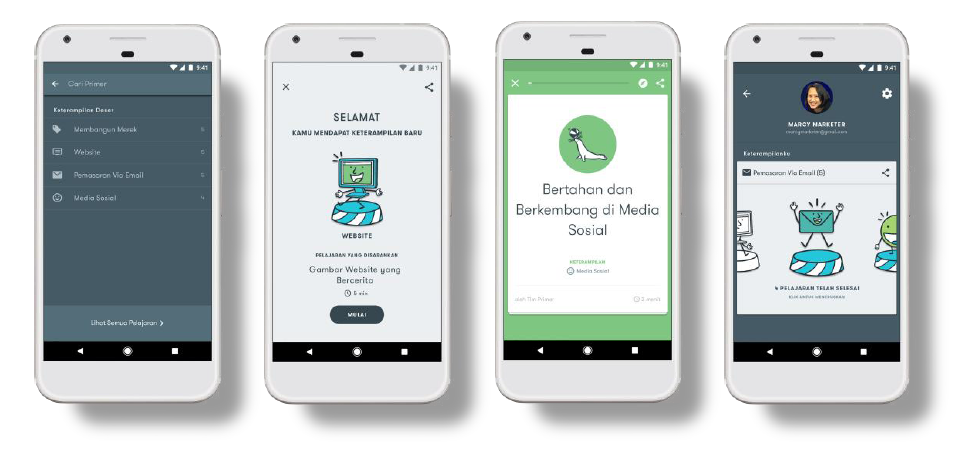 "Our purpose is to educate and encourage the public to learn by providing relevant content, easy to understand, and capable to facilitate public in developing business and acquiring new customers," she added.
Google's commitment to developing Indonesia's talent is already mentioned at "Google for Indonesia" in 2016, the education-based approach has become the main focus. One by one, the vision is being developed for Indonesia's internet users in general.
Regarding content distribution, Google Indonesia has formed an exclusive partnership with Dicoding. The content will be distributed using Dicoding platform. There are 125 modules, 35 videos, and 24 quizzes in Bahasa Indonesia discussing the initial step for development to the publication of Android app in Google Play.
– Original article is in Indonesian, translated by Kristin Siagian
Application Information Will Show Up Here
Are you sure to continue this transaction?
processing your transaction....