Google Mulai Uji Coba Fitur Navigasi AR Google Maps
Petunjuk arah akan disajikan langsung pada tampilan kamera
Glenn Kaonang - 12 February 2019
Pada konferensi developer-nya tahun lalu, Google memamerkan satu fitur anyar Maps yang sangat menarik, yaitu navigasi AR. Sesuai namanya, ketimbang menampilkan panduan navigasi pada tampilan peta seperti biasanya, fitur ini akan menyajikan panduan navigasi secara langsung pada tampilan kamera.
Gambar di atas seharusnya bisa memberikan gambaran yang cukup jelas terkait cara kerja fitur ini. Kalau Anda ingat, fitur ini juga mirip seperti salah satu hal yang diunggulkan Google Glass dulu, namun di sini kita hanya perlu mengangkat ponsel sebentar.
Mengapa hanya sebentar? Sebab Google sendiri sudah memikirkan matang-matang dan menerapkan cara supaya pengguna tidak terus terpaku pada panduan navigasi AR di ponselnya. Jadi ketika pengguna sudah terlalu lama mengarahkan kamera ponselnya, aplikasi akan meminta pengguna untuk menurunkan ponselnya.
Kalau masih tidak mempan (pengguna masih ngotot mengarahkan kamera ponselnya sambil berjalan), layar ponsel bakal meredup dengan sendirinya. Ini penting demi keselamatan pengguna (jangan sampai pengguna celaka akibat tidak memperhatikan sekitarnya), sekaligus untuk menghemat konsumsi baterai dan data smartphone.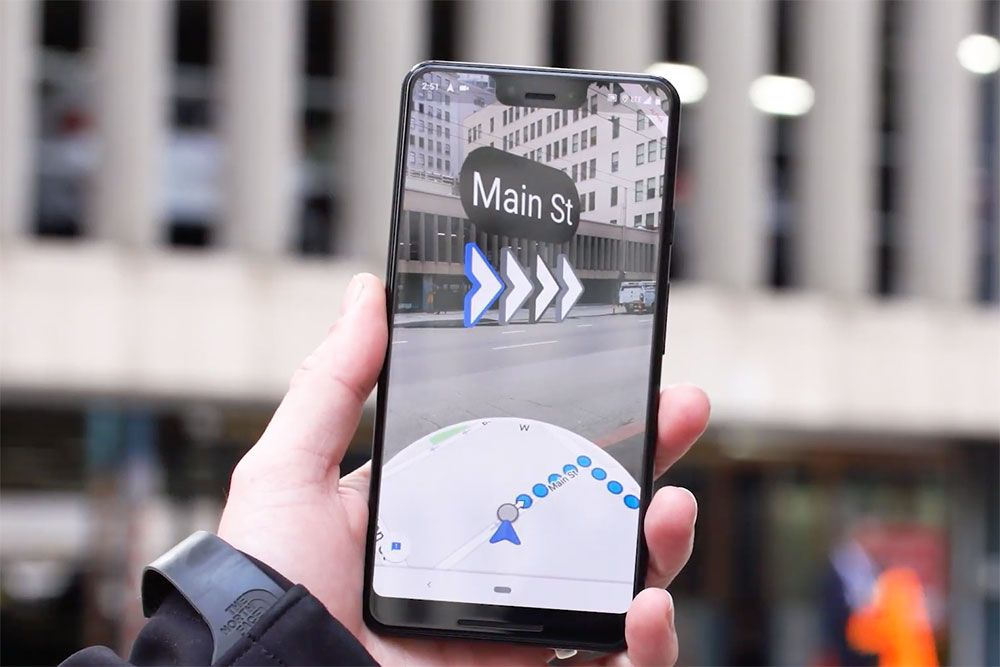 Menurut penjelasan perwakilan Google kepada jurnalis The Wall Street Journal yang dipersilakan mencoba, fitur ini akan sangat bermanfaat dalam kesempatan-kesempatan seperti misalnya, ketika pengguna turun dari kereta komuter atau MRT. Tanda panah besar yang muncul di layar akan menunjukkan ke mana pengguna harus berjalan sebelum akhirnya mereka keluar dari stasiun.
Fitur ini bekerja dengan memadukan data lokasi GPS sekaligus data Street View guna melacak lokasi pengguna secara lebih akurat. Saya membayangkan fitur ini akan sangat berguna bagi orang-orang yang sering kesulitan membaca arah di peta.
Sayangnya Google masih belum memastikan kapan fitur ini akan dirilis secara luas, sebab mereka ingin fiturnya sudah benar-benar matang ketika diluncurkan. Dalam waktu dekat, mereka baru akan mencobanya bersama sejumlah orang terpilih yang tergabung dalam komunitas Google Maps Local Guides.
Sumber: The Wall Street Journal via Engadget.