Google Pamerkan Inkarnasi Terkini Project Ara
Melalui Project Ara, Google mencoba melakukan apa yang belum pernah berhasil sebelumnya: menciptakan smartphone modular dimana semua orang bisa menyumbangkan ide serta memperkaya ekosistemnya. Meski awalnya tidak sedikit orang skeptis dengan ide tersebut, Ara pelan-pelan berubah dari sekedar konsep menjadi produk terobosan yang menjanjikan.
Para developer, tester dan pengguna yang tergabung dalam Ara Scout sangat membantu pengembangannya. Satu unit smartphone Ara sempat Google perlihatkan di ajang Google I/O 2014, sayang device membeku di layar boot. Namun hari-hari itu sudah lama berlalu, di acara Project Ara Developers Conference 2015, raksasa dari Mountain View itu memamerkan jelmaan terbaru handset modular mereka, dinamai Spiral Two.
Perbedaan Project Ara generasi pertama dengan Spiral Two terletak pada keleluasaan konektivitas. Jika sebelumnya Ara hanya mempunyai hardware Wi-Fi, handset versi dua telah dibekali modul 3G. Saat ini, tim Google Advanced Technology and Projects melaporkan bahwa mereka sedang berembuk dengan para operator selular. Tak heran jika update selanjutnya akan menyuguhkan 4G LTE.
Aspek penting lain dari Spiral Two ialah upaya Google untuk terus memperluas dukungan developer, dan Android tetap digunakan sebagai platform dasar seluruh proyek ini. Tentu mereka akan sediakan software dan app khusus, tapi tetap saja Google ingin ada lebih banyak developer berkolaborasi dalam membuat modul third-party. Berhasil tidaknya hal tersebut sangat menentukan kesuksesan jangka panjang Ara.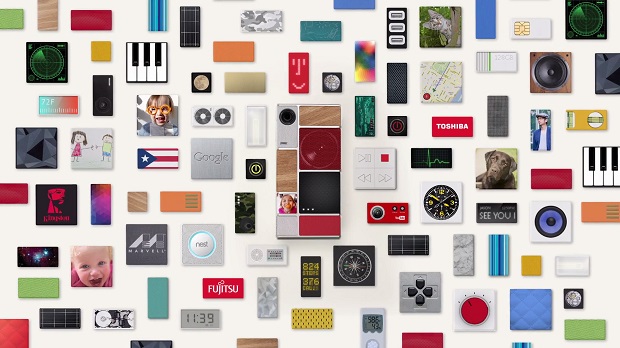 Info menarik: Melalui Desain Baru, Smartphone Modular PuzzlePhone Coba Saingi Project Ara
Bersamaan dengan momentum Project Ara Developers Conference 2015, Google juga melepas sebuah video menarik, mempresentasikan sedikit contoh fleksibilitas Ara. Anda membutuhkan kamera lebih canggih, speaker lebih mumpuni, atau kapasitas baterai dua kali lebih besar? Tinggal pilih dan masukkan modul ke slot yang disediakan? Layar retak karena Anda menjatuhkannya? Jangan pusing, lepas dan tinggal ganti dengan modul layar baru.
Ara membuka kemungkinan yang belum pernah ada di lini mobile device: kustomisasi penuh. Berkat konsep open-source, terbukalah kesempatan lebih luas, baik bagi konsumen maupun developer. Bayangkan jika kita dapat menambahkan kamera thermal atau night vision, atau mengetik lebih nyaman karena keyboard fisik modular. Dan kita bahkan belum membahas potensi hiburan serta gaming.
Google menunjuk Puerto Rico untuk menjadi tempat pendaratan perdana Project Ara. Selanjutnya ia akan diluncurkan antara kwartal ketiga hingga keempat 2015 di Amerika.
Via The Verge. Sumber: Plus.Google.com.
Are you sure to continue this transaction?
processing your transaction....