Google Podcasts Kini Tersedia untuk Perangkat iOS dan Desktop via Web App
Untuk sekarang, aksesnya baru bisa melalui hasil pencarian di Google Search atau dari situs masing-masing podcast
Glenn Kaonang - 13 May 2019
Per Juni tahun lalu, pengguna perangkat Android akhirnya punya aplikasi podcast resmi bikinan Google. Google boleh dibilang tertinggal di ranah ini, tapi itu tidak mencegah mereka mengembangkan kontribusinya ke industri podcast lebih jauh lagi.
Diberitakan oleh 9to5Google, Google Podcasts akhirnya mulai merambah keluar dari Android menuju ke iOS dan desktop, meski masih belum secara langsung. Saya bilang belum karena wujudnya masih dalam bentuk web app, dan pengguna pun tak bisa mengakses situsnya secara langsung, melainkan harus melalui hasil pencarian terlebih dulu.
Jadi ketika Anda mencari sebuah podcast di Google, TED Radio Hour misalnya, akan muncul semacam kartu khusus berlabel "Recent episodes". Klik salah satu, maka Anda akan langsung dibawa menuju web app Google Podcasts. Tampilannya sengaja dibuat identik dengan aplikasi Android-nya, demikian pula fungsionalitas pemutarnya.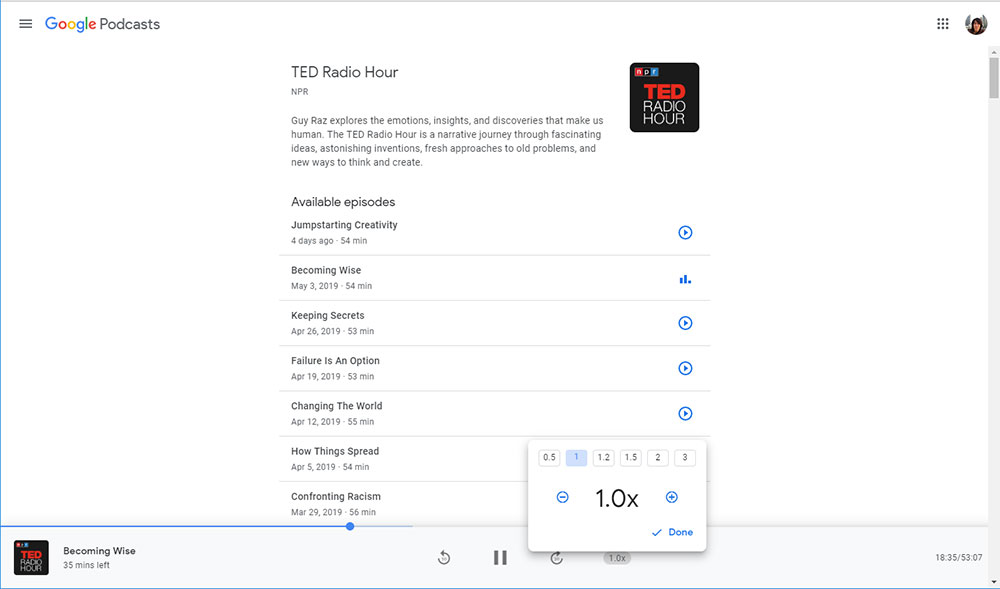 Anda tidak harus login menggunakan akun Google untuk bisa mendengarkan, akan tetapi jika Anda login, maka status playback-nya akan tersinkronisasi, sehingga Anda bisa berganti-ganti perangkat untuk lanjut mendengarkan episode yang sama sampai tamat.
Yang belum tersedia di web app Google Podcasts ini adalah fitur subscription dan rekomendasi. Setidaknya untuk sekarang, akses ke Google Podcasts di perangkat iOS maupun desktop baru bisa dilakukan via Google Search maupun situs resmi masing-masing podcast (jika ada).
Apakah ke depannya Google bakal membuatkan aplikasi Podcasts yang proper untuk iOS? Saya cukup yakin jawabannya iya, sebab Google Podcasts versi Android sendiri bermula dari fitur di Google Search sebelum akhirnya dimatangkan menjadi aplikasi terpisah.
Rolling out this week you'll be able to search for and play podcasts directly in Google Search across Android, iOS, and desktop browsers, a step toward making audio a first-class citizen across Google. pic.twitter.com/29ohC7W9z8

— Zack Reneau-Wedeen (@ZackRW) May 9, 2019
Sumber: 9to5Google.
Are you sure to continue this transaction?
processing your transaction....