Tahun Depan, Google Resmi Uji Coba Project Loon di Indonesia
Glenn Kaonang - 29 October 2015
Masih ingat dengan Project Loon, proyek eksperimental Google berupa balon udara yang memancarkan sinyal Wi-Fi dan menyediakan akses internet? Kita tahu bahwa 'balon Wi-Fi' tersebut sudah beberapa kali melintasi wilayah udara Indonesia. Akan tetapi mulai tahun depan, kita bakal lebih sering lagi melihatnya.
Hal itu disebabkan Google telah menandatangani kontrak kerja sama dengan tiga perusahaan telekomunikasi terbesar asal tanah air – Indosat, XL Axiata dan Telkomsel – guna menguji coba Project Loon di Indonesia. Masa pengujiannya sendiri baru akan berlangsung mulai tahun 2016.
Yang mungkin jadi pertanyaan, mengapa Google – Alphabet – harus bekerja sama dengan ketiga perusahaan telko ini? Well, karena Google tidak bisa menyediakan akses internet sendirian. Maka dari itu, tugasnya pun nanti akan dibagi: Project Loon yang menyebarkan sinyal Wi-Fi, lalu trio perusahaan telko itu yang memasoknya dengan jaringan 4G/LTE.
Info menarik: Keindahan Panorama Candi Borobudur Sudah Bisa Dinikmati di Google Street View
Dari segi teknis, Project Loon nantinya bakal mengudara di ketinggian sekitar 20 km di atas permukaan Bumi, atau tepatnya di lapisan stratosfer sehingga tidak mengganggu lalu lintas penerbangan komersial. Setiap balon udara sendiri bisa menjangkau radius 40 km di darat, lebih luas ketimbang jangkauan menara BTS.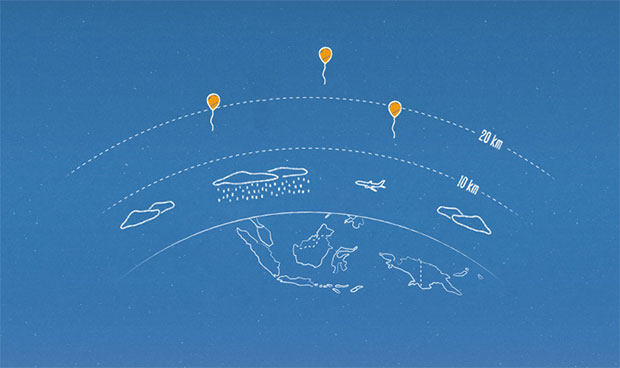 Kecepatan koneksinya sendiri bakal mencapai angka 10 Mbps. Angka ini tergolong cukup cepat, apalagi kalau Google lebih memprioritaskan penempatan Project Loon di kawasan-kawasan yang belum terjamah akses internet. Meski demikian, Google juga tetap harus memperhatikan jangkauan dari masing-masing jaringan milik operator.
Indonesia sendiri merupakan negara keempat yang disinggahi Project Loon secara resmi setelah Selandia Baru, Australia dan Brasil. Nantinya, setelah beberapa tahun, Project Loon diharapkan bisa menghubungkan lebih dari 100 juta penduduk yang tersebar dari Sabang - Merauke ke internet. Bukan tugas yang mudah tentunya, maka dari itu dibutuhkan kerja keras selama lebih dari satu tahun.
Sumber: Google Asia Pacific Blog dan The Verge.
Are you sure to continue this transaction?
processing your transaction....