Gadget
Google Project Vault Adalah Kartu MicroSD 'Anti-Hacker'
Di ajang Google I/O 2015 kemarin, divisi R&D Google, ATAP (Advanced Technology and Projects) – tim yang sama yang mengembangkan Project Ara – mengungkap kehadiran sebuah proyek baru bernama Project Vault. Pada dasarnya, Project Vault merupakan sebuah kartu microSD sekaligus komputer berukuran amat kecil.
Smartphone kita sudah mempunyai otak komputasi sendiri, lalu apa manfaat yang bisa diambil dari komputer mungil ini? Well, Project Vault dirancang dengan tujuan untuk meningkatkan keamanan digital, tanpa harus mengandalkan kata sandi atau sejenisnya.
Info menarik: Google Umumkan Android M, Berikut 6 Fitur Barunya
Dari luar, Google Project Vault tampak tidak jauh berbeda dibanding kartu microSD pada umumnya. Akan tetapi, di dalamnya telah tersimpan prosesor ARM, sebuah antena dan chip NFC, plus kapasitas penyimpanan internal sebesar 4 GB.
Project Vault pun menjalankan sistem operasinya sendiri, yang bernama RTOS (Real Time Operating System). Sejalan dengan misi yang dituju, OS ini mengedepankan privasi dan keamanan data.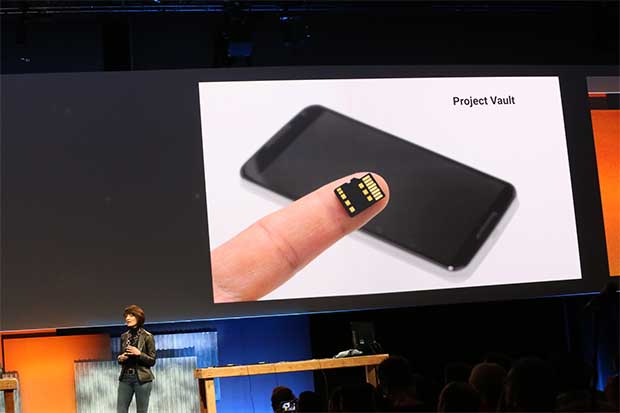 Jadi bagaimana cara Project Vault mengamankan data penggunanya? Dalam sesi demonstrasinya, tim Google ATAP menunjukkan kemampuan Project Vault mengenkripsi obrolan dua pengguna smartphone yang berlangsung pada sebuah aplikasi IM (instant messaging).
Gampangnya, Project Vault akan memastikan agar setiap data yang masuk dan keluar tidak melewati jaringan seluler, melainkan melalui jaringan buatan Vault yang terenkripsi dengan baik. Hal ini berarti operator jaringan seluler tidak bisa 'menguping' pembicaraan Anda di aplikasi IM tersebut. Privasi sangat diprioritaskan di sini, dan Project Vault pun diyakini juga bisa mengenkripsi video.
Info menarik: Desain Google Cardboard Diperbarui Demi Mendukung Lebih Banyak Smartphone
Selain menjadi 'bodyguard' untuk data yang masuk dan keluar, Google Project Vault juga ingin menghilangkan ketergantungan kita terhadap kata sandi. Kartu microSD ini diklaim bisa mengenali pola mengetik atau pola pemakaian sang pengguna, kemudian memastikan agar orang lain yang memiliki pola berbeda tidak akan bisa mengakses smartphone tersebut.
Contohnya, Project Vault akan mempelajari bahwa pada jam-jam tertentu, Anda biasanya menonton video di YouTube, kemudian membaca-baca artikel menggunakan browser Chrome. Ketika seorang teman Anda dengan iseng membuka smartphone tersebut, Project Vault bisa mengenali bahwa pola pemakaiannya tidak sama dengan Anda selaku sang pemilik, lalu mengunci perangkat tersebut sehingga teman Anda tak bisa mengaksesnya.
Metode otentikasi yang terdengar unik ini dinamai "trust score". Google ATAP mengklaim metode ini bisa 10 kali lipat lebih aman ketimbang menggunakan password seperti yang kita lakukan selama ini.
Sejauh ini, Google ATAP baru merilis open source development kit untuk Project Vault di GitHub. Ke depannya, Google berencana untuk membuat hardware Project Vault yang bisa digunakan oleh konsumen secara luas.
Sumber gambar dan artikel: Mashable dan TechCrunch.
Are you sure to continue this transaction?
processing your transaction....