Google Singkap Android 12L, Varian Baru yang Dioptimalkan untuk Perangkat Berlayar Besar
Android 12L dirancang agar tampilan antarmukanya kelihatan lebih apik sekaligus lebih mudah dinavigasikan di tablet, foldable, dan Chromebook
Popularitas tablet Android meningkat pesat dalam dua tahun terakhir ini, terbukti dari semakin banyaknya brand yang ikut bermain di segmen tersebut, belum lagi tren perangkat foldable yang terus naik. Melihat tren seperti itu, Google pun menyingkap Android 12L, semacam varian khusus Android 12 yang secara spesifik dirancang untuk perangkat berlayar besar seperti tablet, foldable, maupun Chromebook.
Tujuan utama yang ingin dicapai Google melalui Android 12L adalah menghadirkan tampilan antarmuka yang lebih optimal di perangkat-perangkat berlayar besar, kurang lebih sama filosofinya seperti ketika Apple memecah iPadOS dari iOS.
Tidak tanggung-tanggung, mulai dari notifikasi, quick setting, lockscreen, home screen, sampai panel recent app dan beberapa bagian user interface (UI) lain di Android 12L telah dirombak supaya tampak lebih apik sekaligus lebih mudah dinavigasikan di layar besar.
Android 12L bahkan juga dibekali tampilan anyar untuk multitasking, dengan sebuah taskbar di bagian bawah guna memudahkan aktivasi mode split-screen via gestur drag and drop. Ya, semua aplikasi di Android 12L dipastikan dapat dibuka dalam tampilan split-screen.
Tentu saja agar Android 12L bisa benar-benar efektif, dibutuhkan partisipasi dari komunitas developer aplikasi pihak ketiga. Itulah mengapa Google juga menghimbau developer untuk memperbarui aplikasinya agar bisa beradaptasi dengan berbagai ukuran layar.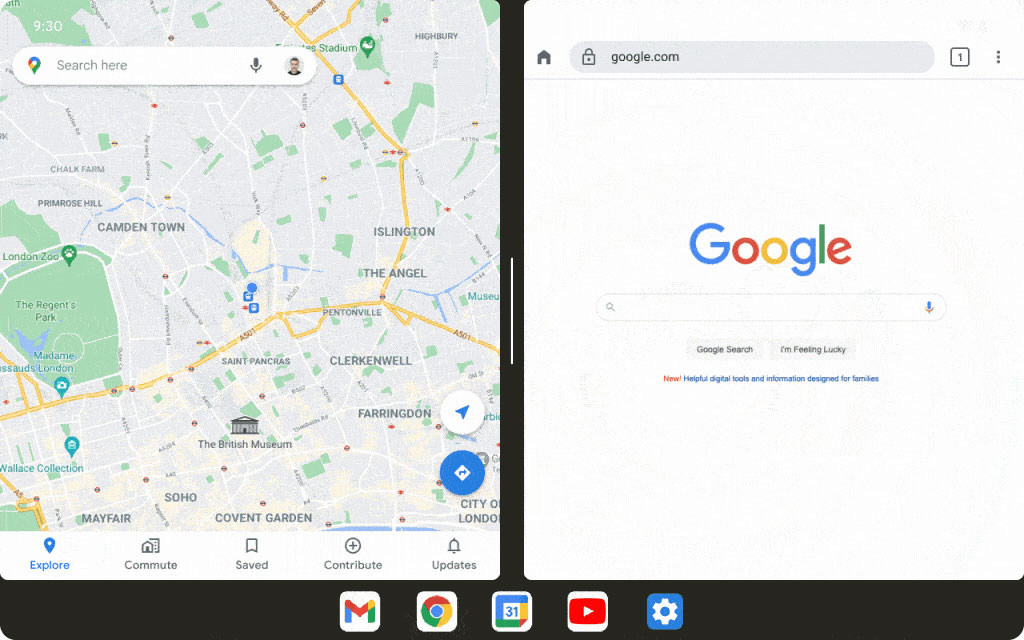 Untuk memudahkan, Google membagi ukurannya berdasarkan tiga kategori: Compact untuk smartphone, Medium untuk tablet kecil dan foldable, dan Expanded untuk tablet besar beserta laptop. Idealnya, aplikasi yang telah diperbarui bisa berubah sendiri tampilannya mengikuti ukuran dan orientasi layar.
Versi preview Android 12L saat ini sudah tersedia buat kalangan developer, tapi versi finalnya sendiri baru akan dirilis di awal tahun 2022, bersamaan dengan deretan tablet dan foldable gelombang berikutnya. Apakah kehadiran Android 12L merupakan pertanda Google akan merilis ponsel foldable-nya sendiri?
Sumber: GSM Arena.
Are you sure to continue this transaction?
processing your transaction....